A Domineering General, a Wily Power Broker, a Vengeful Populist: The men who failed Atiku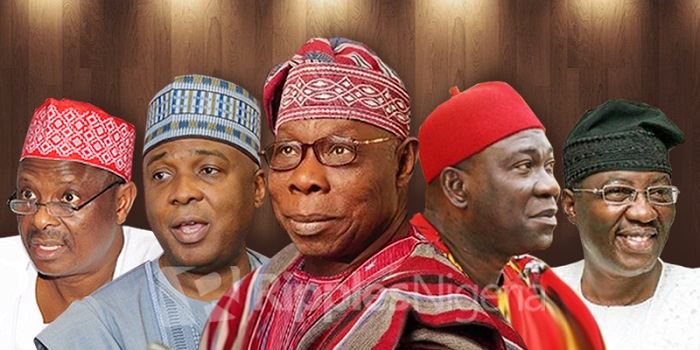 By Chinedu Chidi…
The 2019 presidential election has been won and lost. And barring any dramatic judicial reversal of the outcome, former vice president and candidate of the Peoples Democratic Party (PDP), Atiku Abubakar, may have been served his last, and understandably, most devastating bowl of broken dreams, one that consigns him to political oblivion.
Having been aspiring to be Nigeria's president since 1992, when, as a member of the Social Democratic Party (SDP), he contested the presidential primary of the party and lost out to eventual winner Moshood Abiola, Atiku may have deemed the 2019 quest for the presidency as his last. And it showed. He campaigned vigorously. Fought fiercely. Such was his drive that he banished his intractable twin demons– agelong rift with former president Olusegun Obasanjo and United States visa ban.
His far-reaching efforts notwithstanding, his quest fell short, once again. Ultimately, the candidate of any election must bear primary responsibility for his electoral fortunes, except, of course, where the election fails to reflect the will of the people. To that extent, none other than Atiku should shoulder the primary responsibility for his loss. More so given his battered international image owing to a corruption baggage that has refused to go away.
But apart from Atiku's reputation, public service record and political decisions, including his rather curious choice of a Southeastern running mate and the rather exclusionary manner in which he de did it, what other persons played a role that contributed to his failed presidential bid?
Here are some prominent actors whose actions and inactions, even from the past, contributed to Atiku's loss:
Obasanjo, the domineering general
Obasanjo may well be deemed the grand slayer of the Atiku brand. Following his rift with Atiku while he served as his vice president, Obasanjo and his henchmen launched a multi-pronged attack against Atiku which culminated in the most deadly blow– the publication of irreparably damaging contents in My Watch, a three-volume memoir, by Obasanjo.
In the memoir, Obasanjo presented Atiku as a corrupt, lazy, self-serving, desperate and disloyal man. He pulled no punches. He supported the written attacks with multiple media appearances over the years, even vowing that God will not forgive him were he to ever back Atiku's presidential bid.
And even when Obasanjo and Atiku shockingly mended fences ahead of the 2019 elections, the vicious general could not undo the damage. He was even mocked for his stunning hypocrisy, while his words were used copiously by the President Muhammadu Buhari camp to attack Atiku.
Many Nigerians, including Atiku supporters, conceded his battered image, and some even said supporting him was a bitter pill to swallow. Many neutrals could not bring themselves to support him even though they were disappointed in Buhari, opting instead for alternative candidates with little to no electoral value, as a protest vote. Thanks largely to Obasanjo's sustained attacks on his reputation for well over a decade!
To make matters worse, Obasanjo did not have the electoral clout to support Atiku's bid in his state, losing his polling unit and the entire state to Buhari. He lost his one great chance to compensate Atiku for the millstone he tied around his reputation and sunk in the Atlantic!
Saraki, a wily power broker
Had Atiku paid closer attention on the Otoge revolution building up in Kwara, he may not have appointed Senate President Bukola Saraki his campaign director-general.
Saraki, a wily politician, who, until 2019, had outsmarted his way to the top, was dealt a catastrophic blow by his people. For someone who has won so many political battles, including defeating his father's political structure and rendering useless the political calculations of his party leadership in the 2015 legislative leadership elections, not many could have foretold his sudden political obliteration. But was it so sudden?
Some analysts believe Saraki's political defeat had been coming for some time now. And the reasons are not all his doing. He all but inherited his father's political dynasty, their one-time epic political battle notwithstanding. His father, Olusola Abubakar Saraki, himself a Second Republic senator too, was the godfather of Kwara politics. None ascended any political position of consequence, any position period, without his blessing and express permission. He made his son, Bukola, governor. He even attempted to make his daughter, Gbemi, the direct successor to his son after he had served 8 years. This ultimately failed because of Bukola's resistance. That successful resistance marked the beginning of Bukola's reign as the new godfather of Kwara politics, a position that became fully his after his father's demise in 2012, one year after the bitter battle.
But Saraki has now experienced the excruciating defeat he served his father. He was roundly defeated. All the candidates he supported in the PDP, from presidency to house of assembly, lost. Nationally, locally, he lost his electoral bids. He did not go down alone, his entire ship sunk with him!
Saraki's defeat is a referendum on how he had managed the affairs of Kwara State, first as governor, then through all the elected and appointed beneficiaries of his political structure. The people were fed up with the Saraki dynasty, and Atiku, unfortunately, was caught in the crossfire. Saraki's indiscretions burrowed a chink in Atiku's electoral armor and ultimately cost him the election in Kwara.
Kwankwaso, a vengeful (aspiring) populist
Kano's former governor, Rabiu Musa Kwankwaso, who is also the leader of the Kwankwasiyya movement, a band of red cap-wearing zealous followers concentrated in Kano, promised much for Atiku but delivered almost nothing. He flattered to deceive!
The kwankwasiyya movement appears to be styled after the late Aminu Kano's populist movement. The difference being that Aminu Kano was considered by many as a genuine populist, through and through, unlike Kwankwaso who is an established member of Nigeria's elite.
When Kwankwaso defected to the PDP from the APC, many in the PDP were hopeful, nay confident, that his switch would significantly reduce Buhari's votes in Kano, his traditional stronghold. When Atiku emerged and Kwankwaso, his rival at the PDP primaries, closed ranks with him and pledged support, optimism rose among PDP supporters.
But the height of the Kwankwaso promise was the show of force of the kwankwasiyya movement during the PDP presidential campaign in Kano. A sea of heads overflowed the campaign venue and its environs. Enthusiasm skyrocketed. Supporters became delirious. Some even called Kwankwaso the greatest politician in northern Nigeria and one of the greatest politicians in Africa. To them, he had already delivered. The elections would merely be a manifestation of his massive political and electoral clout.
But when the Kano results emerged, not only did Atiku receive a walloping from Buhari, even Kwankwaso lost his local government! The APC also swept the senatorial and house of representatives seats. The defeat was so decisive that many whose hope of a strong Atiku showing in Kano had been hinged on Kwankwaso's pre-election show of force, could only conclude that the election was rigged.
But many who were more familiar with the local political dynamics in Kano had argued that Kwankwaso's real interest was in the governorship race where he had pitted his son-in-law, Abba Yusuf, against Governor Abdullahi Ganduje, his former deputy and now bitter foe. They may not have been wrong.
Many believe Kwankwaso's departure from the APC was almost solely because of his falling out with Ganduje. Such was the depth of their animosity that Kwankwaso was practically exiled from Kano, unable to even make an appearance for a long time. Kwankwaso was determined to see the end of Ganduje politically. He was even linked to the alleged bribery videos of Ganduje published by a newspaper which dominated national conversation, causing great embarrassment not only to Ganduje, his family and government, but to the people of Kano, the APC, and President Buhari.
The close governorship race which Ganduje edged after a rerun marred by allegations of irregularities may have been the strongest proof yet that Kwankwaso may have indeed invested the bulk of his political capital in trying to oust Ganduje. Although, one must be cautious in estimating his political capital seeing that he also lost his local government in the governorship election, both in the main election and the supplementary election, making it the third time in the 2019 elections. In essence, he did not win his local government in any of the elections in 2019!
Kwankwaso was also heavily criticised for his handling of power sharing after his return to the PDP. His alleged greed forced former governor Ibrahim Shekarau out of the PDP and to the APC. His alleged imposition of his son-in-law, Abba Yusuf, had also led some aspirants to defect from the PDP, further weakening the ranks of the party.
So, all things considered, Kwankwaso's seeming focus on the governorship race and his rather inflexible approach to political negotiation may have contributed to Atiku's woeful showing in the state; not taking anything away from Buhari's historical political influence in the state.
Atiku's loss in Kano was so costly because virtually every permutation on his electoral path hinged on limiting Buhari's fortunes in his stronghold of the Northwest, especially.
Makarfi's reticence spoke volumes
Former governor of Kaduna State and former caretaker chairman of the PDP, was almost in ghost-mode throughout the presidential campaign.
After losing to Atiku in the PDP presidential primary, Makarfi seemed to have withdrawn into his shell. He was barely seen in any of the party's national campaigns. His only known public participation in Atiku's campaign was when the campaign train came to Kaduna.
Given how strategic Kaduna was, alongside Kano, in Atiku's electoral calculations, his seeming no-show was curious. And although Buhari had never lost Kaduna in his all his presidential bids, this time may have offered some real promise to Atiku as the incumbent governor, Nasir El-Rufai of the APC, had become a polarising figure along ethno-religious lines such that his ties with Buhari almost ensured a block vote from the mostly Southern Kaduna Christians to Atiku while he was also primed to get a good share of the Muslim vote, himself being a fellow muslim. Or at least this was what some analysts expected would happen, of course with some good work from a unified PDP base.
But as it turned out, Buhari won the state comfortably. Though it is difficult to measure Makarfi's role or lack of it on Atiku's electoral fortunes in the state, what is clear is that he was not seen to be throwing his political weight around like he did as recently as his time as caretaker chairman of the party, to much commendation.
Lamido, the muffled voice of a deflated former giant
Like Makarfi, former Jigawa State governor, Sule Lamido, seemed to have disappeared after his failed presidential bid. But unlike Makarfi, he actually came out to announce that he had been sidelined by the PDP presidential campaign and even flirted with defection.
He played next to no role in Atiku's presidential campaign. Lamido, a man many had touted as the next torchbearer of a major northwestern populist movement, seemed to fall into near political oblivion after his second tenure as governor as he battled severely damaging corruption charges alongside his sons.
Had he consolidated his political base, made new inroads, and donated such to Atiku in his presidential bid, his story would have been different in Jigawa. But the badly bruised Lamido, who even failed to secure the pursitus of his anointed candidates in the state, was, despite his shrunken influence, still tepid in his support of Atiku.
Jigawa, another key northwestern state, was thus a walkover for Buhari.
Gbenga Daniel's head-spinning mixed signals
Former Ogun State governor, Gbenga Daniels, struck an isolated figure during the presidential campaigns. Having led Atiku to victory in the PDP primaries as his campaign DG, Daniels was replaced by Saraki as the DG in the national campaign.
Many believe this move may have felt like a betrayal to him. He was hardly seen or heard from during the campaigns. In fact, Atiku did not even visit Ogun State for his presidential campaign, a bewildering move. It was little wonder he lost the state!
To compound suspicions that he did not enthusiastically support Atiku, Daniels recently announced his resignation from the PDP and retirement from politics. The drama became even more intense when he hinted that he might be joining the APC along with his supporters, drawing backlash. This was after he had openly endorsed the candidate of the APC in the governorship election in the state.
Many PDP supporters were irked by Daniels' decision, given the fact that Atiku was in a battle to reclaim a mandate he claims was stolen from him. He was deemed by many to be denying Atiku a badly needed support.
Daniels' approach to the Atiku project in his state may have, albeit in no great measure, contributed to Atiku's loss.
Dankwambo, astride two worlds
Former governor of Gombe State, Ibrahim Dankwambo, who was also one of Atiku's challengers in the PDP primary, could barely be said to have added any real value to the Atiku campaign in his state.
The two-time governor and former accountant-general of the federation, who had previously been accused of supporting Buhari to bolster his electoral chances in 2015, was also badly defeated in his bid to go to the senate.
There are some accusations that, like in 2015, he may have tried to benefit from the Buhari wave in his state at the expense of wholehearted and unequivocal support for the PDP presidential project in the state. Well, if indeed he did, it failed miserably this time!
It is also rather curious that a two-term governor could not secure himself a senatorial seat or successfully advance the electoral pursuits of his preferred candidates and other members of his party. With his defeat came the defeat of contestants of his party, the biggest of which was Atiku.
The curious power play in the South East: Ekweremadu, Nnamdi Kanu and the Governors
Many have pointed to the low voter turnout in the South-East region, a stronghold of the Atiku/Obi ticket, as a significant contributory factor to its defeat.
Maybe it was not accidental. Maybe the rather curious, mostly pre-election, power play of major influential figures like Deputy Senate President Ike Ekweremadu, leader of the Indigenous People of Biafra (IPOB), Nnamdi Kanu, and the South East governors, may have been a factor.
Following Atiku's choice of former Anambra governor, Peter Obi, a crack emerged among the PDP leadership in the region. The governors were unsatisfied by his choice, citing lack of sufficient consultation by Atiku. Some have argued though that the real reason for their dissatisfaction may be because Obi is not deemed a real PDP member, and what's worse, not a member of the inner circle of the PDP political elite in the region, having been a two-term governor of APGA.
The governors voiced their dissatisfaction and even though there was backlash from the people with whom Obi enjoys widespread popularity, the tone of bad blood had been set. The three PDP governors of Abia, Enugu and Ebonyi states seemed uninterested in the Atiku project. In fact, they even openly fraternised with Buhari in election season, showering him with praises as if on cue! Most notably was Dave Umahi of Ebonyi State, closely followed by Ifeanyi Ugwuanyi of Enugu State who embarked on an international trip with Buhari wearing his reelection lapel pin.
For Ekweremadu, his grouse, many reckon, was because Obi was picked ahead of him. He was so affected by Atiku's decision that he went missing for sometime, only to emerge with threats of defection. In the end, he seemed to have been pacified and he joined the chorus of voices for Atiku's bid, but not before leading the governors of the region to the president to make demands and compliment him for his efforts in the region. His ego was bruised and he made sure Atiku got the message.
All of this was all the more troubling given that Obi hails from this region. His choice, one would have expected, should have rallied all the forces in the region and produce the highest turnout in recent history. But politics being politics, interest, narrow interest I mean, is almost always transcendent.
There was even a more brazen case of anti-Obi alignment in the South-East. Governor Willie Obiano of Anambra State, Obi's successor, and current leader of APGA, Obi's former party, was vociferous in his opposition of the Atiku/Obi ticket. His rift with Obi had become so deep that the two men have been at daggers drawn for years. Obi even sponsored a candidate to derail his reelection but failed.
Although it was a rout for the PDP in Anambra during the presidential election, one cannot dismiss the possible impact of Obiano's opposition since the political structures in the state are dominated by APGA. Perhaps the low voter turnout may be the closest pointer to a fractured base.
Nnamdi Kanu's impact may have been the most significant. His election boycott crusade at the height of the IPOB Biafra movement long before the elections, made many frenzied supporters destroy their voter cards, while others refused to register. As if this was not enough, he re-emerged from hiding months to election to rekindle the election boycott message, re-awakening the drive in his supporters once again, although his influence had understandably waned. Even though he eventually agreed to back the Atiku bid, the damage had already been done, likely years before.
These forces may have dented Atiku's chances in the overall scheme of things, seeing that while Buhari won his base with convincing margins, Atiku could not fully exploit the votes potential in his.
The whimper of the South-South
Unlike for Goodluck Jonathan's reelection bid in 2015, where the South-South governors and people pulled out all the stops to ensure he scored massive votes, understandably so, for Atiku, the story was different.
From Rivers, to Edo, to Delta, to Cross River, to Akwa Ibom, to Bayelsa, the story was different this time. The margins of victory were not wide enough as to threaten Buhari's haul from his base.
It would appear that the Atiku project did not ignite the kind of fire that swept across the region in 2015 when their son was on the ballot. It is even more distressing for Atiku as it appeared that the turn out and margins of victory for the PDP governors during the governorship elections were significantly better. The South-South, like the South-East, failed to deliver big for Atiku, and their leaders in his party may be at the centre of this costly outcome.
In politics, as in war, the character of men is laid bare
I believe, Atiku, a veteran politician and presidential aspirant, should have learned by now that politics is home to the height of intrigues and perfidy. But no matter how many times the political game is played, surprises always surface. Atiku's many electoral post-mortems may well have proven vain as a sure guide even this time.
But to understand his defeat, he needs not only look outside, he must also closely study himself, and for good measure, the man who defeated him!
Join the conversation
Opinions
Support Ripples Nigeria, hold up solutions journalism
Balanced, fearless journalism driven by data comes at huge financial costs.
As a media platform, we hold leadership accountable and will not trade the right to press freedom and free speech for a piece of cake.
If you like what we do, and are ready to uphold solutions journalism, kindly donate to the Ripples Nigeria cause.
Your support would help to ensure that citizens and institutions continue to have free access to credible and reliable information for societal development.