The turn of events in the Muhammadu Buhari presidency, between May 2015 and January 2018, leaves many learning new lessons in how not to squander an opportunity.
This is because at the onset of his administration, many had argued that his was the last chance to Nigeria to get it right. Many also gave him the benefit of the doubt and permitted his initial missteps. But as 2019 ticks in, the tide seemed to have changed and the pendulum is steadily swinging against his administration.
As it is, the administration seems to have taken the patience of Nigerians for granted. Indeed, Nigerians were ready to permit Buhari's mistakes because they knew he had been disconnected with governance for over 30 years before voting him. For this reason, his initial mistakes were tolerated. Even string opposition voices believed it was cool to give him time to adjust his mindset on governance. For this reason, they buried their voices. But close to three years in office, many are now more than ever convinced that nothing new would be worked out of him.
Many more now believe the experimentation with him was, in itself, a mistake. With the painful reality of economic stagnation, loss of jobs, poor health and living conditions, non-improvement in the earning power of the Nigerian, high inflation rate, and recently, resurgent petrol scarcity; whatever progress the administration had made in the areas of agriculture pales into insignificance.
Against this background, there have been rising indications that Buhari would contest for another term of office in 2019, to which end, Rotimi Amaechi, Nigeria's Minister of Transportation, is said to have been appointed as the Director General of his re-election campaign.
Amaechi, then governor of Rivers state, was at the head of Buhari's campaign in 2015 and is alleged to have wired billions of naira belonging to the state into the campaigns. Interestingly, the ministry he supervises has been favoured in financial allocations from the 2016, 2017 and 2018 federal budgets for projects listed under railway.
Information that Amaechi has been appointed Director General of the Buhari re-election campaign has triggered a barrage of condemnations.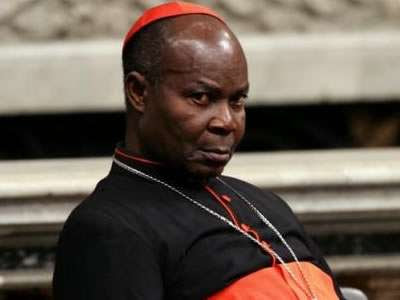 (ANTHONY Okogie)
Anthony Olubunmi Okogie, the Cardinal emeritus of the Catholic See of Lagos, fired the first salvo when he said Buhari must be joking to contemplate another term of office. His reason? Glaring failure of the President to manage the economy and delivering untold hardship and pain to Nigerians instead of smiles.
"What has he done in the years he had been in the saddle? He has performed woefully; that's the verdict of Nigerians. Let the president respect himself and retire quietly. Coming out to talk of 2019 is insulting not only to those who voted him to power but to all Nigerians. There are so many problems confronting the people and he should be thinking of what to do about them. For second term, he must be a joker" was how Okogie captured his disgust at the second term talk.
The Arewa Youth Forum (AYF) was more scathing in its attack on the President. It described his re-election bid as "inhuman"; more so, coming just a few days after 'the human side' of the president was aired on national television by his media team.
The AYF in a statement signed by its National President, Alhaji Gambo Ibrahim Gujungu said: "we are appalled to hear that in the midst of all the problems in the country, the president and his men have already put in place measures to kick start his re-election bid for 2019. As the apex body of youths in the 19 Northern states and Abuja with affiliates across the country, we see the re-election bid of Mr. President at this point in time as inhuman, uncalled for and an insult to the sensibilities of the suffering Nigerian masses."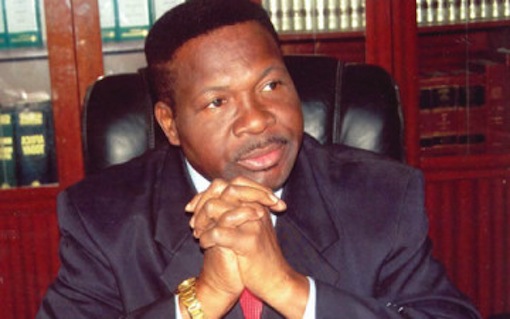 (Mike Ozekhome)
Outspoken lawyer, Chief Mike Ozekhome SAN was not left out. He added his voice and told President Buhari that he has lost touch with reality. He said: "People are hungry, no fuel, herdsmen are killing at random and he is talking about kick-starting a campaign to return to power in 2019. It shows he is totally detached from the realities on ground. Although, someone like me, I am not surprised because after listening to him on his New Year broadcast, it was clear that he has completely lost touch and out of tune with the reality on ground in Nigeria. His popularity for the last two years and nine months when he became the Nigerian president has fallen abysmally and he is now rated less than 25 per cent in terms of popularity in the country simply because he is surrounded by sycophants who continually deceive him".
Read also: Amnesty Int'l charges Nigerian govt to 'end epidemic of gruesome killings'
Ozekhome left his with an advice: "The best under this circumstance for him would have been to take the Nelson Mandela option, that is, retiring to his Daura farm and continue to tend to his cows. That is my candid opinion on this issue."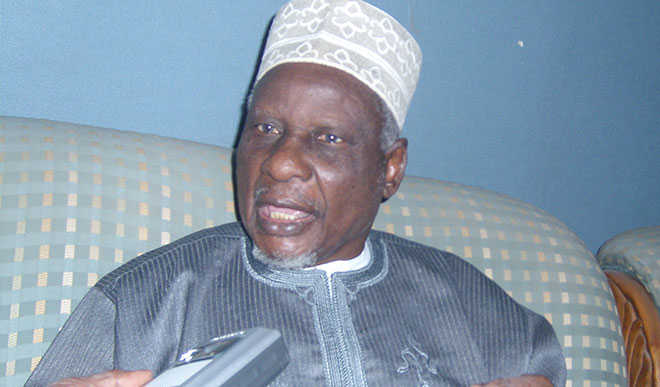 (Tanko Yakassai)
Is Buhari listening?
Buhari may be used to regular tongue-lashing from Junaid Mohammed. But not from elder statesman, Tanko Yakasai. Yakasai was a victim of Buhari's first attempt at leadership as a military dictator. He suffered imprisonment and had dedicated chapters on his traumatic experience in Buhari's hand in his autobiography. In x-raying Buhari's second term ambition, Yakasai said he is not disappointed that Buhari had failed the expectation of his backers but adds that he warned Nigerians in 2015 that he would be a disaster.
Junaid, who said "I am disappointed", may have expected more from Buhari, but he was more like the lone voice from the north screaming against the nepotistic bent Buhari's government had taken. So, he says: "It also confirms what was known among leadership around the world that anytime they are unable to solve a problem or are confronted with a challenge either as individuals or as a nation, they look for diversion." To that he adds: ""if governance is about solving the problem of the people, the number one problem now is to make sure that this fuel scarcity does not ground the country to a halt and I think they would rather drive the country into a complete halt than solve the problem and do what is necessary and they know what is necessary and what has to be done. I am really disappointed".
(Rashidi Ladoja)
Rashidi Ladoja, a former governor of Oyo state, was so piqued by the development that he literally said the president and his party have become selfishly focused on personal good rather than the general good. Speaking through his media aide, Ladoja said: "Kick-starting the second term campaign for Buhari is not appropriate, more so that those who voted for him in 2015 expected more than he had been able to do so far. He is not alive to the suffering of the Nigerian masses and this does not augur well for the electorate who voted him in."
But the statement that showed how disjointed the Buhari administration is came from the leadership of the party that brought him to power.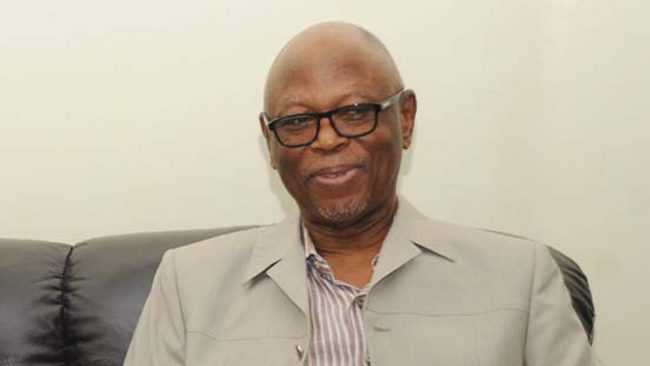 (Odigie Oyegun)
In the wake of the New Year, Buhari reconstituted boards of federal parastatals and agencies which were dissolved in June 2015. In announcing the new boards, Buhari appointed eight deceased Nigerians into membership and headship of some boards. The discovery caused national outrage forcing the President's men to rise in defence, though lame. Embarrassment caused by the appointments forced National Chairman of the Party, Chief John Odigie-Oyegun to distance himself from the President, announcing that the constitution of the boards were entirely the president's doing.
Oyegun's action exposed the level of estrangement of the party's leadership in the management of affairs of the country. This indicates that Buhari has lost control and is watching while his presidency vanishes.
Besides, the President's open display of insensitivity to the pains of Nigerians, and his penchant to push blames to others and not take responsibility, may make him a hard-sale towards 2019. It is doubtful if those who took bullets for him in 2015 will stand in the ways of darts in 2019 having become victims of his nepotism, sectionalism and superiority-complex. His decision to build a railway line that will link Nigeria and Maradi in Niger Republic, at a time Kaduna is the only Nigerian city linked to Abuja by rail, leaves many Nigerians seeking a peep into the workings of his mind.
For many, the decision, which is seen to be in favour of ethnic linkage between Nigerian and Nigerien Fulani communities, is enough to end Buhari's romance with rulership in Nigeria.
However, the strongest factor that will eclipse his presidency is the issue of rampaging murderous Fulani herdsmen. The president has severally claimed to overcome the challenge caused by Boko Haram terrorists. But he has been unable to bring his touted prowess to bear on Fulani herdsmen, a reality that exposes his weakness.
Many Nigerians believe that just like Boko Haram contributed in eclipsing the presidency of Dr. Goodluck Jonathan, Fulani herdsmen will help bury Buhari's presidency faster than he expects.
By Femi Qudus…
RipplesNigeria… without borders, without fears
Click here to join the Ripples Nigeria WhatsApp group for latest updates.
Join the conversation
Opinions