ICYMI: Are these Nigeria's emerging class of political prisoners? And, is the presidency in panic mode?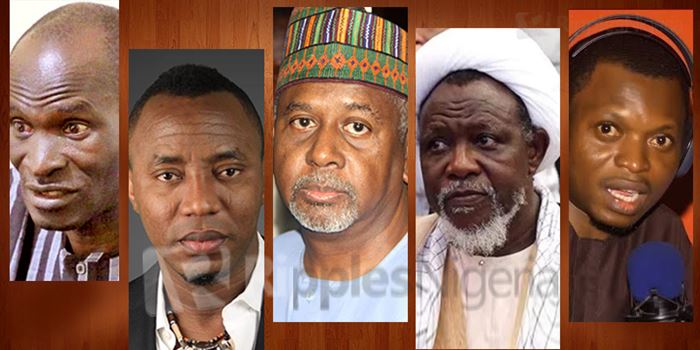 The following piece which you are about to read was originally published November 9, 2019. Did we anticipate the global outrage around the issue of Nigerian government refusing to obey court orders? Perhaps, yes.
On November 20, Amnesty International, a global organization renowned for tracking human rights abuses, formally tagged some of the country's detainees, 'prisoners of conscience', putting a seal on some of the posers raised in our November 9 essay.
We republish the original article for your reading pleasure.
Stories of people arrested and detained under the President Muhammadu Buhari administration have become rife.
The former presidential aspirant of the African Action Congress (AAC) in the February 2019 presidential election, Omoyele Sowore, who was arrested on August 3, 2019, due to his call for a revolution, has been the subject of discourse recently.
He was charged with treasonable felony and has been struggling to secure his bail despite a court ruling by Justice Ijeoma Ojukwu of the Federal High Court sitting in Abuja.
Both the Federal Government and some state governors appear to be in competition over how to silence perceived vocal opponents allegedly causing underserved distractions.
The many that have been arrested, and are being prosecuted, look set to form an emerging class of political prisoners in the country. Amnesty International – a body that campaigns against human rights abuses – in May 2019, said that the human rights situation in Nigeria was currently characterized by serious violations such as extrajudicial executions, arbitrary arrests and detentions, torture and other ill-treatment.
John Chukwu of Ripples Nigeria examines a few Nigerians whose travails, arguably, appear to qualify them as prisoners of conscience.
1. Sambo Dasuki
When the issue of political prisoners in Nigeria is mentioned, Dasuki, a former National Security Adviser (NSA) to former President Goodluck Jonathan, would occupy a prime position. After a presidential panel which investigated arms procurement under the Jonathan administration indicted him, he was arrested by the Economic and Financial Crimes Commission (EFCC) on December 1, 2015 for allegedly misappropriating $2.1 billion meant for acquiring arms to fight the Boko Haram insurgency in North east region, awarding ghost contracts to buy 12 helicopters, four fighter jets, and sharing the money to some politicians.
He was charged along with former Sokoto State governor Attahiru Bafarawa, his son, Sagir Bafarawa; former Director of Finance and Administration in the Office of the NSA, Shuaibu Salisu and former Minister of State for Finance, Bashir Yuguda. Before his arrest by the EFCC, he was already facing charges of illegal possession of firearms and money laundering.
He has once declared that the money he shared to politicians was in compliance to the order of the then President, Jonathan. "I am ready to prove in court how we complied with the directive of the ex-President," he asserted.
As at November 2018, despite being granted bail by four different High Court Judges in Nigeria including the Economic Community of West African States (ECOWAS), Dasuki has remained in detention.
In October 2016, the ECOWAS court declared Dasuki's arrest and detention to be unlawful and arbitrary and awarded N15m in damages against the Federal Government. The Federal High Court, in Abuja, on July 2, 2018, granted bail to Dasuki. While delivering the judgment in the suit filed by him in March 2018, Justice Ijeoma Ojukwu ruled that his detention since December 2015, amounted to a violation of his right to liberty. In July 13, 2019, a Court of Appeal granted bail to him and ordered the Federal Government to pay him N5 million for violating his freedom of movement. Dasuki is still held against his will despite the judgments which were in his favour.
2. Ibrahim El-Zakzaky
The face off between the Muhammadu Buhari administration and El-Zakzaky started on December 12, 2015 when the Nigerian Army were reported to have used an unsuitable force against the Shi'ites' street procession in Zaria, Kaduna State, to clear the route for the Chief of Army Staff, Lieutenant General Tukur Buratai's convoy. In the ensuing three-day violent crackdown, the army allegedly killed 384 members of the Muslim group with 347 bodies secretly buried in a mass grave while hundreds were arrested on December 14, 2015, including their leader, El-Zakzaky and his wife, Zeenat.
The army alleged that the Shi'ite members were "armed with batons, knives and machetes stopped the convoy of the military," saying it acted in self-defence and to avoid the possible assassination of Buratai. The Shi'ite members did reject this claim, stating that the massacre occurred without provocation and that the members were not armed. El-Zakzaky would later be charged to court for alleged conspiracy and abating culpable homicide.
A Federal High Court in Abuja, presided over by Justice Gabriel Kolawole, on December 2, 2016, ordered the immediate release of El-Zakzaky and his wife. The court also ruled that a fine of N50 million be paid to him and his wife, including the provision of an accommodation for them. The court gave a 45-day ultimatum for the Federal Government to meet up with its judgment.  Unfortunately, after the 45-day ultimatum given by the Abuja court, the Federal Government did not obey the ruling. Instead, they filed an appeal against the ruling after 10 days of its expiration.
Following the refusal of the Federal Government to release him, the Shi'ites have consistently staged a series of protests for the release of their leader. Some political analysts, however, are of the view that President Buhari's refusal to release El-Zakzaky is not unconnected to the fact that he is a Sunni Muslim who are not at home with the Islamic orientation of Shi'ite Muslims. The Buhari administration has since dismissed these speculations.
The Nigerian government continues to hold the cleric under what it termed protective custody even as the sect and its detained leader dramatically turned down an offshore medical treatment opportunity.
3. Omoyele Sowore
Sowore was arrested on August 3, 2019 in a hotel in Lagos by the Department of State Security (DSS) for alleged treason after calling for a protest tagged #RevolutionNow and taken to Abuja, the following day. The #RevolutionNow movement under the auspices of the Global Coalition for Security and Democracy in Nigeria had called on the citizenry to march – in protests across states of the federation – against bad governance on August 5, 2019. "This series of marches and rallies will continue until we have the Nigeria of our dreams," they said.
Sowore was, therefore, charged to court for insulting President Buhari, treasonable felony and acts bordering money laundering. Justice Taiwo Taiwo of the Federal High Court sitting in Abuja, on September 30, 2019, granted him bail and ordered the DSS to release him after he met the condition given by depositing his international passport with the court. But, despite the ruling, the Federal Government refused to free him.
Moreover, on October 4, 2019, Justice Ijeoma Ojukwu of the Federal High Court in Abuja, granted bail to him and his co-defendant, Olawale Bakare. The bail was in the sum of N100m with two sureties in like sum. The judge also ordered him to deposit the sum of N50m in the account of the court as security. She granted bail to the second defendant in the sum of N50m with one surety. The defendants' lawyer, Femi Falana, described the bail as stringent. "We would take appropriate steps to ensure that our clients gain their freedom as soon as possible," Falana said.
On October 21, 2019, Justice Ojukwu reviewed his earlier order that Sowore deposit N50 million as security and reduced the amount attached to Bakare's bail from N50 million to N20 million. Though Sowore's case has been adjourned to December 5 and 6, 2019, on November 6, 2019, reports went viral that Sowore's lawyers have secured his release from the DSS after perfecting his bail condition and securing order from court.
However, upon arriving at the DSS facility around 4:30pm, his lawyers were turned back by the DSS on the claim that they had closed for the day. Placed under pressure, the secret police claimed that the reason for Sowore's continued detention was that no one had come forward to take delivery of him.
"It is important that the public notes that since the receipt of the Order, no person has turned up at the DSS to take delivery of him," DSS spokesman Peter Afunanya said.
4. Agba Jalingo
Jalingo is the publisher of a privately owned news website known as Cross River Watch. He was arrested by the Nigerian Police Force (NPF) in August 2019 and was charged with disturbance of public peace and treason for his writings, social media posts about the governor of Cross River State, Professor Ben Ayade, coupled with his involvement with the #RevolutionNow protest.
Jalingo, however, has argued that the real reason he is being held is not unconnected to exposing corruption by the Ayade administration. The disturbance charges stem from a July 12, 2019, article he published that alleged corruption involving Ayade and the Cross River Micro Finance Bank.
Also, the treason charges allege that Jalingo agitated for Ayade's removal through "various malicious publications" on Cross River Watch and social media.
Jalingo was eventually arrested in a junta style by the police in Lagos on August 22, 2019, and was not arraigned until 34 days in detention.
Read also: INVESTIGATION… How Lagos Environmental Sanitation Officers maltreat, extort residents
He was denied bail twice with the court also giving an order for unidentified witnesses to testify against Jalingo in mask, signaling lack of fair hearing in the case.
On Friday, October 4, the bail application filed by Agba Jalingo was refused by a Federal High Court, sitting in Calabar, Cross River State, presided over by Justice Simon Amobeda. In denying him bail, the court ordered that he be remanded in prison custody pending the conclusion of his trial and determination of the charge brought against him by the Prosecution.
Agba Jalingo has been recorded in the November list of the most urgent cases of threats to press freedom suffered by journalists around the world. The list — released each month by the One Free Press Coalition, which was created by a dozen news organisations including TIME, with the goal of defending journalists under attack — identifies ten of the most severe cases of threats to press afreedom around the world.
5. Jones Abiri
Abiri is an editor and publisher of the Weekly Source newspaper. He was reportedly rearrested by armed men suspected to be from the DSS in Bayelsa State, just within a couple of months after his release in August 2018 from a two-year – July 2016 to August 2018 – stint in the state custody.
He had spent the two-year detention without any trial, over an alleged links to rebels in the Niger Delta region and also threat to oil companies.
On March 22, 2019, a Federal High Court in Abuja charged him for cybercrimes which he allegedly carried out in 2016 when the DSS arrested. He was released by prison authorities after meeting his bail conditions on October 25, 2019.
Upon his release, he said that he was forced under threat of violence to write a confession that he was a militant.
Speculations are that Abiri's arrest may not be unconnected with a report he published which alleged that the country's military were planning a coup against President Muhammadu Buhari.
6. Stephen Kefas  
Kefas is a Kaduna based journalist and human rights activist. He was arrested by men of the Rivers State Police Command for reposting a Sahara Reporters article on Facebook. The article detailed the events leading up to the death of Kajuru Monarch, Dr. Galadima Maiwada, the Agom of Adara Chiefdom in Kaduna State.
Kefas has been a critic of Governor Nasir El-Rufai of Kaduna State. He was accused of injurious publication and false accusation against the government of Kaduna State. He was vocal in condemning El-Rufai and the Chairman of Kajuru Local Government, Cafra Caino, regarding the violence in Southern Kaduna communities, banditry and herdsmen's killings, among others.
A group – Citizens for Stephen Kefas – on October 7, 2019, asked the Nigeria Judicial Council (NJC) to investigate the plight Kefas has been subjected to. Emmanuel Onwubiko while speaking on behalf of the group noted that "as of Monday, October 7, 2019, he has spent 139 days in Kaduna Prison without bail for criticizing Governor El-Rufai."
Meanwhile, Kefas, on October 10, 2019, filed a N500 million suit against El-Rufai, the Inspector General of Police (IGP), Mohammed Adamu; Special Adviser on Legal Affairs to Kaduna State Governor, Aisha Dikko; Attorney General of Kaduna State; Kaduna State Commissioner of Police and Caino.
The group has since been demanding for his immediate and unconditional release as well as enforcement of his fundamental human rights.
7. Deji Adeyanju
Adeyanju is a social media activist and the leader of 'Concerned Nigeria' group. He was arrested on December 13, 2018, on allegations of attempted homicide – which was linked to a cause that was concluded in 2009 – and criminal conspiracy. The arrest came after he spent a week in prison between late November and early December 2018.
He was leading a protest against alleged Police bias ahead of the 2019 general elections when he was arrested and accused of defamation against Senior Security Chiefs. A Federal High Court in Kano State, on March 1, 2019, granted him bail after spending 78 days in detention. The bail demanded that he must pay N500, 000 and provide two sureties.
After his release, he pulled out of the 'Our Mumu Don Do' coalition, alleging that his partner, Charles Oputa, aka Charly Boy, betrayed him and their cause while he was locked up in prison. He tweeted: "Dear Nigerians, I have resigned my membership of Our Mumu Don Do. I no longer have confidence in the leader of the movement, Charly Boy. He betrayed the cause while I was away in prison and compromised with the oppressors. Thank you."
Not-too-long ago, he filed a petition before the EFCC demanding the investigation of the appearance of bullion vans in the house of the National Leader of the All Progressives Congress (APC), Asiwaju Ahmed Tinubu, on the eve of 2019 presidential elections. The petition is dated October 25, 2019 as addressed to the Chairman of the anti-graft commission. The EFCC are yet to respond to the petition.
Concerns
The disturbing trend of bundling known critics into detention, without respect for the rule of law, has many thinking that the Buhari administration appears to have activated the panic button.
Attempts to gag the press, both broadcast and social media, as deduced from recent posturing of Minister of Information and Culture, Lai Mohammed, seem to further illustrate the panic mode within the administration.
Given Buhari's taciturn character, and his antecedents, Nigeria's burgeoning opposition class must be ready for a sustained struggle if they consider the institutionalization of rule of law a worthy project.
Join the conversation
Opinions
Support Ripples Nigeria, hold up solutions journalism
Balanced, fearless journalism driven by data comes at huge financial costs.
As a media platform, we hold leadership accountable and will not trade the right to press freedom and free speech for a piece of cake.
If you like what we do, and are ready to uphold solutions journalism, kindly donate to the Ripples Nigeria cause.
Your support would help to ensure that citizens and institutions continue to have free access to credible and reliable information for societal development.