ASSAULT ON NURSING LADY: Atiku wants PDP to discipline erring Sen, as Falana writes IGP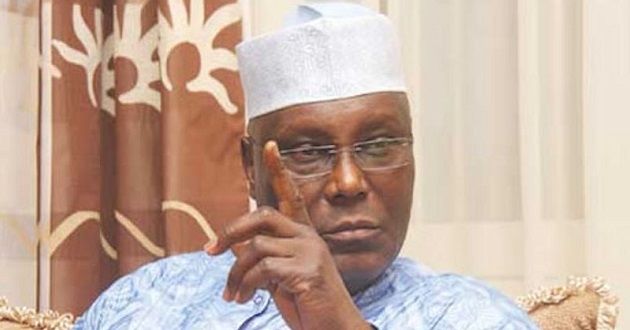 The presidential candidate of the Peoples Democratic Party (PDP) in the last election, Atiku Abubakar, has reacted to the story of a senator of the party, who reportedly assaulted a nursing mother at a sex toy shop.
Atiku said he had watched the video and "it is sad". He therefore called on the PDP to take necessary disciplinary action and the Nigerian Police to ensure the law takes its full course.
The senator, Elisha Abbo, who represents Adamawa North, was said to have committed the alleged act in Abuja earlier this year.
Reacting in a post on his Facebook page, Atiku said: "I have seen the alleged assault video involving Sen. Elisha Abbo. The video is sad, inexcusable. I know the Senator quite well. But the law is clear and leaders must lead by example.
"I advise him to publicly apologize, voluntarily go to the police and show a good example expected of a young leader. I also call on our party, the PDP, to take necessary disciplinary action and the Nigerian Police to ensure the law takes its full course."
Meanwhile, a human rights activist, Femi Falana, has asked the Inspector -General of Police (IGP), Mohammed Adamu, to investigate the issue.
Falana said on Wednesday when he made his demand to the IGP on the matter through a letter, adding that he will press for the arraignment and prosecution of the senator, if he was indicted.
The lawyer stated this when he spoke at a conference on 'Agenda setting for citizens' interaction with stolen assets recovery: Abacha loots recovery and utilisation as case study.
The programme was organised by Human Environmental Development Agenda in Abuja.
"A very sad event that took place whereby a senator was alleged to have beaten up a nursing mother in spite of pleas from
people who were there.
"This matter is being taken up. Before coming here this morning, I had already sent a letter to the IGP for immediate investigation and prosecution of the senator.
READ ALSO: Fani-Kayode demands arrest, prosecution of Senator Abbo for assault on lady
"Of course , since he is presumed innocent until the contrary is proven, as they say in Nigeria, we are asking for investigation but if he is indicted, of course, we are going to press that he be arraigned and prosecuted for assault occasioning harm punishable under the penal code applicable in the Federal Capital Territory, Abuja.
"Of course there is a new law that all of us should be aware of. We are also going to ask the IGP to charge the senator if indicted under Section 2 of the anti- torture act of 2017," he said.
Join the conversation
Opinions