As comments and criticism continue to flood social media over the inability of any family member of controversial Big Brother Naija housemate Cee-C to call and extend words of encouragement over her qualification for the final round of the reality show, one of the sisters of the contestants, Vanessa has explained the reason why.
In a statement issued in the heat of the criticism which saw some fans accusing the family of distancing themselves from Cee-C but instead sent a representative in the person of one Dana identified as their dad's PA, Vanessa said it turned out that way because there was short notice to get the message done.
"I know some of us would have preferred I did the video. And trust me, I really wanted to. I needed to tell her a whole lot, especially the love from you all.
"Well, when we were contacted they requested a selfie video from anybody apart From the family. It was really short notice. '
"Dana is a family Friend. She was actually part of my bridal train. And we all Know Cee-C has a bad sight. Do not let anyone distract you with a non-issue. We are totally and fully behind Cee-C. '
'That said let's keep voting we will meet In Lagos Next Week?' She wrote on Cee-C's Instagram page.
And with the five finalists now selected to slug it out for the third edition of the show tagged 'Double Wahala' It is all now set for a grand finale as the chosen contestant's battle it out to emerge as the latest made-in-Nigeria star and a suitable successor to winner of the second edition Efe Ejeba.
Speaking on why they should be voted as the winners of the reality TV show, the five finalists in a recorded message each begged Nigerians for their votes to emerge the winner of the show.
Tobi speaking on his plans for the prize money said "For a 23-year-old, I have a finance background so I know what to do with the money; I would not waste it in clubs.
Read also: Censors Board boss cites 4 reasons next edition of BBNaija should be staged in Nigeria
"My photography, I need to expand that business because I don't have plans of going behind the desk anytime soon. I need you guys to vote let's get that money."
Alex, speaking on her plans for the grand prize said "I need the money in my life to treat my dad, finish school and take care of my siblings."
Miracle on his part said "Coming here is a deal for me, winning this money is a bigger deal to me.
"I would use the money to go for my CPL training as a professional pilot. Help me abeg and vote for me."
Cee-c also speaking said she had a lot of projects to do with the money.
According to her, "Nigerians please vote for me to win this money.
"I cannot give a particular reason to vote for me. I can't say because I'm beautiful or attractive but Nigerians please vote for me. Vote for me because I have lots of projects to achieve with this money."
Nina on her part said "I don't know how I got this far. This is like a dream come through.
"I have always had the dream of becoming someone in future and this is just it. I am pleading to Nigerians, Africans to support me to achieve this dream of mine."
The eventual winner of the reality TV show stands the chance of carting home the sum of N45 million as grand the prize and driving home in a brand-new SUV after almost three months of drama, intrigue, betrayal and entertainment in the Big Brother house.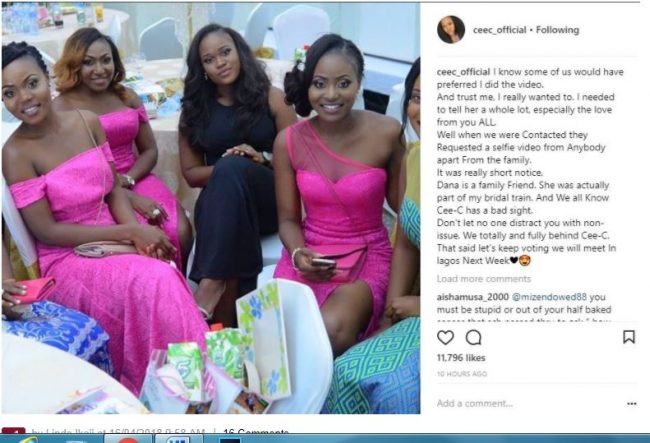 RipplesNigeria… without borders, without fears
Click here to join the Ripples Nigeria WhatsApp group for latest updates.
Join the conversation
Opinions