Before Abba Kyari rests in peace!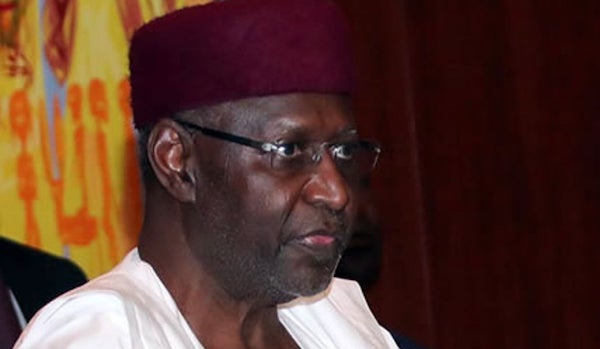 Mallam Abba Kyari, the former Chief-of-Staff to President Muhammadu Buhari, died few weeks ago in a Lagos hospital of Coronavirus. He was hurriedly buried without pomp according to the Islamic rite of passage to the great beyond. Now, tributes are still pouring out in honour of the departed man of power. Friends, relatives, admirers and acquaintances of the fallen CoS are daily regaling us with his patriotism, humanism, goodness and loyalty to the system.
We have been told how friendly Abba was; how easily accessible he was to his friends; how he was providing scholarship to scores of children of the indigent; how munificent he was; how he approached his job with uncommon diligence etc. But none of these army of venerators had told us about the late Kyari's salary per annum — something that could have easily allowed him 'freedom' to play Dangote!
We recognise that no man is good enough; no mortal is perfect since perfection and infallibility belong to divine forces above. However, we are also of the view that no man is good enough to be the master of another let alone the master of a miserable lot at the receiving end of a cruel governance like millions of our compatriots. We all have only one Master and He is invisible, omnipotent and omniscience.
Most of the positive things said about Mallam Abba were not known to the general public when he was still very much with us in flesh and blood. One of the things we have been told about him was that he was frugal, that he rode a BMW car seized from a Minister during the Goodluck Jonathan era for years refusing entreaties to go for a bullet-proof model.
But the truth is that some smart crooks hide their ill-gotten wealth by presenting an image of frugality! One could hide behind invented frugality to conceal embezzlement or mask a character of cupidity. We had seen those caught for looting the public funds when they were in power and hiding same in pit toilets, water reservoirs and ceilings instead of taking the money to the bank for fear of the consequencies.
Mallam Kyari may not have been given to the ostentatious lifestyle of the likes of former Kogi-born federal legislator, Dino Melaye, who used the filthy lucre he made while playing in parliament to acquire expensive automotive 'metals'. For Dino he loved buying luxurious cars for keeps and that for him is better than spending the huge cash at his disposal on cocaine!
There are troubling questions we would like to ask those 'deodorising' the late Abba and presenting the other side of him unknown to the general public before now. One, why would a Chief-of-Staff to a President — an unelected entity — led a high-powered federal government delegation to Germany to negotiate an energy 'deal'? Where were the Ministers of Foreign Affairs, Power and Energy?
Two, why would Mallam Abba usurp his powers by meeting diplomats, Ministers, and security chiefs issuing orders without the consent, approval and even knowledge of the President or the National Security Adviser? When Babagana Mungono, the NSA, said so in a scathing leaked memo no one denied the charges. So should we take it that he was making sense by going public with the anomaly?
Three, who collected the 5 million Dollars bribe MTN Nigeria gave out in order to lower the punitive financial measure taken by the government against the South African telecom giant? If not Mallam Abba then who did on his behalf?
Four, why would the late Kyari refuse to recall Maryam Danna, a chartered accountant with the Niger Delta Power Holding Company (NDPHC) for years following her suspension because of her role in exposing corrupt practices and other irregularities in the federal agency? Despite the Senate resolutions (even during the Saraki Senate presidency) calling for her reinstatement why did Kyari kick against such thing happening? Whatever happened to accountability and probity?
Read also: HERBERT WIGWE: Is it nunc dimittis?
Five, why should Abba Kyari intervene with manifest impunity in 'Maina-gate' to the criminal point of wanting rehabilitation and reinstatement of the criminal who looted millions of Dollars of Nigerian pensioners? What was his interest in the matter? Or did Abdulrasheed Maina share part of his loot with him?
Sometimes in Nigeria ten-percent of proceeds of economic crime could translate into millions or billions of Naira benefit! A whole lot of folks had made it big through such avenues.
As a lawyer, banker, Editor and public servant before hitting it big as unelected 'acting President' in Abuja Kyari was arguably a rare gem! He possessed a rare gift uncommonly bestowed on few mortals. But he failed to impact positively on the first four years of Buharism which was a failure in general terms.
If he had deployed his energy on ennobling things that change societies for better we would have not hesitated to sing his praise post-humously.
His daughter, Aisha, was reported to have told critics of her late father to let him rest in peace. We retort that we cannot allow him to repose in his grave — not when full disclosure is yet to be attained!
Before he rests in peace the state secrets he died with must be unearthed for democracy to thrive in our country. If he had been spectacular in perfoming his strategic duties as President Buhari's chief handler then our nation would not have been stuck (still) in developmental morass she finds herself.
Let the inquest post-Kyari, therefore, continue until our collective conscience, just like an open wound, is healed by truth.
Author: SOC Okenwa…
Join the conversation
Opinions
Support Ripples Nigeria, hold up solutions journalism
Balanced, fearless journalism driven by data comes at huge financial costs.
As a media platform, we hold leadership accountable and will not trade the right to press freedom and free speech for a piece of cake.
If you like what we do, and are ready to uphold solutions journalism, kindly donate to the Ripples Nigeria cause.
Your support would help to ensure that citizens and institutions continue to have free access to credible and reliable information for societal development.