CBN projects inflation rate to rise to 11.4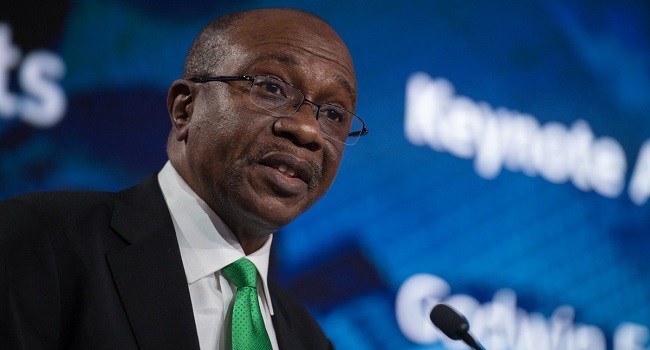 The Central Bank of Nigeria (CBN) has said that it expects inflation rate in the country to increase to 11.4 percent for the remaining part of this year till the middle of 2019
According to the CBN, the expectation of increase in inflation rates is hinged on expected increased liquidity through enhanced spending by politicians as the nation enters the election season proper.
The CBN Governor, Godwin Emefiele disclosed this while speaking on Nigeria's outlook and policy thrust for 2019.
He said: "Inflation expectations are rising on the backdrop of anticipated politically related liquidity injections. For the rest of 2018 and towards mid-2019, Nigeria's rate of inflation is projected to rise slightly to about 11.4 per cent and then moderate thereafter."
It would be recalled that the National Bureau of Statistics, NBS, had in a recent report, put the consumer price index, which measures inflation at 11.26 per cent (year-on-year) in October2018.
This was 0.02 points lower than the rate recorded in September 2018 (11.28 per cent).
Read also: Fuel scarcity looms as oil marketers plan showdown over N800bn subsidy debts
Speaking on the exchange rate, Emefiele said that although the CBN had so far managed to maintain exchange rate stability, the current capital flow reversals from emerging markets were expected to continue to exert considerable pressure on market rates.
This, the CBN Governor said, could be amplified by the forthcoming elections, especially as the political marketplace heats up.
He however insisted that despite the pressures, the CBN was determined to maintain its stable exchange rate policy stance over the next few months, given the relatively high level of reserves.
"Gross stability is projected in the foreign exchange market given increased oil-related inflows and contained import bill. I would like to make it categorically clear that sustaining a stable exchange rate is of overriding importance to us even as we continue to put measures in place to shore up reserves," he said.
Emefiele further said the balance of payments was expected to remain positive in the short term, and that as oil prices continue to recover, it was expected that the current account balance would strengthen even further.
"This will be supported by improved non-oil performance as diversification efforts begin to yield results to reduce undue imports," he added.
Emefiele also said that the apex bank would explore the possibility of leveraging technology to enhance credit to critical sectors of the economy, especially agriculture and manufacturing.
Join the conversation
Opinions