Dear Prophets and Seers, when will the killings stop?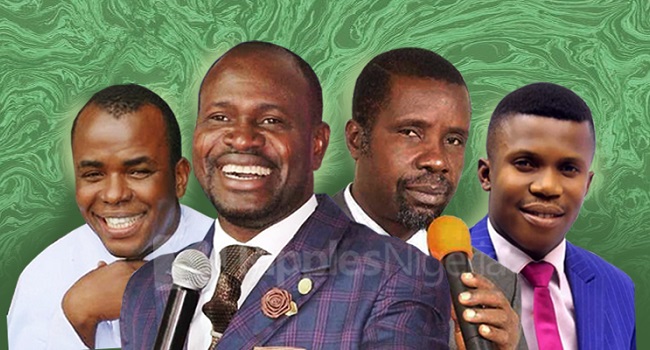 In Nigeria, it has become a norm to visit seers or fortune tellers or prophets or some sorts of spiritualists to foreknow distant events and happenings. This foreknowledge is either for the seeker's good or perhaps his community or even the nation.
Been a robust global religious hub, Nigeria has its people holding strongly to whatever revelation declared by spiritualists as the final authority either in business, academics, politics, sports and so on.
It is a usual practice to hear prophecies (and predictions) by spiritualists on who becomes either the president or governor or senator as the case may be. After every four years, diverse contradictory predictions and declarations are made. In fact, some of them go as far as declaring the party to be on the watch out and also, anointing aspirants vying for political positions and foretelling political events with their timings.
With the emergence of Chief Olusegun Obasanjo as the democratically elected president in 1999, we were told that long before his eventual released from incarceration, it was foretold that he will become a civilian president. This trend of 'politically inclined prophesies and prediction' continued form 1999 till the just concluded election in 2019.
Seers and prophets whose prophecies or predictions come to pass where seen as some 'gods' and are often revered and held in high esteem. Some are even worshipped and rewarded with huge sums or some kind of favors. To this end, several of our politicians now housed their personal spiritualists or payrolled them while others still pay regular visits to either appease them or their 'gods'.
From 2009 when the Boko Haram (BH) terrorist group came to limelight, nobody imagined they would sooner constitute a major threat to Nigeria and the neighboring countries up north. With the accolades, recognition and good recommendations given to Nigeria military especially by the international community, no one ever thought that BH would last this long. It was believed that the military would be able to flush them out within days or at most months.
Read also: Concorde casino and the metaphor of a loyal wife
Eventually, thousands of lives had been, and are still being lost to BH terrorists, without any hope of their defeat at sight. Also, the Kaduna-Zamfara-Katsina-Sokoto axis has become another hotspot for the congregation of bandits and kidnappers who operate at will. They kill, maim, kidnap, harass, rape, steal and commit all manner of atrocities with little or no confrontation by the security forces.
It is common knowledge that communities and high ways are no longer safe in Nigeria's north-west, especially Abuja-Kaduna high way. These bandits have also captured several rural communities and had long set up rulers who receive tax and 'tithe' (Zakat) from the poor peasants while the government looks the other way.
Also, Fulani herdsmen terrorize, attack, kill, kidnap and even destroy farmlands in north-central states of Nigeria and some parts of the north-east, south-east, south-south and even the far south-west. The continuous and unabated high-level attacks launched by these herdsmen in several communities in southern Kaduna, Plateau, Nasarawa, Benue, Taraba and Adamawa states have long been classified as genocidal.
Furthermore, arm robbery, kidnapping, cultism, ritualism, and thuggery has taken over both the rural and urban centers in the south-east, south-south and some parts of the south-west. These cruelties among the people are flourishing with no end in sight.
It is sad to know that every day in Nigeria, hundreds of lives are wasted. Nigeria is gradually becoming a killing field. All these deaths are avoidable, but the governments at different levels are doing very very little or nothing about them.
Several state governments and communities have organized uncountable mass burials for their slain citizens. Truth be told, some governors and leaders had openly declared their helplessness to this carnage and evil without resigning their positions.
Zamfara State governor, Abdul'aziz Yari had long ago confessed to having dropped his responsibility as the Chief Security Officer of his state, as he no longer controls the security machinery of the state. Also, efforts from Abuja aimed at curtailing these wanton killings around Nigeria are so minimal or none.
Where are the prophets, seers and spiritualists? As long as we keep hearing of revelations and prophecies and predictions on who becomes what on the political space, our ears now long to hear prophecies and predictions on when the killings in Nigeria will stop.
Dear Nigerian Prophets, seers, and spiritualists, our security space in Nigeria are also very important. In fact, more important than our politics. As you may know, our security forces and military are overstretched and tired already.
With the 2019 elections over, let the attention of the spiritualists be poised on the killings. The same energy, vigor, and enthusiasm they had in making known their predictions during the electioneering, I humbly request that they put same in letting us know when these killings will stop.
Dear Nigerian prophets, seers, and spiritualists don't forget that one day we may all wake to find us all killed, kidnapped, maimed or properties stolen or destroyed or even used for rituals if nothing urgent is done about these unsavory killing. Dear prophets, seers, and spiritualists since you do not live in a different Nigeria, arise and speak before the nation finally go extinct.
The lives lost daily in Nigeria worth far more than mere political aspirations of few individuals. As you always prophesied and predicted to our politicians after every four years, please, prophets, seers, and spiritualists prophesy NOW.
I am afraid, should you all prophets, seers, and spiritualists wait for the next four years, there might not be Nigeria, talk more of politicians to be prophesied to, should these trends of killings continue.
Dear Nigerian prophets, seers, and spiritualists, WHEN WILL THE KILLINGS STOP?
By Reuben Rine…
Join the conversation
Opinions
Support Ripples Nigeria, hold up solutions journalism
Balanced, fearless journalism driven by data comes at huge financial costs.
As a media platform, we hold leadership accountable and will not trade the right to press freedom and free speech for a piece of cake.
If you like what we do, and are ready to uphold solutions journalism, kindly donate to the Ripples Nigeria cause.
Your support would help to ensure that citizens and institutions continue to have free access to credible and reliable information for societal development.