Defection to APC won't save anyone from prosecution— FG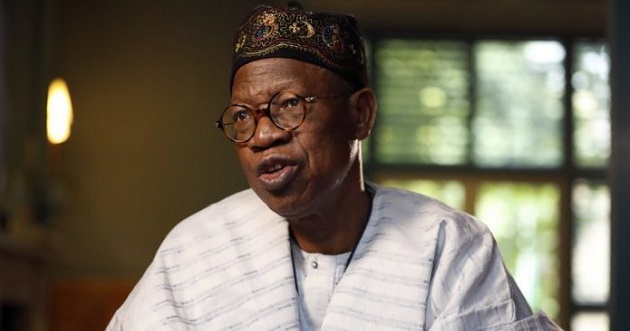 The federal government Monday moved to allay fears of concerned Nigerians by pledging that defection into the ruling All Progressives Congress (APC) will not prevent anyone with corruption case to answer from facing prosecution.
The Minister of Information and Culture, Lai Mohammed, gave the assurance when he paid an official visit to the Abuja office of The Authority Newspaper.
Fielding questions from members of the editorial board of the paper, the minister said, "Nigerians should be rest assured that the fact that some persons are moving from one party to another does not mean that they will escape prosecution.
"Nobody will escape investigation and prosecution on the ground that he or she has moved to APC.
"We have shown that with a former governor and a member of our party that was convicted. We will never terminate anybody's prosecution on the ground of decamping.
"However, it is not for the executive to do the work of the judiciary,'' he said.
Mohammed argued that many of the defections taking place were not driven by the ploy to avoid prosecution, saying some defected for "political calculation and personal reasons''.
The minister reiterated that the APC was not moved by the wave of defections, especially by members of the National Assembly.
"We did not just start noticing this, the foundation for it was laid the day Dr Bukola Saraki became the Senate President.
"In every part of the world, when a party has the majority in Parliament, the party decides who is going to be the leader of the parliament.
"This is a case where the party was still waiting for the president to resolve the issue when Saraki, from the back door, emerged as senate president.
Read also: Emir of Daura says Ministers may be betraying Buhari
"From then, we have known, because his emergence was illegal and against the wish of the party.
"In the last two years, the National Assembly has been behaving as if the opposition is in control. We have a senate president that is so hostile to the government.
"For three years, budgets are passed only in June. As I speak today, there has been no disbursement on capital project in 2018 budget.
"Critical appointments are also being delayed and the government is being blackmailed every day,'' he said.
"I have never seen in history, where a leader of parliament will announce the defection of 15 members from his party.
"The proper thing is, if you are loyal to your party, you put stumbling blocks on such defection,'' he said.
Mohammed said that Kwara State, from which he and the senate president hail, was solidly behind President Muhammadu Buhari.
RipplesNigeria… without borders, without fears
Click here to join the Ripples Nigeria WhatsApp group for latest updates.
Join the conversation
Opinions