Despite Nigerian govt's claims of jobs created, Ngige laments widespread unemployment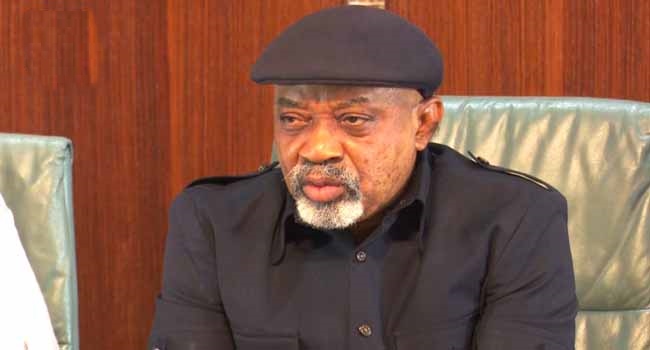 [responsivevoice_button voice="UK English Female" buttontext="Listen to Post"]
The Minister of Labour and Productivity, Dr Chris Ngige, has lamented that there is widespread unemployment among the citizenry in Nigeria.
He stated that the spiralling insecurity and its attendant societal scourges are attributed to the widespread unemployment.
Ngige, made this assertion on Tuesday at the inaugural partnership economy summit organised by the Ministry of Special Duties and Intergovernmental Affairs in Abuja.
This is coming on the heels of several claims by the present administration of having created millions.of jobs since it's inception in 2015.
But according to the former governor, the country risks sliding into anarchy if these challenges are not adequately redressed.
The summit was tagged, 'Translating Sustainable Development Goals to local businesses in Nigeria.'
Ngige said, "We are in trouble as a country. We are in trouble and anybody who tells you he doesn't know we are in trouble is lying to himself.
Read also: Nigerian govt to create 4m jobs for youths, women
"We are facing a problem that is cyclic, one begat the other. It is left for you and me the elite to decide to save ourselves, save our children and save our country.
"If we keep on with these symptoms; buy ammunition, bomb these people, bomb kidnappers, bomb Boko Haram, you will be wasting resources.
"If you had prevented it, it would cost you less. We must give education to these people at the grassroots.
"Those who can't get an education, we must provide them jobs so that they can fend for themselves. They can put a roof over their heads."
The Minister further noted the importance of education towards fostering harmony in society.
"If you don't kill ignorance, you are breeding people who would be brainwashed to believe that with Biafra all their problems will go away; Oduduwa, all their problems will go, Boko Haram.
"If we don't tackle them, we will continue like this until this country might be wiped out completely; we don't pray for that. We must give education to the people at the grassroots," Ngige said.
Join the conversation
Opinions