EDO: Again, Oshiomhole, Obaseki groups set to clash over planned reception for Ize-Iyamu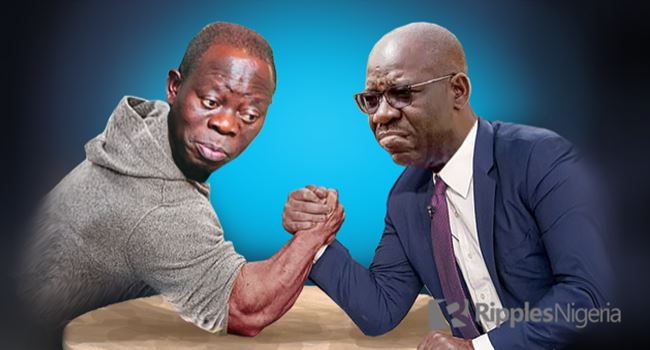 The stage seems set for a clash between supporters of Edo State Governor, Godwin Obaseki and those of the National Chairman of the All Progressives Congress (APC), Adams Oshiomhole.
The event is a planned reception to welcome a former governoship candidate of the Peoples Democratic Party (PDP) Pastor Osagie Ize-Iyamu to APC.
Ize-Iyamu contested against Governor Obaseki in the 2016 governoship election in the state, coming second.
The Secretary of the APC in the state, Mr Lawrence Okah, on Tuesday raised the alarm, alleging that the state government plans to import thugs from Kogi, Ekiti and Delta States to disrupt the reception rally slated for Friday.
Okah said: "We are aware that the state government has recruited the services of the governor's Special Adviser on Security, Mr Haruna Yusuf; and a former Speaker of the state House of Assembly, Kabiru Adjoto, to recruit armed thugs. They have been mandated to disrupt the scheduled rally by importing armed thugs from Kogi and Delta states.
"We are raising this alarm so that the world will know that Governor Godwin Obaseki intends to unleash mayhem on the APC members in Edo State after he had perfected plans to join the PDP."
However, Adjoto, while reacting to the allegation, denied it, saying: "It is unfortunate that such a statement will come from Chief Lawrence Okah who is somebody I respect so much and I will be shocked if he actually said so.
Read also: Ex-Gov, now Sen Orji sponsors Bill on Freedom from hunger for Nigerians
"I am a man of peace, I am a stakeholder in this state and the governor is committed to absolute peace in the state."
The Special Adviser to the Governor on Media and Communication Strategy, Mr Crusoe Osagie, in reacting, said the state government was not aware that there was any APC rally slated for Friday.
The state chairman of the party, Mr Anselm Ojezua, who belongs to Obaseki's faction, described the planned rally as "a provocative handiwork of unauthorised persons."
According to him, the state governor and other leaders of the APC in the state are not aware of the planned rally.
"It is therefore highly provocative and capable of creating a breach of peace", he said.
Governor Obaseki, while speaking to journalists at the end of a security meeting with heads of security agencies in the state at the Government House, said: "I have checked with the state APC secretariat and as far as I am concerned, the party has not officially announced that it will be having a rally."
Tension has recently been on the rise in the state, over disagreements between Obaseki and Oshimhole, whom he succeeded. This has led to a number of clashes in the state between loyalists of both men.
Join the conversation
Opinions