FEATURE: Fuel price hike and its effect on Nigerian students, tertiary institutions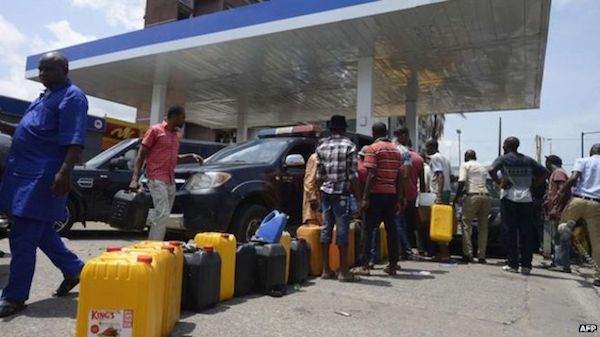 PETER EMMANUEL & FATIMAH IDERA take a look at the fuel crisis in the country and spoke to their colleague students in tertiary institutions as well as others within the environment of tertiary institutions to see how they have been affected by the economic crisis
Nigeria's rising inflation is dampening the country's economic growth and eroding consumer purchasing power due to increase in price of basic amenities like cost of transportation.
Students in tertiary institutions have been badly hit by the recent scarcity of Premium Motor Spirit (PMS) also called petrol and its resultant increase in pump price of the product. The students condemned the hike in the petroleum prices, lamenting the devastating affects it has had on their welfare.
Meanwhile the Federal Government denied it plans to hike the pump price of petrol, despite the increase in price from N180 per litre to N235 by independent marketers.
The government in a statement through the Nigerian Midstream and Downstream Petroleum Regulatory Authority (NMDPRA) had insisted that "the Federal Government has no intention of increasing the price of PMS during this period".
In keeping with the authority's responsibilities, as outlined in the Petroleum Industry Act (PIA) the agency assured the public that it would continue to monitor the supply and distribution of all petroleum products nationwide, especially during Yuletide.
In interviews with these reporters, students of tertiary institutions in Nigeria condemned the skyrocket increment in petrol prices saying it's another devastating moment for the welfare of Nigerian students which in turn affects their academic activities.
Ifáloye Popoluwa, a student of Adekunle Ajasin University, Akungba-Akoko, Ondo State from the department of applied physics and electronics expressed dissatisfaction regarding the hike in fuel pump price stating that "ASUU went on strike which affected all public tertiary institution and now hike in fuel pump price, how are students expected to survive?
"I leave very far from the school but before I can get to school I need to take bike of N150 which was formally N100. My to and fro costs nothing less than N300 in a day. I don't have any more savings," he cried out
Also Quadri Yahya, an ND2 Mass Communication student of Moshood Abiola Polytechnic, Abeokuta said some students are selective in attending lectures since the cost of transportation is becoming unbearable and they have no option.
"It's quite frustrating when one is yet to get something to eat but the transportation cost continues to increase due to the hike in the price of petrol. For instance, I have an important registration to do somewhere but I have to hold back till I have more events to attend in the area so as to kill more birds with one stone.
"Earlier this year, a distance where you pay N50 as fare, but at this time, you pay as much as N150. I just hope everything returns to a bearable cost very soon", Quadri added.
Abel Orimisan a 200 Level Sociology student of Ekiti State University said the hike had really affected him as he spends 500 naira daily on transportation from his home to school even within Akungba
"As a student I think that is too much. The economic system is basically bad but atleast the mode of transportation is meant to be conducive for the masses and I think the government should do something about it before it gets out of hand", he lamented.
Similarly a 100 Level student of Federal University Oye-Ekiti, Shittu Abass from the department of political sciences explained that the hike in petroleum price has affected him through the hiking of intra-school environment commercial buses.
"We used to board this commercial bus at N50 before but, unfortunately, it was increased to N100 due to increase in petrol prices."
Shittu also explained that It intensifies stress in searching for petrol to use at his brother's shop who is a laundry man.
He added that, financially it's affecting, and pushing his current expenses higher than he is supposed to spend with the inflation rate also evident in the market.
Fawaz Adebisi, a Mass Communication student from Moshood Abiola Polytechnic expressed his feeling saying, "the bus that takes us to and fro school used to collect 80 or 50 naira but they started collecting 150 naira and there's scarcity of fuel which affect students in the aspect of receiving lectures and submission of assignment with some relevant things needed to be attended to in school.
"As a student it has affected me in many ways because the normal price we buy before has now increased with some extra charges because of the hike in price of fuel."
Increase in petrol price has caused students to skip class. Sola Omoniyi noted that students have no option than to skip 7am classes because of the distance they would skip than attending classes. Making reference to the recent hike in pump price which makes transportation fee difficult so many prefer to trek which eventually makes them come late to class.
Moreso, Omoniyi said that the indirect effect of fuel price increase feeds through the supply chain by affecting the price of goods and services for which fuel enters in the production. The extent to which the rise in production cost translates into higher consumer prices depends on producers' behaviors and product market structure.
"A student who depends on 1,000 naira daily for feeding, with the increase in petrol price, food items have also increased which means many students aren't able to afford three meals a day."
John Akinseloyin Oluwaseun a student of University of Lagos gave his own view on the hike in fuel pump price in Lagos State and how it's affecting students.
It leads to traffic congestion which may prevent students who are not close to the school area to miss morning classes.
Also, things become expensive, especially food. Making it less affordable for students.
It has also made life difficult for students who partially depend on fuel because of unstable power as they will find it difficult to do assignments because of high fuel cost.
Akashoro Olayemi from LASUSTECH, cried out on how hike in fuel pump price has personally affected her. She said being a part-time student of Lagos State Polytechnic Ikorodu, "I would say that the upsurge in petrol price has impacted my studies adversely", noting that the fuel hike has led to an increase in transportation fare.
Olayemi while analysing how this has affected her academic life, said; "There were times when I could not be present on campus to receive lecturers over the weekend. This was because the fuel hike has led to fuel scarcity in some areas within Ikorodu and increase in transportation fare from my residence, Bayeku, to Laspotech main campus in Ikorodu.
"The bus fare from Bayeku to Ikorodu garage was N300 before the hike. Now, the bus fare is N400. Sometimes, I pay N500 during rush hour in the evening or whenever it rains", she narrated.
According to her, "Also, the cost of goods has skyrocketed. My purchasing power of household commodities and learning materials has reduced. What I used to buy for #100 is now sold for #200, twice the previous price. Truth be told, many students are going through economic hardship already. This current predicament that is occasioned by the hike in petrol price will only worsen the case.
"I am appealing to the Federal Government of Nigeria to please find a lasting solution to the incessant increase in petrol price as this tends to make commuting and studying difficult for students who are on and off the campus."
Abdulrasheed Akere, 200 level student of Education Biology from Usmanu Danfodiyo University Sokoto (UDUS) narrated his ordeal with increasing rate of fuel hike in the country.
He said; "Hike in petroleum price. We all know that most commercial vehicles use petrol as fuel, and increase in its price makes transport fare to become expensive. Most students schooling in far north like me, resumed back to school late due to transport expenses." He stated that previously the bus fare to Sokoto from his base cost N6,000 but, this semester it is now above N9,000
But, Kwara state government showed concern in this regard and sponsored about 200 students going to the north on October 29 when ASUU called off its strike
Also, the hike in petrol price made parents give their children low pocket money because a large part of their money has been used for transportation.
To and fro within and outside the campus exhausts students money and deny them of having savings. He urged Nigeria to have her own refinery company and there should be subsidies to petroleum companies.
"The Federal Government is not helping as expected, their move now is to remove the meager subsidy in the petroleum sector", Akere lamented.
Kehinde Sefiu a student from Yabatech said the major way it affects students is when they take transportation to school. But that there is also increase in prices from people operating services within the campus and the cyber cafe owners, arguing that they can't rely on power supply from the NEPA alone, so they would use fuel to power their generators, and since there's an increase in the price it would affect them and bounce back on the students.
Kazeem Munir Idowu a student of Ahmadu Bello University from the department of Mass Communication said it's devastating that a citizen is deprived of his rights and "as a student and futuristic youth leader, I think this affects the whole country which has crude oil in abundance.
He lamented that the increased cost of transportation was so high within the campus and also affects how students attend lectures because most of the students cannot trek from one lecture theatre to another. "As a student of university I also discover that prices of food stuff has also jumped as a result of high price of petrol, the shop owners are also complaining about the high price of petrol (PMS) which also result to high price of good and services to the consumer, which is us students".
READ ALSO:INDUSTRY REVIEW: Mixed fortunes, as Nigerian oil firms make N1.02trn from price hike amid fuel scarcity
Students in campuses around the country are in agony presently, tired and have totally lost hope In Nigerian leader who they see as selfish and greedy. Many lecturers were unable to fuel there cars and the some school management were unable to power the school premises as a result of high price and scarcity of fuel in the nation.
"As a student, I must say that nothing is working perfectly as a result of high price of fuel. I employ Nigerian youth to participate and be political activists in Nigeria's politics because these greedy people we call leaders will define your destiny if you continue to be in political apathy".
Adepoju Samuel, a 200 level student from the department of English and literary studies from University of Ibadan said he can't deny how horribly the surge in petrol price has indirectly affected him. Since the Nigerian market is significantly boosted by crude oil materials, any variation in price of one of the crude oil products will have an invariable impact on other products. The current impact of petrol price hike has resulted in an increase in gasoline and kerosine.
"As an on-campus student, the use of hot plates or electric cookers is prohibited in my institution. This means I have to use the alternative of buying kerosine. As at the now, a measured bottle of kerosene costs roughly N1000. Imagine! This has made me re-think any culinary activities I might have in mind. For instance, to just cook two cups of rice I'll need to buy half-bottle of kerosene costing N500. How do I daily cope with this expense considering I majorly bank on feeding allowances sent from home. Recently, some of my mates have had to feed only on loaves of bread and carbonated drinks since to cook is now expensive.
"Honestly, I implore the Federal Government to subsidize the price of petrol. Its effects are overwhelmingly harsh and austere on the lives of us students who have to eke out living while learning.
"Recently, I bought some groceries at a store. I was shocked to see how price of some food items have grown wings overnight. When I queried the seller, guess what she attributed to be the cause? Petrol price increase! Honestly, this is becoming unbearable on the lives of students. Many students now consider eating two meals a day as luxury only 'rich kids' can afford.
"I am sincerely venting my frustration to the President to exigently raise measures to mitigate this insufferable and untold economic hardship.
Students' Union react
The Adekunle Ajasin University Welfare director maintained that the petrol price increase has affected her negatively.
Both within and outside the campus, there is a hike in the price of transportation and even purchasing power of goods, as students face the brunt. After all the leaders don't care, she said.
Lecturers react
Speaking on the matter, a Senior Lecturer and Sub-Dean of the Faculty of Arts from the Adekunle Ajasin University Akungba-Akoko, Ondo State, Dr Sunday Abraham Ogunode, said people are hoarding the petrol to make extreme emergency work for Nigerians that have no access to people that can speak for them.
"The situation of fuel scarcity right now is really telling on Nigerians, the way it affect some Nigerians is not the same way it affects those that are stealing our money because they could make a call and fuel of any quantity will drop at their doorstep, but you and I will have to go on a long queue. During this period, I have heard people bought fuel for 300, 280 naira per litre.
"The first question is; is there really scarcity of fuel? To me there's no fuel scarcity because am a respecter and this plan is a function of some wicked plot by some wicked Nigerians who think they could take advantage of the approaching festive period to exploit the already exploited and over exploited Nigerians which I am one of them."
Speaking on the solution, he said "I'm not the one that created the problem but the solution has already been known to even the person walking naked on the street.
"The solution is that the country needs a good leadership with direction and people should be held accountable. Also Marketers can't just wake up one day and say they want to increase the price, they want to do different things, there should be a law that will stop that. This law shouldnt be made only for the poor masses, but the mighty should also feel the hand of the law then the society would regulate itself.
"Moreover, what we are experiencing is due to the notorious capitalists that call themselves marketers and are happy because we have very shallow minded leaders who only think first of themselves and nobody else.
"Another solution is leadership that can manage the diversity for progress and once we get the leadership right, all these dangerous dimension towards the country will stop", he concluded.
Engineer Benson, a lecturer at Ekiti State University (EKSU) said; "Unfortunately the petroleum ministry didn't really comment on why we are experiencing scarcity which in turn increased prices of other things.
"The effect is badly noted on not only educational sector but on every aspect of life in the country, in every way; transportation has increased. Expenses get increased daily, life is technically more difficult because we can't do anything conveniently any longer
"Solutions can only be profuse if the source of the problem is made known. But till then unfortunately we are all lamenting", Eng. Benson said.
Mr. Lamidi Ishola, a lecturer in the department of Mass Communication, Adekunle Ajasin University Akungba said the issue of fuel scarcity is a recurring problem which has refused to go and it's unfortunate as it comes with untold hardship on the people.
"It isn't good for the image of an oil producing country like Nigeria and it is high time the government did something about it, but the government and the NNPC then made it clear to the public that there are no issues.
"The solution is that the government should strategize and block any leakages and if there are saboteurs among the marketers such people should be exposed to the wrath of the law. Government should also be more proactive to stop these issues permanently.
Business owners lament
Aduragbemi Ojo, the owner of a hair salon in Akungba community complained about the hike in fuel price saying "I can't increase the price of haircut for my customers but the fuel is very difficult to get despite the incessant hike in price".
He continued, "will I tell my customers to pay N700 instead of the usual #500, absolutely No, I need to keep them because they are students and majority still depend on their parent for livelihood. But I do appeal to some to add some amount to the initial price because I also have a family member. Fuel in Akungba is N300, except at Bovas filling station, and they don't sell regularly anymore and to get it directly it's very difficult because there's a lot of queue".
A bike-man plying between Ikare and the host community of Adekunle Ajasin University (Akungba) also voiced out reasons why they increased the per drop from the formal price of #100.
Adeoye expresses displeasure in the transport hike and said "you know the weather is not favourable due to the climate conditions and also the fuel pump price has increased within this Akoko".
Adeoye said, aside from Bovas station which is selling at the normal price of N180, there is no other station selling at such an amount.
He said, "we have three functioning fuel stations in Akungba but only Bovas is selling at the normal price, the rest are #280 and N300 respectively
Adejo Johnson, runs a family of four and is a bikeman in Akure. He explained to this reporter how this hike in fuel price has affected him and his family.
He said, majority of the petrol stations in Akure are selling at N270 and N280. Showing this reporter Jokay petrol station with a scanty crowd, he said "you will notice those scanty petrol station with few customers are selling at high rate while those ones where you see queues are the stations that are selling at the normal rate.
"Also, I am from Kogi State and my family needs to travel down for the Christmas and New year break but the hike of fuel has affected the transport fare which makes the journey uncertain".
According to him, transportation from Akure to Kogi is now N7,500 and N8,000. "How will I sponsor my four children and my wife when price of things have become abnormal", he lamented.
Afobaje, who runs a charging point business said that charging of phones is no longer N50 but now N100 wether button phone or android because "fuel is now something we can refer as gold".
He explained, "I have to wake up as early as 5:30am and go and loose my generator tank then queue in the fuel station. They no longer sell in keg because of those that resell it at expensive price (black market). Despite their workers knowing that I need the fuel for charging of gadgets because that has been my means of survival, they still insist that I need to bring my tank, that they don't sell in kegs".
Adeleye Adetutu a commercial bikeman from ilesha in Osun State expresses concern over the incessant hike in fuel pump prices, saying "I don't know why they are hoarding the fuel because we the citizens are seriously suffering from it. We can't make a genuine profit even though we increase the per drop by 50%.
"We get our bikes at a high purchase which is normally N450,000 but it is increased to N480,000 from our dealer.
"We have families, our children need to eat and we don't need to deprive them of their fundamental human rights. Specifically the right to education because they need to acquire some basic knowledge. How can we do this in the face of such challenges?".
Join the conversation
Opinions
Support Ripples Nigeria, hold up solutions journalism
Balanced, fearless journalism driven by data comes at huge financial costs.
As a media platform, we hold leadership accountable and will not trade the right to press freedom and free speech for a piece of cake.
If you like what we do, and are ready to uphold solutions journalism, kindly donate to the Ripples Nigeria cause.
Your support would help to ensure that citizens and institutions continue to have free access to credible and reliable information for societal development.