FEATURE: Sad tales of small scale businesswomen facing untold hardship amid Nigeria's worsening economy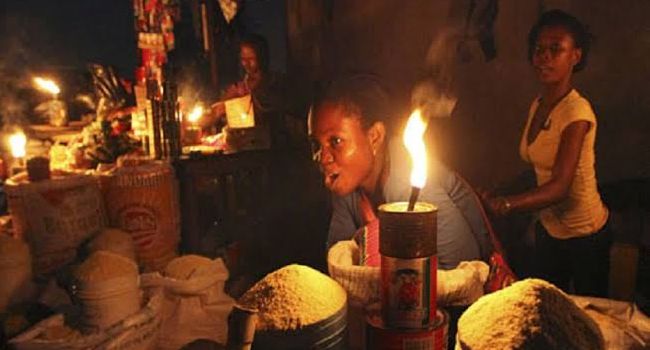 Epileptic power supply and incessant increase in cost of commodities threatens survival of many small scale businesses relying on power supply in Nigeria. ABDULGANIYU ABDULRAHMAN AKANBI reports on how women running small retail businesses are affected.
Maryam Ibrahim, 27, holding a broom in her right hand wiped her sweat with the other as she swept her shop enmeshed in mud. Her look suggests tiredness and sorrow as dust has powdered her face. She had locked up her shop for the last two weeks, following a loss in her frozen foods business due to epileptic power supply.
"I'm just opening my shop now after two weeks of closure. As you can see, it is dusty. I closed it due to the loss I encountered in the last stock I bought through credit," said Ms Maryam with sadness boldly written on her face.
In late March, she ordered frozen foods such as fish, chicken and crabs on credit worth N40,000 with the hope of returning it immediately after making sales and counting gains. But unfortunately, her business hit the rock as she lost both capital and gain due to lack of electricity to ice her goods for preservation.
"I got goods on credit for 40,000 to boost my business. They don't bring light at all. That's how I lost my goods to lack of electricity. Out of 40,000, I was able to realize 8,000. This is a great loss for me," she said with her voice full of empathy, concern and pity.
Miss Maryam said she would have stopped the business but she had no option.
"I'm tired of this business. I'm just enduring it just to have something to be engaging in. There is no profit at all," she lamented, blaming lack of electricity for her doom.
Like Maryam, many women running small retail businesses in Kwara communities are affected by epileptic power supply as a result of the persistent collapse of Nigeria's national grid.
According to latest report from World Bank in February 2021, about 43% of Nigeria's population does not have access to public electricity supply, translating to 85 million Nigerians in public electricity blackout and projecting the country as the largest energy deficit in the world- a major reason the World Bank approved $500 million to support the government of Nigeria in improving its electricity distribution sector in the same year.
Mounting Ordeals
Miss Maryam said only those who could afford generators and fueling power could thrive in the frozen business. But as she couldn't afford it, her business is facing setbacks
"I don't have money to buy a generator. If I have it, buying it is the best option at this time of no electricity. That's why my business is not moving," she said, while hoping to buy a generator at a later time to end her problem.
She said her suppliers from whom she gets goods on credit from are no longer willing to sell goods to her on credit because she was unable to compensate for the existing debt.
"Those people don't want to supply me goods on credit again", she said, while explaining that though she took home some goods to eat, she is now cutting her demand of goods for fear of not making sales.
Another frozen foods seller, who preferred to be called Mrs. Abdulsalam, lamented that lack of power supply had caused her a great loss not limited to losing customers but also extended to losing her capital.
"As they don't bring light, my goods get spoilt. If I have a generator to power my freezer, there won't be any problem. The absence of electricity has made me lose not only customers but money I invested in the business.
Epileptic power supply and persistent collapse of Nigeria's national grid have drastically affected women running small retail businesses dealing with power supply. At least, the national grid had collapsed five times in 2022 only, according to the Nigeria Federal Ministry of Power.
Over 200 grid collapse recorded in 10 years
A power grid is a network of electrical transmission lines connecting a number of generating stations to loads over a wide area. National grid collapse is a total or partial loss of power on the network caused by a fault leading to high frequency. According to experts, it is also affected by weather conditions.
Between 2010 and 2019, it was reported that the national grid has been disrupted about 206 times. In 2021, the grid collapsed four times;  February, May, July and August respectively.
An analysis of the data obtained from the system operator (SO), a section of TCN, revealed that Nigeria's power supply encountered 146 total collapses of the national grid and 73 partial collapses between the period in review.
Meanwhile in 2022, the grid had also collapsed about six times: once in January and February, twice in March and April and once in July.
This development caused power disruption in many parts of the country which threatened the survival of many businesses including women running small retail businesses.
However, Kwara women running small retail businesses are among 41 million Small and Medium Enterprises (SMEs) in Nigeria with women constituting 40% of this number, according to Global Entrepreneurship Monitor. The percentage makes Nigeria the country with the highest number of women entrepreneurs in the world.
From Fashion Designer To POS Agent
Mrs. Oladipupo Samuel, 55, widow, is a fashion designer whose sewing, weeping and stoning machines are electric-connected. She was deep in sleep on an old wooden bench when this reporter visited her shop. It was this reporter's greetings that woke her up.
Speaking about her experience, Oladipupo narrated how her business industry has deteriorated due to unstable power supply, while she has already lost many customers.
"We are really suffering from electricity here. For a week now, we haven't had any light. Sometimes, it will be a month without light. I'm losing customers every day. My business is not moving at all," she said.
Mrs. Oladipupo said she wouldn't have bothered much if customers are ready to pay additional charges but inflation in the country did not let them accept, while she said that she has been idle for the past two weeks without having work to do.
"About two weeks now, I have been coming to my shop and sleeping. As you can see you also met me sleeping. That's how I do daily, only in a few cases," she said while explaining that she had abandoned her generator after realizing it does not add to her profits.
When asked about how POS operating is related to fashion designing, she said: "When I see the situation and I have children at home to feed, I became a POS agent just to fend for my wards."
Blaming lack of electricity and inflation, Mrs. Oladipupo said this period is a trying time for her and her family.
"At this period, it is very hard for me to take care of my children. There is no more refreshment money for my wards as I have been giving them before. In fact, to eat three times in a day is difficult sometimes. My living ability has dropped drastically. We now eat by grace."
Tales of inflation, stress and meager proceeds
As a result of epileptic power supply which has affected their economy, women running small scale businesses of a variety of drinks such as water, soft drinks and other exotics have devised another means of icing their goods using ice-block. However, the cost of ice block is no more affordable for these women due to its persistent increase in price, rendering their economy profit-less and their efforts fruitless. This is what inflation means to these retailers.
Mrs. Fatimoh Abdulganiyu, 40, a retailer in a variety of drinks, was processing Kunnu (a local soft drink made from guinea corn) on a Tuesday afternoon inside her wooden-built frontage in her shop. Her freezer used to be overflowing with cold water, a variety of soft drinks and Kunnu for her customers who are largely workers under the scorching sun.
In the last two months, the story changed for her when a power blackout wrecked her business. Not wanting to lose customers, she now has to buy ice blocks for her goods to get cold.
"The blackout in town has affected the price of goods and my sales so badly. I'm now using ice block for my goods to get cold and make sales," she said as she folded her arms while sitting on a placement inside her shop recounting how her business is affected with lack of electricity.
For Mrs. Fatimoh, to get cold water and soft drinks, she has to buy about three pieces of ice block per day to be able to make sales on a large scale. But the hike in price of a piece of ice block from 100 to 400 remains a source of worry for her coupled with transport cost and profit.
"The ice block we are supposed to buy at the rate of N120, we are now buying it at the rate of N500, and transportation also costs roughly five hundred naira," she said, noting that no profit is realized at the end of the day.
"If we use the ice block to sell our goods and calculate the money, we realize that we are no longer making profits. We are just working as if we have not been doing this work before."
"We are not pleased with the left token, as we keep wondering how we are to cater for our family, with such income. We just accept our fate and hope for betterment," she added.
She is not only battling with inflation of price of goods, Mrs. Fatimoh said another concern is the stress of getting ice.
"To get an ice block is a great problem too. And we even strive so hard before we get it these days. Come and see how people who want to buy it fight at the spot where we are buying it.
Another retailer running the same business, Mrs. Zainab, 33, said though she had no option than to enhance her goods with ice blocks, stress attached to getting ice is her major concern. Getting up early in the morning, searching for ice blocks in different places, disappointment of not getting and cost of transportations are factors responsible for her unhappiness.
"Before, I used to buy the ice block at a rate of N100, but now, I buy it at a rate of N350," she said, blaming lack of electricity and hike in utilities for the development.
She continued: "Most of the time we strive to get the ice block. It is not easy at all. Leaving one area for another searching for it and at the end of the day, our effort might result in zero. We won't see an ice block."
"I spent almost five hundred naira on transportation. Even if we see the ice block at a place, I will need to fight so that I get a piece of it. I have been injured once in the course," she narrated, expressing how customers jettison her goods when they are not cold.
For Mrs. Vivian, another soft drinks retailer, maintaining her customers is what kept her moving amidst inflation and blackout.
"Customers leave when they hear drinks are not cold. Ice blocks are consuming my money and I don't get what I spent back. You sell the exact amount you sell when there is light. You too can see we are losing. I continue this business just to retain my customers. You know when customers come today and they don't get what they need, they won't come again the next day."
Apart from her struggles to get ice to aid her goods, Mrs. Vivian is also concerned about inflation and her profits, which she said have drastically declined.
"They may not give us light for a week. So, I started buying ice blocks. Before, a piece was N100 or N150, but now, it is N400. Everyday I buy six pieces to make my goods available for customers," she said, hoping for change while she struggled to bear the situation and maintain her customers.
In a recent report, the National Bureau of Statistics (NBS) said the country's consumer price index rose to 15.92 percent in March 2020. An analysis of the data revealed that it is the highest rate recorded since October 2021 — and 0.22 per cent points higher than the 15.7 per cent recorded in the previous month (February 2022). This inflation is crippling the businesses of these women retailers.
Mountain of losses
Unlike other retailers who sustain their business with ice, Mrs. Lola Tobi, did not consider buying ice blocks for her goods neither did she fear losing customers, but rather cared much about her profits.
"For about five days now, we don't have light and I sell drinks for those who work under extreme weather to cool their body. If these drinks are not cold, they won't buy it. Like today, a customer wanted to buy two Maltina drinks but he (the customer) left as soon as I told him it was not cold. My freezer is very hot, come and see it," she bemoaned the situation, noting that customers are now boycotting her shop.
"Since we don't have light, we are unable to make sales. I don't buy blocks. Because if I buy it, I won't be able to make any gain. In fact, I might not be able to regain the money I invested in it," she added.
Like others, Oyekanmi, a saloonist and hairdresser, decried the lack of electricity causing her setbacks in business.
"It is unfair what the electricity company is doing to us. They have disrupted my business," she said, making reference to numbers of customers she had lost due to unavailability of power supply.
Mrs. Oyekanmi also noted that she uses electricity to power her dryer used to dry hair of her customers, while explaining that not all customers can bear heat conditions and using hands to dry their hair.
"Only a few customers can bear the situation. There is heat now. As you can see I am working now. If I finish it, I won't be able to dry the hair. I will use a hand fan to do that," she emphasized while recalling how she abandoned her faulty generator due to its persistent breakdown.
On her part, another Hairstylist, Mrs. Abdulfatah Jimoh, said she is tired of the situation as it hinders her income. She also noted that some of her customers had advised her to look for alternative to the generator.
"It is really affecting. My income has stopped because there are no customers. Because customers patronize those with generators and fresh air in their shops. In fact, some of my customers have advised me to buy a generator but where is the money?," she ended her words with a rhetorical question.
Unreliable power supply affects businesses which includes women running small retail businesses, according to the 2020 World Bank Doing Business report, is responsible for Nigeria being ranked 171 out of 190 countries in getting electricity. This sad development leads Nigeria to annual economic losses estimated at $26.2 billion (₦10.1 trillion) which is equivalent to about 2 percent of its GDP.
Women are invaluable to Nigeria economy —Experts
Kingsley Ndimele, a business consultant, noted that women retailers play a significant role in the Nigerian economic sector, a reason Kingsley said businesses run by these women should not be neglected.
"Women are the greatest economic assets of any country. Going by statistics, about half of the GDP of Nigeria's economy is being contributed by people in medium and small enterprise across all sectors of which about 41 to 43 percent are women"
Speaking further, Kingsley said that Nigeria is losing huge amounts of money as power outages and inflation crumble many businesses.
"According to statistics, businesses experience an average of 239 hours of power outage every month. Annually, Nigeria loses about 28 billion dollars due to power outage. This amount is equal to 2% of the GDP. With this erratic power supply, Nigeria is losing big and businesses are suffering," he said, noting that the cost of operating business in Nigeria is very high and inflation has skyrocketed the interest rate of loans.
Another expert, Jide Ojo, a Public affairs analyst, also described how women across all sectors contribute greatly to the country's economy. He also said that women are multi-tasking in nature, a reason they accounted for about half the people in the business sector.
"The contributions of women to the economy are very enormous. From time immemorial, women are good traders. That's why we have more market women than market men, while they are multi-tasking in nature; taking care of home and businesses," he expressed, noting that women running small retail businesses are mostly hit by inflation and incessant power outages.
Proffering solutions, Ojo urged the government to double down on the provision of public electricity supply, while  suggesting that advocacy should be run so that men would encourage and empower women to do businesses.
On his own part, Kingsley said putting more efforts in exportation of Nigerian goods and services is the only solution to inflation and diversification of energy to curb erratic power supply.
Join the conversation
Opinions
Support Ripples Nigeria, hold up solutions journalism
Balanced, fearless journalism driven by data comes at huge financial costs.
As a media platform, we hold leadership accountable and will not trade the right to press freedom and free speech for a piece of cake.
If you like what we do, and are ready to uphold solutions journalism, kindly donate to the Ripples Nigeria cause.
Your support would help to ensure that citizens and institutions continue to have free access to credible and reliable information for societal development.