FG partners AfDB to float $500m funding for Fintech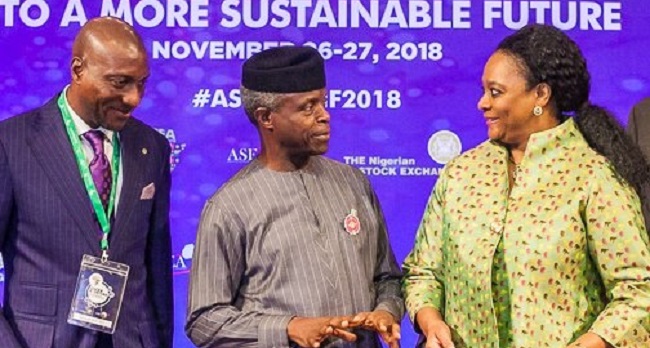 The Federal Government has said it is partnering with the African Development Bank, AfDB, to establish a $500 million fund with the purpose of financing technological innovation that will grow the country's financial services sector and economy in general.
The Vice President, Yemi Osinbajo stated this on Monday at the opening ceremony of the 22nd African Securities Exchanges Association (ASEA) Annual General Meeting and Conference organised by the Nigerian Stock Exchange (NSE) in Lagos.
The Vice President said the fund would help to increase the competitivenes of Nigeria's information and communications technology industry.
"We are accordingly working with the AFDB to establish a $500 million innovation fund, this will support activity in this sector. Given the size of our economy and the potential of technology and creative segment, I am hopeful that capital market operators will work towards innovative financing solutions to lend further support to these two sectors," he said.
Osinbajo further disclosed that the Central Bank of Nigeria, CBN, would soon be issuing licences for payment service banks which would increase access to financial services by low income earners and the unbanked.
Read also: World Bank delivers mixed verdict on Nigeria's economy, projects fiscal deficit to widen
According to him, the partnership was also essentially to ensure that African champions continue to rise in a sustainable manner, adding that such partnership must be between government, private firms and business associations.
The Vice Presidential further restated the resolve of the government to ensure macro economic stability in an inclusive economy with a diversified production base.
He said: "We also realised that a conducive and supportive environment is essential for business to thrive and we have accordingly invested heavily in infrastructure while working strenously to make it easier to do business in Nigeria.
"We also realised the importance of sustainable future and we become the first African country to float the green bond to promote the environmental objective of our economic recovery and growth plan (ERGP)."
According to him, government must ensure that its rising population was protected, housed without further depleting or damaging resources.
Join the conversation
Opinions