ICYMI: From Jonathan to Buhari: Is Emir Sanusi simply fearless or politically dumb?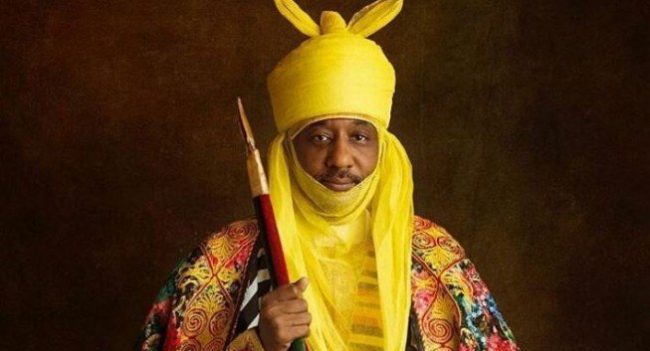 The Prince who became King
Growing up in a royal family and having a father, Ambassador Aminu Sanusi, who was a Permanent Secretary in the Ministry of Foreign Affairs in the 1960s, the Emir of Kano, Mallam Muhammad Sanusi II, can literally be said to have been born with a silver spoon. His likes usually came off seriously pampered.
He was, indeed, armed with the right education, exposure, and aristocratic values that prepared him for the different positions he would occupy in the future.
Sanusi read Economics at the Ahmadu Bello University which shaped his journey into the Nigerian banking industry. He is also an Islamic scholar with a degree in Islamic Law from the International University of Africa in Khartoum, Sudan.
While many wonder where Sanusi may have picked up what appears to be some stubborn streak, it is believed that his early exposure to principles of law helped to shape his constant desire to pursue the rights of individuals and institutions.
Sanusi's path has always been strewn with controversies. His rise to the office of Chief Executive Officer, First Bank of Nigeria, and eventual emergence as the Central Bank of Nigeria (CBN) governor on June 3, 2009, during the tenure of late former President Umaru Musa Yar'adua, were not without intrigues. He dared, and some say, he also conquered with eventful tales in tow.
He was suspended, as CBN governor, by the then President Goodluck Jonathan, on February 20, 2014, and following the demise of his granduncle, the then Emir of Kano, Ado Bayero, was crowned, the 14th, Emir of Kano on June 8, 2014.
War with the goons
Sanusi's appointment as CBN Governor was heralded by global financial crisis. Within two months of steering the ship of the CBN, in August, 2009, he dismissed five Chief Executive Officers of banks in the country: Erastus Akingbola of Intercontinental Bank, Sebastian Adigwe of Afribank Plc, Bartholomew Ebong of Union Bank of Nigeria Plc, Cecilia Ibru of Oceanic International Bank and Okey Nwosu of Fin Bank Plc.
This action was interpreted, in some quarters, as an act of vendetta against the CEOs while some hinged it on the alleged mismanagement of funds by them. It was also seen as an attack on some influential bankers in the Southern part of Nigeria, bearing in mind that Sanusi is from the North. It was, however, officially stated that their sack was because of alleged dereliction of duty and professional misconduct, and ultimately intended to save the banks from imminent collapse.
For Akingbola, it was insinuated that he had some personal squabbles with Sanusi. In interviews he granted to some media platforms, Akingbola had claimed that Sanusi deliberately de-marketed Intercontinental Bank in order to shore up his chances of being made the governor of CBN.
However, there had been strong allegations that Akingbola was involved in the 'lending' of N250 billion to his associates, siphoning significant amounts into his personal coffers, poor corporate governance practices, lax administration processes and non-adherence to the banks' credit risk management practices.
It was alleged that Akingbola, having learnt of his imminent sack and prosecution fled to London in order to avoid being arrested by the Economic and Financial Crimes Commission (EFCC).
For Ibru of the then Oceanic bank, Sanusi appeared to have hit the bull's eye. After her sack, she was found guilty of financial fraud and mismanagement and was sentenced to six months imprisonment in October 2010. The court asked her to forfeit the billions she stole and confiscated several properties traced to her in Nigeria and abroad.
The court judgement rubbished Ibru's claim that she was victimized because Sanusi thought she wanted his position at the CBN. She had said she declined the job of being a CBN governor when she was contacted for it.
"He (Sanusi) thought I wanted his job but I didn't. I was offered the job but I said no. My husband was sick and I needed to be with him. That was the reason, I was planning to retire in March of the following year to go and stay with my husband," she said.
The Jonathan games
Perhaps, Sanusi's biggest blow on the establishment was when he asserted, in 2013, in a letter he wrote to the then President, Goodluck Jonathan, that a whopping sum of $20 billion dollars was missing from the coffers of the Nigeria National Petroleum Corporation (NNPC). His claim caused a huge dent on the reputation of the then administration, heightening concerns that the Peoples Democratic Party (PDP) government was riddled with massive corruption.
The letter detailing the missing oil money which was written by Sanusi to Jonathan, was said to have been leaked by the ex-Governor of Rivers State, Rotimi Amaechi. In a release by his media office, Amaechi had admitted that a concerned and patriotic Nigerian had leaked the letter to him, in his capacity as the then Chairman of Nigeria Governors' Forum (NGF). He also confirmed sharing the letter with his then colleague governors.
It is generally believed that Sanusi's leaked letter stoked the fire that ultimately led to the overthrow of the Jonathan administration at the general elections in 2015.
Convinced, however, that Sanusi was neck-deep in the plot to sack him from office, Jonathan orchestrated his suspension from the office CBN Governor.
"Being determined to urgently reposition the Central Bank of Nigeria for greater efficiency, respect for due process and accountability, President Goodluck Ebele Jonathan has ordered the immediate suspension of Mallam Sanusi Lamido Sanusi from the office of the Central Bank of Nigeria," part of the suspension notice read.
After his suspension, Sanusi stood his ground that $20 billion dollars was missing. "You can suspend a man, but you cannot suspend the truth," he declared.
The Buhari brick wall
Sanusi's relentless spirit has refused to wane even under the Buhari government. So, what exactly has he done to poke a regime whose supporters appear irrepressible and determined not to allow their man Friday be embarrassed in any form?
Not one to be shut up, Sanusi sometime in 2016 said: "I can't apologise for being who I am. In the government I served (Jonathan's government), I did not keep quiet. When I am not serving the government, I cannot keep quiet."
Precisely on December 2, 2016, in a paper titled: "A plan to restore confidence, direction and growth," during a policy dialogue organized by the Savannah Centre for Diplomacy, Democracy and Development, he described President Buhari's administration as lacking the right policies to fix Nigeria's economy.
"The problem of the current government is not having the right policies to fix the current economic woes," he said.
Also, while delivering his address, on June 25, 2019, at the 3rd National Treasury Workshop, organized by the Office of the Accountant General of the Federation in Kano, Sanusi declared, in his usual blunt style, that Nigeria was on the verge of bankruptcy, if the federal government failed to scrap fuel and electricity tariff subsidies in order to stabilize the economy.
"The country is bankrupt and we are heading to bankruptcy. What happens is that the federal Government do pay petroleum subsidy, and if there is a rise in interest rates, the Federal government pays. What is more life-threatening than the subsidy that we have to sacrifice education, health sector and infrastructure for us to have cheap petroleum?" he said.
In all his posturing, the Buhari government had maintained a stoic silence, choosing not to betray any emotions until late.
Out in the cold
It is no longer news that Sanusi is embattled following the balkanization of the Kano Emirate by his state governor, Umar Ganduje. He has been practically cut to size with his power and influence as an Emir greatly whittled down.
Critics have argued that Sanusi literarily dug his own grave by openly working with the former governor of Kano State, Rabiu Kwankwaso, against the incumbent, Ganduje, during the last gubernatorial election. Perhaps, he had thought to repay the former governor who had backed him to become Emir soon after he fell out with the Jonathan presidency.
If Ganduje had any concerns over Sanusi's alleged betrayal, he drew immediate conclusions after he lost woefully in Kano Municipal, the seat of the Emir.
Thus, having won governorship election, Ganduje, on May 8, 2019, assented to a new bill tagged "Emir's Appointment and Deposition Amendment bill 2019" which saw the establishment of four new emirates – Karaye, Bichi, Rano, and Gaya – which resulted in Sanusi's loss of power and influence.
Ganduje had extracted his pound of flesh. He did not stop there. He ensured that Kano State Public Complaints and Anti-corruption Commission probed Sanusi for an alleged misappropriation of N3.4 billion in the Emirate.
Underground moves to win a soft landing for Sanusi have so far drawn blank. Early efforts had been made by Alhaji Aliko Dangote and the Chairman of Nigeria Governors Forum (NGF) and governor of Ekiti, Dr. Kayode Fayemi.
Beyond the optics, largely designed for news hounds, Ganduje has insisted that Sanusi must apologise publicly and to the entire people of Kano State for the reconciliation to yield fruit.
"It is very important to state that for the reconciliation to yield the desired result, Emir Sanusi has the moral burden to publicly apologise to Governor Ganduje and the entire people of Kano State for dragging the revered Kano Emirate into the murky water of politics," a statement written on behalf of Ganduje read in part.
Emir Sanusi appears to be out in the cold and left to swim in the mud. The Buhari Presidency has also kept aloof, and obviously so, because, as many analysts contend, it cannot afford to pamper an influential individual whose loyalty has remained very questionable.
Is Emir Sanusi on a free fall? Only time will tell.
By John Chukwu…
Join the conversation
Opinions
Support Ripples Nigeria, hold up solutions journalism
Balanced, fearless journalism driven by data comes at huge financial costs.
As a media platform, we hold leadership accountable and will not trade the right to press freedom and free speech for a piece of cake.
If you like what we do, and are ready to uphold solutions journalism, kindly donate to the Ripples Nigeria cause.
Your support would help to ensure that citizens and institutions continue to have free access to credible and reliable information for societal development.