Hong Kong leader Carrie Lam abandons speech at parliament after protest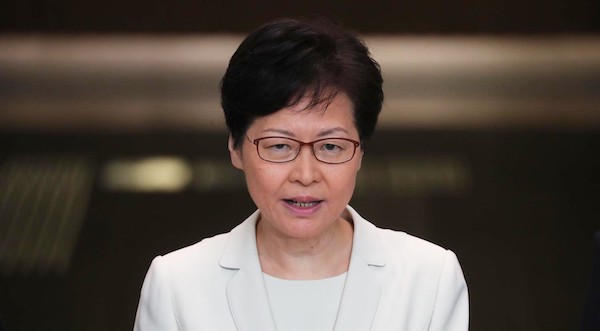 The Chief Executive of Hong Kong, Carrie Lam has been forced to suspend her annual address after being heckled in parliament by angry opposition leaders.
Reports say Carrie Lam who was expected to deliver her annual address was forced to do otherwise when opposition lawmakers disrupted the Legislative Council session by shouting and projecting slogans behind her.
As Carrie Lam was about to deliver her speech, the opposition lawmakers began shouting and climbing on tables and also projected the words "Five demands – not one less" on the wall behind her.
READ ALSO: Tanzanian President charges officials to take action against men who impregnated 229 girls
She was later forced to deliver her address by video instead after she was interrupted again for the second time, when the session which was eventually suspended, resumed again.
The latest development according to close watchers, means that the extradition bill which has triggered months of protests – could not be withdrawn formally.
The bill was suspended in July, but Wednesday's meeting was the first time the Legislative Council (Legco) had resumed since it was stormed by protesters in July, and was the first opportunity to withdraw the bill altogether.
Join the conversation
Opinions