Iberibe 2023: Okorocha For President!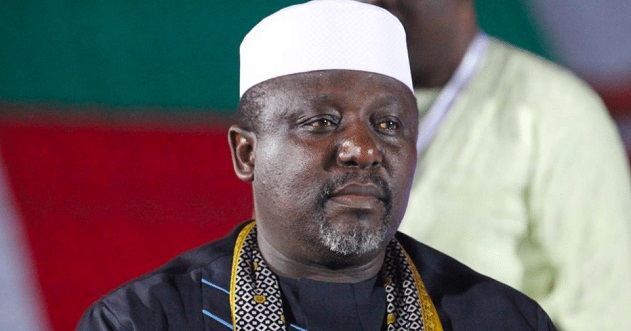 By SOC Okenwa…
Originally I had intended to entitle this piece: 'Okorocha: Big Man, Big Dreams' but at the last minute I decided otherwise. Not because the title was not fitting enough but because by settling for the above I considered it imperative to focus more on the future rather than the past and the failed dreams and antics of a fallen megalomaniac.
Owelle Rochas Anayo Okorocha, the immediate past Governor of Imo State, is a big man of big dreams indeed. In size and political ambitions he could be described as a giant. He is tall, well-built, well-fed and handsome! He had set out early enough in life to make money (by hook or by crook) and he made it hitting it big in business. He dreamt of becoming a politician and he became one of fortune.
He dreamt of ruling Imo State and he worked very hard to achieve that gubernatorial feat by becoming the Executive Governor for eight uninterrupted years. Inside the Govenment House in Owerri Rochas dreamt even further and bigger as his bank accounts swelled and the number of properties, at home and abroad, bought in his name or those of his cronies grew in leaps and bounds.
Okorocha as Governor had three big dreams. One, installing his son-in-law and former Chief of Staff (Ugwumba Uche Nwosu) as his successor but this particular godfatherly dream was dashed by the combined efforts of the APC National Chairman, Adams Oshiomhole, and other forces in the ruling party and the opposition. Nwosu failed to clinch the governorship position as the Imo guber poll was 'handed' instead to the opposition PDP represented by Governor Emeka Ihedioha.
The second big dream involved transmuting from the government house in Owerri straight to Abuja as a Senator. In seeking to do so Okorocha was playing the retirement script already deployed by many of his colleagues who sat idly at the Senate or House of Representatives drawing hefty salaries and contributing practically nothing to the building process of democracy.
He was just immitating or emulating the former Governors who are (or were) glorified sleeping members of the upper or lower legislative Chambers: Orji Uzor Kalu, Theodore Orji, Godswill Akpabio, Joshua Dariye (convicted for corruption and still in prison), Chimaraoke Nnamani and a host of others. It has since become a fashionable thing of pride for a former Governor to transit from office to Abuja as a 'distinguished' Senator or 'Honourable' House member.
But Okorocha's senatorial ambition cum dream is facing serious challenges having hit a brick-wall owing mainly to his desperation. The INEC Chief Returning Officer had, prior to the official announcement of the senatorial poll result for Imo North constituency, publicly declared that his life was in serious danger thus threatened by the Rochas gang, armed and dangerous, out there to enforce his will. This had led him to declaring Okorocha the 'winner' under duress if only for him to go home alive to his family.
Following this nasty development the umpire INEC had refused dutifully to release the certificate of return to Rochas on account of what the man that oversaw the election said concerning open intimidation and threat to his life. The Independent National Electoral Commission was right to have withheld the certificate given the fact that Okorocha never won any senatorial election anywhere in his constituency. The matter is still in court.
And the third big dream was his unconventional 'crazy' methods and tactics, his 'area-boy' strategy and approach to serious issues of governance. When he came in Okorocha had acknowledged that he would be going about the business of governance differently. Therefore, in pursuit of this goal rules would be bent and the system abused to achieve whatever he had planned to accomplish — including establishing the novel Ministry of Happiness in Imo State and constructing statues for international reprobates like the fallen South African President, Jacob Zuma.
Last Wednesday (May 29th) power changed hands in many states' capitals across the federation — including Imo State. In Owerri Emeka Ihedioha was sworn-in as the executive Governor of the state. But before handing power over to him the former Governor, Rochas Okorocha, in his characteristic haughtiness, had warned his successor not to fight him since the 'real Rochas' was hidden behind the gubernatorial attire! And was 'bigger' than the Governor!
Days before the expiration of his second 4-year mandate Okorocha had attended a valedictory thanksgiving service held at the Government House Chapel in Owerri. There, basking in the euphoria of the stolen millions and billions, he had declared that he woud become the President of Nigeria in 2023! His words: "Mark it, I will be President of Nigeria. I said this on this altar so that the kingdom of God will rise against those fighting to stop me….Also, those who think they will put me in prison will go to prison before me".
Since ambition is never a crime a lunatic could declare, naked in a market square, that he would become someday a Senator, a Mnister or a LGA Chairman without qualms! But his ignorant audience know for sure that the degree of madness afflicting him could have risen higher than usual hence the need for everyone to give him a breathing space before he wrecks havoc on anything or anybody in sight.
Like the former Ekiti State Governor, Ayodele Fayose (still standing trial for graft and gross mismanagement of state resources) had once hinted nationally that he himself was destined by God to preside over Nigeria! Today that dream had evaporated turning itself into a tall one given the fact that upon conviction Fayose as a convict would no longer qualify to contest for any office anywhere.
Between Fayose and Okorocha 'iberiberism' remains a unifying force, the ultimate name of the game. Playing god, exhibiting hubris and over-stretching one's luck could turn out to be a thing to regret as the day of reckoning sets in. They were both executive clowns masquerading as servants of the people!
Owelle Rochas Okorocha may not be a psychopath given his Igboness, his munificence and his compassion for the poor through his Foundation. But power could transform a paragon, especially in Nigeria, into a monster. Again, Rochas may not be a monster but he left a monstrous legacy in Imo State.
If Okorocha must run for the President of the Federal Republic of Nigeria then he must employ the slogan: 'Iberibe 2023'! Sounds amazing, isn't it? And when 'iberiberism' prevails in Abuja then Nigerians should be ready for many national monuments and statues in honour of international crooks and looters. We should be ready, in such unlikely event happening, to welcome a new Ministry — Happiness — to be headed by a happy free woman like Lauretta Onochie.
Besides nothing could be surprising if 'President Okorocha' (sorry Iberibe) decrees that 'craziness' would be his style of administration; that is, acting first and thinking later! In the utopian Iberibe presidency, come 2023, the serial divorcee who spoke for Buhari with little or no decorum or diplomacy would prove to the entire world that the late literary icon William Shakespeare was wrong to have declared that 'beauty needs no pencil and truth no colour'.
For senior Miss Lauretta, therefore, truth must have colours and beauty needs more than a rainbow of a pencil for its enhancement. Stella Obasanjo died trying to prove Shakespeare wrong in far away Spain! Natural beauty could then be a taboo and the artificial one the order of the day in our new generation.
Join the conversation
Opinions
Support Ripples Nigeria, hold up solutions journalism
Balanced, fearless journalism driven by data comes at huge financial costs.
As a media platform, we hold leadership accountable and will not trade the right to press freedom and free speech for a piece of cake.
If you like what we do, and are ready to uphold solutions journalism, kindly donate to the Ripples Nigeria cause.
Your support would help to ensure that citizens and institutions continue to have free access to credible and reliable information for societal development.