INEC BUDGET: Presidency counters Saraki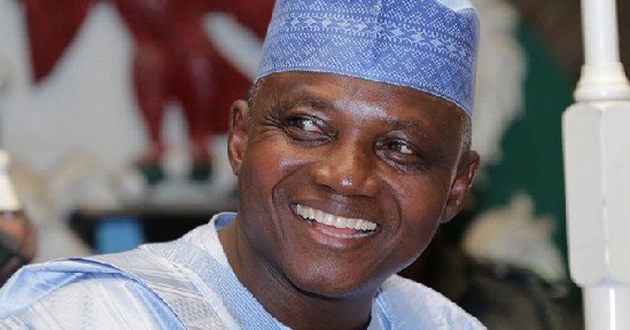 The Presidency has laid the blame for the late submission of the budget of the Independent National Electoral Commission (INEC) for the 2019 general elections squarely on the Senate President, Bukola Saraki.
According to the presidency in a statement issued by the Senior Special Assistant to the President on Media and Publicity, Garba Shehu, the failure of the Saraki-led National Assembly to pass the 2018 budget on time caused the delay in the submission.
Describing as false, the Senate President's accusation that the executive has the blame for the late submissions, Shehu said there is no way a supplementary budget can be submitted when the main one has not been passed.
Shehu said: "The Senate President should look into the mirror and what he will see is his own face. He is solely to be held responsible for deliberately driving the nation to this cliff edge as far as the preparations for next elections are concerned."
According to Shehu, the Minister of Budget and Planning, Senator Udo Udoma clearly tokd the lawmakers that INEC budget would come as a supplementary.
"A supplementary budget cannot be submitted until the main budget is passed, and so the delay in passing the main budget was the reason for the delay.
Read Also: INEC BUDGET: Buhari displayed 'lack of foresight'— Saraki
"The National Assembly passed the 2018 budget seven months after the document was submitted to the National Assembly by President Buhari. Unless someone has forgotten, the budget was submitted to the National Assembly and it took the Saraki-led National Assembly seven months to release it.
"There is no way President Buhari could have submitted a supplementary budget while the main one was still pending. It is never done. Because Saraki did not return the main budget, we could not have submitted the supplementary one," he said, adding, "After the long delays, the President was pained to sign the much distorted, butchered and debauched document."
Shehu also recalled that in giving his assent, Buhari said he was compelled to sign the budget so as not to keep the economy continuously on a standstill.
"When I submitted the 2018 Budget proposals to the National Assembly on 7th November 2017, I had hoped that the usual legislative review process would be quick, so as to move Nigeria towards a predictable January-December financial year," he quoted the President as saying.
Continuing, Shehu said it was noteworthy that it was the first time in Nigeria's history that a government would bring together the cost of an election in one budget, with each agency involved invited to defend their portion of the budget before the National Assembly.
This, he said, was all part of the transparency that the government was known for.
RipplesNigeria… without borders, without fears
Click here to join the Ripples Nigeria WhatsApp group for latest updates.
Join the conversation
Opinions