Officer kidnapped as gunmen attack another police station in Imo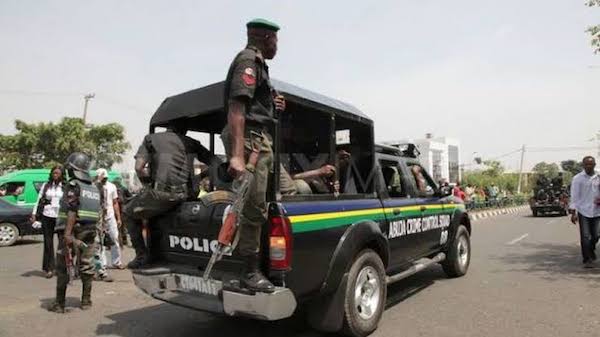 Incoming reports say the Mbieri Divisional Police Headquarters in Mbaitoli Local Government Area of Imo State has come under attack by gunmen who have also kidnapped a police officer.
Residents of Mbieri in Mbaitoli Local Government Area of Imo State were thrown into a panic when some gunmen allegedly attacked the Mbieri Divisional Police Headquarters in the early hours of Thursday morning, abducting an officer and causing mayhem.
According to reports, the fleeing gunmen struck around 1 am, released the suspects in custody at the police facility, took away phones belonging to the suspects, and the police operatives on duty.
This comes three days after the state Police Command headquarters in the state and the Owerri Correctional Center were attacked while 1,884 inmates released.
However, reports have it that the policemen on duty repelled the attackers in a gun duel but were overpowered by the gunmen who had sophisticated weapons.
The Police spokesperson in the state, Orlando Ikeokwu, confirmed the attack on the police station, noting that some suspects, detained in the police facility were freed by the attackers.
Read also: Rivers kidnappers release video of monarch kneeling, making promises to pursue peace
However, he said the police authority in the state has commenced investigation into the attack.
Meanwhile, a police source disclosed that the attackers kidnapped one police officer and injured two other cops.
This was also corroborated by a leader in the community who pleaded anonymity, noting that one police officer was whisked away, while two other officers were badly injured owing to the resistance put up by the policemen on duty.
This makes it the sixth Divisional Police Headquarter, attacked in the state, between February and April apart from the state Police Command headquarters and Owerri Correctional Center which were attacked on Monday, respectively, where about 1,884 inmates were released and over 50 vehicles burnt.
The other Police divisions attacked in the state within two months are Obowo, Aboh Mbaise, Ihitte/ Uboma, Isiala Mbano and the Ehime Mbano Divisional Police Headquarters.
Join the conversation
Opinions