'Nigeria is not an oil-rich country. It's nowhere near that'— Emir Sanusi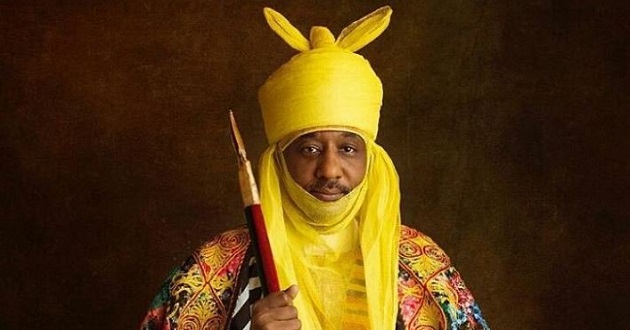 The Emir of Kano, HRH Muhammadu Sanusi II, has said that Nigeria is not an oil-rich country.
He said, given the quantum of oil Nigeria produces and sells against its large population, the country was nowhere near an oil-rich country.
Sanusi also said he was deeply worried about the concept of restructuring being advocated by some in Nigeria.
Emir Sanusi, who was the special guest at the third Justice Anthony Aniagolu Memorial Lecture held at the Godfrey Okoye University, Enugu, said some Nigerians were distracting from the real issues confronting the country with their talk of restructuring.
He was commenting on the lecture with the theme, "Restructuring Nigeria: Between Legal Realities and Rhetoric" which was delivered by a Justice of Court of Appeal, Lagos, Sir Biobele Abraham Georgewill on behalf of the Guest Lecturer, Geoffrey Onyeama, Minister of Foreign Affairs.
"In this country, we have developed a habit of running away from problems by creating diversions. If you look across the world, you will find every kind of structure", the Emir said.
"Here in Nigeria, we glorify the First Republic. We glorify the 1963 Constitution; if it was so good, why did we have a coup? It's easy to romanticize the past. I have issues with this system.
"My issues have nothing to do with whether Hausa or Igbo are marginalized because everywhere you go in this country, the vast majority of people are marginalized. You find poverty among the people.
"My issue is that we have a structure that is inconsistent with the economic resources and needs of a developing state.
"We have created 36 states. We have a population of 195 million. China, with a population of 1.2 billion, has only thirty-something provinces. We have 36 states and 774 local governments. Let's just think about it.
Read also: Even if politicians receive zero pay, govt still can't afford N30,000 minimum wage— Adesina
"In Nigeria, a developing country; you must maintain a President by Constitution; a Vice President; at least 36 ministers because the Constitution says you must have a minister from every state.
"108 Senators; 360 members of the House of Representatives; 36 Governors; 36 Deputy Governors, and God knows how many commissioners multiplied by 36; 774 chairmen of local governments with ten councilors and the House Speakers. If you multiply 774 by ten, that's 7,740 at the local government levels; and these are constitutional offices. What is the result in economics?
"When I was Governor of Central Bank of Nigeria (CBN), already 80 percent of the total revenue of the federal government was going into paying salaries of public sector workers.
"When you have a country of 190 million people and 1 million public servant maximum who are supposed to serve the 190 are already consuming 80 percent of the revenue, what do you have for development?
"Today, we talk about oil. We all need to be educated. Nigeria is not an oil-rich country. It's nowhere near that. First of all, as a percentage of our Gross Domestic Product (GDP), oil is less than 15 percent.
"You talk about oil-rich countries, today Saudi Arabia has a population of about 30 million and it produces more than 10 million barrels of oil per day. That is one barrel of oil for every three citizens. That is what you call an oil-rich country.
"But in Nigeria, we produce 2 million barrels per day for a population of almost 200million; one barrel for a hundred. And we say we are oil-rich country. And that one barrel, after the multinational corporations take about half of it, becomes effectively one barrel for 200 people. And we expect that to provide power, infrastructure, education, health, nutrition?
"But I don't think we are looking at the issues the way we should look at them. With the passage of time, options that are opening and available to people 40 years ago are no longer open."
The royal father asked Nigerians not to be deceived by those who preached certain restructuring ideals that appear not feasible, saying it was unlikely that restructuring would end the problems of the country.
RipplesNigeria… without borders, without fears
Click here to join the Ripples Nigeria WhatsApp group for latest updates.
Join the conversation
Opinions