NSE Roundup: The Nigerian bourse ends week bearish; See top 10 losers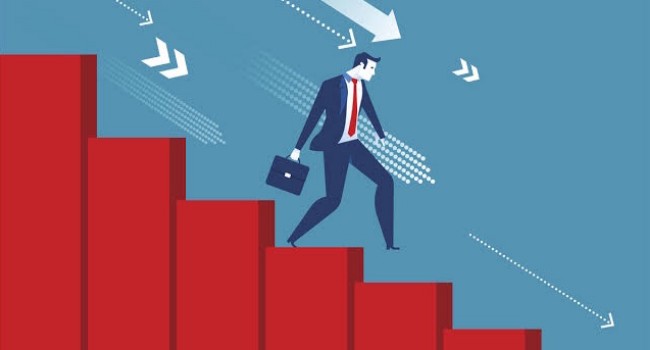 The Nigerian Stock Exchange closed the first week of trading in the month of October on a bearish note – which means the bourse closed negative on a week-to-date basis (WTD). The All Share Index, an index that measures trading in the stock market opened on Monday, September 30, 2019, with 27,675.04 basis points and closed yesterday, October 4, 2019, with 26,987.45; shedding 2.48% on a WTD basis. Year-to-date (YTD), the market is down by 14.14%.
This week 15 equities appreciated in value, lower than 22 the previous week. 39 equities depreciated, lower than 42 equities in the previous week; while 112 equities remained unchanged, which is higher than 102 recorded previously.
For the top 10 decliners or losers, Fidson Healthcare took the biggest hit with a 18.89% loss to close at N3.65. Ecobank followed with a 14.61% loss to close at N7.60. UAC of Nigeria closed N6.55, losing 14.38%. Africa Prudential or Afriprud had a loss of 9.97% to close the week at N3.52.
Beta Glass Plc closed at NN53.80, losing 9.96%. MRS Oil Nigeria Plc and John Holt Plc both lost 9.84% to close at N16.95 and N0.55 respectively. Conoil Plc had a 9.23% loss to close at N15.25. 11 Plc (formerly Mobil Nigeria Plc) closed N140, losing 8.79%. Livestock Feeds Plc ends the top 10 decliners with a 8.51% loss to close at N0.43.
On the top 10 gainers, Continental Reinsurance Plc gained 20.11% to close at N2.27, Law Union and Rock Insurance Plc appreciated by 12.82% to close at N0.44. Niger Insurance Plc closed at N0.22, gaining 10%, CAP Plc gained 9.89% and closed at N25.55. Caverton Offshore Support Group Plc gained N0.20 (8.33%) to close at N2.60.
Read also: BUSINESS REVIEW: 13 quick steps Nigeria must take to attract quality foreign direct investment
Flour Mills Nigeria Plc appreciated by 7.14%, closing at N15. Wapic Insurance Plc followed with a 5.88% gain to close at N0.36. NAHCO closed N2.47, gaining 5.56%. AIICO Insurance Plc closed NN0.68 and gained 4.62%. Jaiz Bank Plc end the top 10 advancer or gainers with a 4.55% gain, closing at N0.46.
During the week under review, Infinity Trust Mortgage Bank Plc and Interlinked Technologies Plc released their Q3 2019 unaudited and FY2019 results respectively. Infinity Trust Mortgage Bank had a turnover of N993.86 billion, up by 38.5% when compared to Q3 2018. The bank also had a profit after tax (PAT) of N293.46 billion, slightly increasing by 32.6% when compared to Q3 2018.
Interlinked Technologies revenue for the full year ended June 2019 was 56.8 million as against N157.9 million in 2018, which is a whopping 64% decline. The company witnessed a loss after tax of N107 million as against a profit after tax N1.8 million in 2018.
Join the conversation
Opinions