Obasanjo rocks at 83, D'Banj hints he may be expecting a set of twins. See other juicy gists we tracked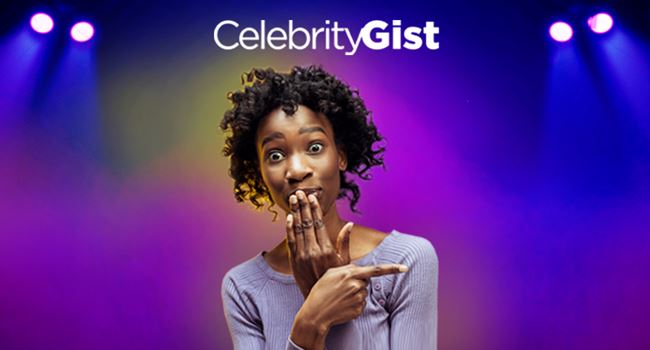 GBAJABIAMILA
Honourable Femi Gbajabiamila, the Speaker of the House of Representatives threw a grand birthday party for his 90-year-old mother, Alhaja Lateefat Olufunke Gbajabiamila, who according to reports wanted a quiet and private celebration.
The lawmaker reportedly flew no fewer than 300 special guests to Dubai, United Arab Emirates (UAE)- an all-expenses paid trip to celebrate with his mother.
We also gathered that invited guests were treated to a swell time as the lawyer-turned-politician spared nothing to celebrate his mum (a consummate politician) who actually facilitated him into mainstream politics.
D'BANJ & LINEO
'Koko Master', D'Banj sent tongues wagging after he sparked suggestions that he may be expecting a set of twins with his wife, Lineo Didi Kilgrow in a recent social media post.
Lately, the couple has been in high spirits and that was made clear after the singer's recent post on Twitter where he spoke on how God can make one lose something then gives him double of what he lost.
"If God can take away something you've never expected losing. He can replace it with something you've never imagined having. Wonderful God," he wrote on the social media platform.
Recall that D'Banj lost his first child, Daniel Oyebanjo on June 25, 2018, (in a swimming pool disaster at his home) but his wife Lineo gave birth to a baby boy in the United States of America on September 19, 2019, restoring their lost joy.
DAVIDO & CHIOMA
The pair of David Adeleke aka Davido and his spouse Chioma sent social media on overdrive when the singer posted a picture online, showing himself and partner dressed in traditional attires which suggested that they may both have completed traditional marriage rites.
The picture posted by Davido on his official Instagram page @davidoofficial , on Tuesday with the caption; "1MILLI !!!'', drew so many comments and generated thousands of likes and reactions on social media within few minutes after the singer uploaded it.
Many who saw the picture post summed up that Davido may have had a secret traditional wedding with Chioma, who recently gave birth to a baby boy for him in the U.S, while others said that it was just a video shoot with Chioma used as a video vixen.
OBASANJO
Former President of Nigeria, Olusegun Obasanjo, recently turned 83 and as part of activities to mark his birthday, an exciting play titled, 'Aremu' was staged at Olusegun Obasanjo Presidential Library in Abeokuta, Ogun State.
We gather that the stage play which was written and directed by Prof. Ahmed Yerima had Joseph Edgar as co-producer while Ayo Aderinwale Mofoluwake Edgar and Olisa Adibua were also listed as co-associate producers.
Present at the event which reportedly had scores of stage play lovers in attendance were the Governor of Ogun State, Dapo Abiodun, members of his cabinet, and top traditional rulers like the Oloto of Ota as well as other prominent Nigerians
Edgar also intimated that the stage play would immediately move to Lagos in May which will kick start a nationwide tour that should see it move to Port Harcourt and Abuja before making the rounds on the continent of Africa.
READ ALSO: Battles everywhere; Oba Akinruntan & AMCON, Solid Star Vs former bosses, Stephanie Coker's on IVF and all the hot scoop that made the round…
BURNA BOY
'African Giant', Burna Boy added another feather to his cap when he recently received a gold plaque for his 2018 single, 'On the Low' which went gold in France.
Reports say the 'Ye' crooner was feted with the gold plaque during a dinner organised at Guise Trattoria Restaurant, Paris, France, to celebrate the hit single which has garnered over 15 million streams as of February 2020 in France, which is reportedly equivalent to 100,000 track sales.
We gather that Burna Boy was accompanied to the dinner date by his mother and manager, Bose Ogulu aka Mama Burna, and his elder sister, Ronami Ogulu, to receive the gold plaque for the song which has since amassed over 103 million views on YouTube after its release.
His recent feat comes after the musician who has achieved success on a global scale said in a recent interview with GQ Magazine that there is no basis for comparing him and Fela insisting that it is dishonourable to compare him with the late Afrobeat legend.
DJINEE
He rocked the music scene about 10-years ago with a hit single titled 'Ego' and other popular songs subsequent which warmed him into the hearts of music listeners across the country.
A decade later, the singer, Osayamwen Nosa Donald, popularly known as Djinee says that after dropping his hit song 'Ego' and others like; 'I No Dey Shame',  'Lade' and 'Overkilling' that it has been hard trying to access royalties for his songs.
Djinee also revealed in an interview that the music industry still lacks a structure adding that inadequate funding and extreme cases of pay for play are also robbing the industry of diverse talents.
YOUTUBE
Video sharing platform, YouTube drew excitement and huge expectations from Nigerian local content creators, when it announced the launch of YouTube Music app in Nigeria.
Reports say the newly launched YouTube Music is a music streaming service that offers official songs, albums, thousands of playlists and artist radio, plus YouTube's rare catalogue of remixes, live performances, song covers and music videos that are all personalised to individual users.
With the launch, Nigeria now becomes the second African country where YouTube Music is available after a previous launch last year in South Africa and according to Addy Awofisayo, YouTube Content Partnership Manager for Nigeria, users will be swayed by app's unique attributes.
ADMIRAL ALISON MADUEKE
The Muson Center, Onikan Lagos, came alive during the week when the autobiography of retired Chief of Naval Staff, Biafran war veteran, former Military Governor of Anambra and Imo States, Admiral Alison Madueke was launched.
Titled "Riding The Storms With God In My Sails", the book takes the reader on a life-long journey through the early days of a very ambitious young Nigerian of Igbo heritage who weathered the storm to the pinnacle of his career.
Present at the public presentation of the book included; Mr. Pascal Gabriel Dozie; Former Chief of Army Staff under General Abacha regime, Major General Mohammed Chris Alli (rtd); Former Chief of the Naval Staff, Vice Admiral Akin Aduwo; and Former Chief of Army Staff, Lieutenant General Azubuike Ihejirika (rtd).
ODUNLADE ADEKOLA
The rumour mill was awash with reports this week that popular actor, Odunlade Adekola, was set to become the king of his hometown, Otun, in Ekiti State.
The speculation claimed that it was the turn of Adekola's family, which is part of the ruling houses in the town, to produce a king, with the actor fingered as a chosen candidate for the throne.
Celebrity Gist can confirm that it is not the turn of the actor's family to produce the king of the town as widely reported as there are five ruling houses in the town vying to produce the next king.
Quoting a source in the know, "(Odunlade)'s lineage has been king before in recent times. It has not got to his family's turn but if he is interested in the throne, he can fight for it because the governor (Kayode Fayemi) likes him."
Join the conversation
Opinions