Oil prices tumble to 17-year low as Nigeria's crude fails to attract buyers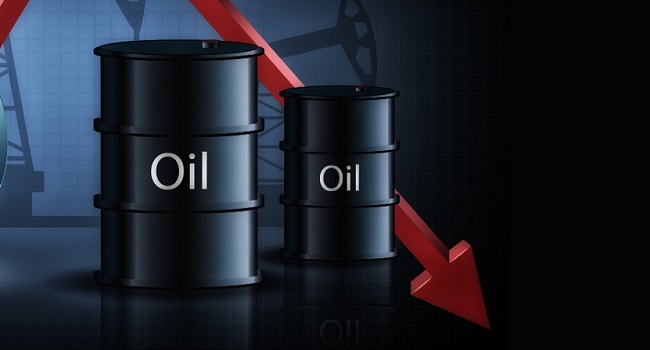 Oil prices plummeted to their lowest levels in seventeen years Monday on the back of a glut-induced fall in demand as the global oil market battles the double threats of headwinds from the coronavirus pandemic and the continuing deadlock from the Saudi-Russia oil price rivalry.
Brent crude, the international benchmark for Nigeria's Bonny Light, cratered to $22.58 per barrel at one point on today, its lowest level since 15th November 2002 before easing at $22.80 around 14:51 West African Time (WAT).
US West Texas Intermediate (WTI) crude futures slipped below $20 to $19.90, pretty close to an 18 year low.
The standoff between the world's largest oil producer, Saudi Arabia and Russia has shown no sign of abating with Saudi saying on Friday it had not entered into discussions with Russia regarding how to strengthen the market in spite of Washington's intervention to restore amity between the two.
There are fears that prices could drop further in the days ahead.
Faith Birol, Executive Director of International Energy Agency, in a recent forecast said oil prices could fall by 20% and demand by 20 million barrels per day as 3 billion people are on lockdown around the world.
Already, Saudi is baring its fangs, saying it would flood the market with crude by declaring a large reduction in its selling prices for April.
"The deepening pandemic and reduced appetite for crude oil by refiners sent the oil price into a tailspin," said Kishti Sen of ANZ Research in a note obtained by CNBC Africa, describing the monthly and quarterly price slumps as the "the steepest in history."
Read also: N100bn health intervention fund to last till 2030 —CBN
"Amid the worldwide lockdowns, storage capacity is filling fast and may soon run out unless there is an urgent supply cut," he added.
Nigeria is fast losing its share of the oil market on the account of pricing its crude grades higher than those of heavyweights like Saudi Arabia and Russia who offer more competitive prices.
According to Reuters, Nigeria's oil production is projected to plunge by 35% without offshore field investments.
"Larger nations are also elbowing African producers out of incredibly competitive spot trade.
"They cannot match the agile, aggressive marketing that saw Saudi Arabia slash its selling prices almost immediately after the collapse of the OPEC+ deal," it says.
Nigeria is striving to sell its crude, "which is rich in the gasoline and jet fuel that the world is not using as a result of the coronavirus pandemic."
As of last week, 50 cargoes of Nigerian crude remained unsold despite government cutting the prices of its crude.
It cut its oil benchmark for the 2020 budget from $57 to $30 earlier this month and there are indications that government could slash it further amidst the global oil crisis.
Join the conversation
Opinions