OPINION: Dismantling The 'Structure' Of Criminality!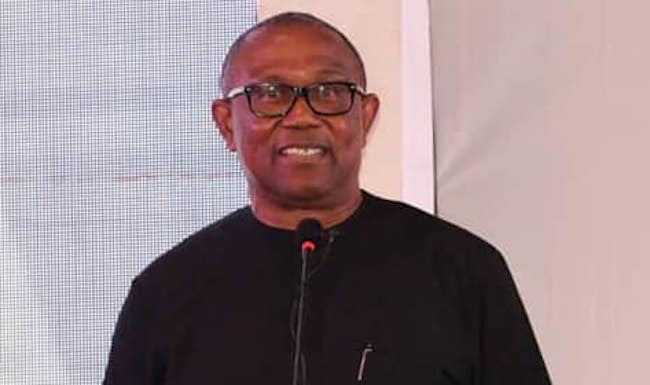 The Labour Party presidential candidate, Peter Obi, was at the Chatham House in London recently where he performed brilliantly. Appearing gracefully and presidential he dealt with the thorny issues of the day, issues bedevilling Nigeria as a troubled nation-state. He provided satisfactory answers to questions raised and gave an insight into his presidency. He made it clear he would dialogue with all agitators (separatists of all hue), fight corruption, rebuild the moribund power sector and tackle monstrous insecurity upon being elected as President. Obi, in his charismatic best element, bared it all, proving what patriots and 'Obi-dients' have been saying all along that this decent man would knock back sense into the senseless situation in Nigeria.
Buffeted by all sorts of security challenges including those violently campaigning for separate statehood, Obi struck the right reconciliatory note by saying he stood for one Nigeria. Unity is essential if greatness could be achieved. But in restating commitment to national unity, Obi reasoned, care must be taken to rein in injustice, marginalization, inequality and unfairness. The agitation for the Biafran or Oduduwa nationhood could abate with booms of gunfire eliminated if every Nigerian irrespective of tribe or tongue or religion could feel a sense of belonging in the system.
Obi, ever so realistic, even 'threatened' to withdraw from the presidential race if his running mate, Datti Baba-Ahmed, was found to be corrupt! He declared that as former Anambra State Governor, he left behind billions of Naira for the in-coming administration in three banks. He said he owed no contractor, worker or pensioner before leaving the Government House in Awka.
Unlike Asiwaju Tinubu, the ruling APC party's presidential hopeful, who was in the same Chatham House early December as a guest, Obi scored high marks for his coherence, clarity, preparedness and readiness. Tinubu went there to engage in intellectual masturbation, even dancing to Kizz Daniel's popular hit song 'buga'! He 'shattered' Chatham House as it were with his less-than-stellar performance.
If unskilled dancing or comedy or gaffe are qualities required for one to win the presidency then Asiwaju Tinubu may well position himself as the President-in-waiting. Governor Ademola Adeleke of Osun State is often referred to derogatively as the Dancing Senator or Governor! He is indeed a very good dancer. The former Sierra Leonean Head of State, Capt. Valentine Strasser, must be jealous of a Nigerian executive Governor who could beat him in a dancing competition in a nightclub! Tinubu cannot measure up even when it comes to such dancing pedigree.
Governance (especially at the federal level) remains a serious business for serious politicians. The major problem with Nigerian politics happens to be the placement of square pegs in round holes; those with little or no qualification to run the affairs of state occupying sensitive positions — in all mediocrity. Nigeria has failed as a state because of the Buharian pilloried nepotism, aloofness and incompetence.
Often, the formidable opponents of the Labour Party candidate in the forthcoming poll have been insinuating ignorantly that the 'Obi-dient' movement leader has no structures on the ground nationally with which to win the election. The issue of structure is often used as a weak point and the lack of same would ultimately lead to Obi losing the presidential poll. But that is fallacy, a lie from the pit of hell!
What is the party structure? Structure connotes the presence of party machinery and members across the length and breadth of the federation. The existence of men and resources on the ground capable of mobilizing and organizing party activities. Given this description, therefore, it could be inferred that the ruling APC and the opposition PDP (having been in power at the federal level for sixteen odd years and presently in some states) have 'structures' on the ground all over Nigeria.
To be sure, the LP candidate cannot be said to be firmly implanted in every nook and cranny of the vast federation. As a ruling party the APC could be said to have permeated almost everywhere using illicit state funds to maintain a semblance of political control. In Nigeria dirty money plays a vital role in grabbing power and imposing candidates. Asiwaju Tinubu and Atiku Abubakar are guileful masters in the game!
Read also:OPINION…Simon Ekpa: A 'Fin(n)ished' Rebel In A Rebellion
Prior to his arrival at the Labour party following his wise decision to decamp from the PDP the Labour Party was a minimal inconsequential political party finding it hard to impose its political will on Nigerians. The emergence of Obi led thousands of Nigerians (especially the youths) to flock to the party. Obi's integrity, charisma and integrity brought life to the party. Today the Labour Party has gone national, taking the 'Obi-dient' army along!
Obi may not be the messiah Nigerians are waiting for to deliver us from the present national morass. He has never claimed to be one! But none of the eighteen candidates could lay any claim to such messianic disposition. In these perilous times it takes extraordinary intelligence and leadership sagacity to unite Nigerians, rebuild our bastardized economy and secure our terrorized citizens.
We hold unapologetically that 'Atikulation' and 'BAT-ism' belong to the past. And this is what we are up against. Nigeria and Nigerians have tried both Atiku Abubakar and Asiwaju Bola Tinubu and found them both wanting. They stole huge amounts of money while pretending to be serving the interest of our nation. Today, we know better their putrid stewardship and capacity to deliver good governance, justice and security.
The PDP presidential hopeful, Atiku Abubakar, had described Peter Obi the same day the latter was in London's Chatham House as a "greenhorn"! Well, greenhorn or not Atiku cannot claim in all honesty that he has more experience governance-wise than the former Anambra State Governor. It is, therefore, disingenuous of him to lay claim to being the most experienced of the lot.
The truth of the matter is that the presidential poll of next February may not be won on account of the existence of 'structures' anywhere or everywhere. Nigerians in their millions, out of frustration and hopelessness in the system, may decide to vote for a candidate in, no matter the name of his political party. In other words, individual merit and competence may count more than the political vehicle with which such an individual candidate drives himself to Aso Villa.
That means that Asiwaju Tinubu could win in spite of the APC's failures just because of his antecedents. He could pull it off despite the Buharian presidential pestilence. Atiku Abubakar could come out victorious despite the PDP's past association with high-wire corruption and cronyism. Peter Obi could triumph, trumping the opposition despite the LP's light-weight measurement in the political scheme of things.
Flowing from this analysis, therefore, it is easy to infer that 'structures' may not play a significant decisive role in the emergence of the successor of Muhammadu Buhari come May next year.
Much ado about 'structures'. Obi, himself, has had cause to denounce the opposition criticisms of his lack of structures. He described them as 'structures' of criminality, of poverty, of corruption, of insecurity; brimming with confidence maintained that he is in the race to dismantle the so-called 'structures'.
Of course, if Nigeria must survive as one indivisible entity, if she must rise to her full potential; if poverty and insecurity must be defeated then we must rise as one oppressed people to say 'enough is enough'! The power to dismantle the 'structures' of criminality lies in our hands, our PVCs. Let us use it wisely this time around.
We own this democracy and we owe it a sacred duty to ourselves to resolve to send the executive bandits, 'Jaganbanditism' et al, to their retirement homes in Lagos or Yola. A resounding electoral 'No' to godfatherism, graft, misery and insecurity must lead us to a new dawn post-Buharism!
AUTHOR: Ozodinukwe Okenwa
---
Articles published in our Graffiti section are strictly the opinion of the writers and do not represent the views of Ripples Nigeria or its editorial stand.
Join the conversation
Opinions
Support Ripples Nigeria, hold up solutions journalism
Balanced, fearless journalism driven by data comes at huge financial costs.
As a media platform, we hold leadership accountable and will not trade the right to press freedom and free speech for a piece of cake.
If you like what we do, and are ready to uphold solutions journalism, kindly donate to the Ripples Nigeria cause.
Your support would help to ensure that citizens and institutions continue to have free access to credible and reliable information for societal development.