Respond appropriately to Adesina, presidency's 'insolence,' Fani-Kayode charges Atiku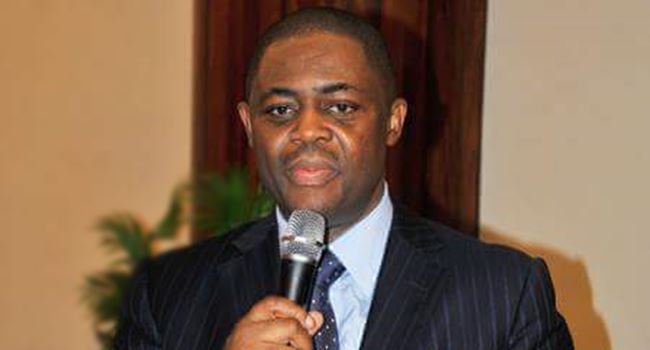 A former Minister of Aviation, Femi Fani-Kayode, on Saturday asked the spokesmen and other aides of former Vice President Atiku Abubakar to respond appropriately to what he described the insolence of the Special Adviser on Media and Publicity to the President, Femi Adesina and the Presidency.
The ex-minister was reacting to an article by Adesina, in which he listed those he claimed deceived Atiku into believing he would be president of the country.
According to Adesina, former President Olusegun Obasanjo and his "foreign cohorts" gave Atiku a "false sense of hope," while adding that marabouts, prophets, some pastors, preachers, witches and wizards formed a "confederacy" and said Atiku would win the February 23 presidential election but which never happened.
Read also: Quit now with your dignity intact, MASSOB tells Osinbajo
Fani-Kayode, in his reaction to Adesina's article via his Twitter handle, expressed shock at the statements credited to the presidential spokesman and asked Atiku's media to respond to the presidency's statement.
He wrote: "I was amused when I read the President's Advisor, Femi Adesina's piece this morning in which he mocked Atiku for losing the presidential election and the case at the Supreme Court.
"If they are still loyal and have the strength and zeal I would humbly suggest that the DG of Atiku's Presidential Campaign Organisation or the Director of Media or any of Atiku's eight Presidential Campaign spokesmen responds in very strong terms on his behalf to Femi Adesina's and the Presidency's insolence. This ought to be done for the record: they owe their principal that much."
Join the conversation
Opinions