Senate passes N10.6tn 2020 budget, increases bill by N264bn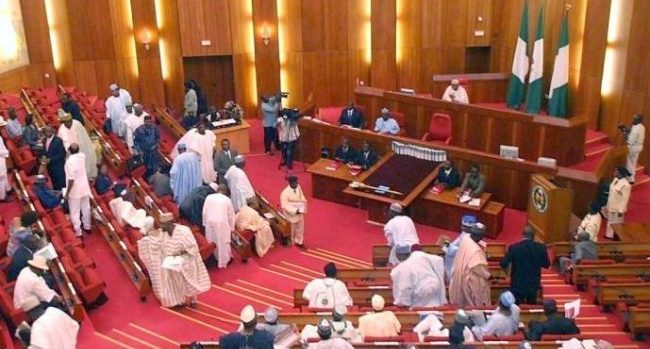 The Senate on Thursday passed the 2020 Appropriation Bill of N10.594 trillion.
The budget was increased by N260 billion from N10.33 trillion presented by President Muhammadu Buhari to lawmakers on October 8.
The Senate Committee on Appropriation had on Wednesday increased the budget proposal by N450 billion to bring it to N10.78 trillion, while its House counterpart raised the budget proposal by over N264 billion to bring it to N10.59 trillion.
However, the two chambers of the National Assembly settled for the N264 billion increase in the budget and decided to pass the budget at N10.594 trillion.
The Senate passed the budget after considering the report of the Senate Committee on Appropriations presented by the Chairman, Senator Barau Jibrin.
With the passage of the appropriation bill, according to the Senate, the country has returned to the December to January budget circle and this will ensure that there is certainty in the budget.
The benchmark oil price was increased from $55 to $57 per barrel.
Read also: APC's 'coup' against democracy in Nigeria can't stand —PDP
The oil production quota of 2.18 million per barrel proposed by President Muhammadu Buhari during the October 8 budget presentation was retained while the Gross Domestic Product (GDP) rate was kept at 2.93 percent.
The inflation rate of 10.81 percent and the exchange rate of 305/S$1 were also retained by the lawmakers.
Jibrin said: "It is important to state that the Committee worked harmoniously with the Executive arm of government in the processing of this bill which ensured the collaboration of the two arms in the utilization of additional revenue projections to fund/improve the funding of some critical projects.
"Consequently, the increase allowed for interventions in critical areas such as national security, road infrastructure, mines and steel development, health, social needs, and water, among others. This is also in line with the budget thrust of government which is focused on growing development and sustainable growth."
Join the conversation
Opinions