SocialMediaTrends: #OccupyLekkiTollGate – reactions trail govt's plan to reopen Lekki toll plaza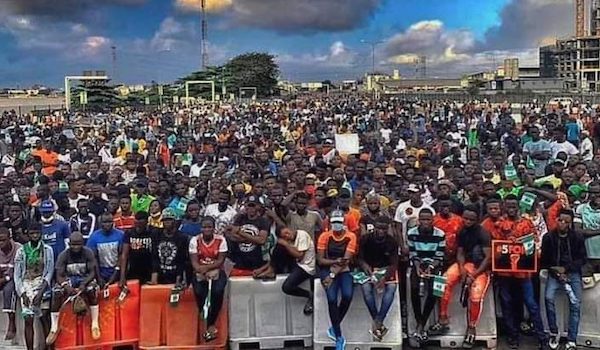 The social media space in Nigeria on Monday was flooded with threats by #EndSARS protesters, who have vowed to hold a fresh protest at the Lekki toll gate in Lagos this weekend.
The calls came following plans by the Lagos State government and the Lekki Concession Company [LCC] to resume operations at the toll plaza.
The decision to reopen four months after the shooting of unarmed protesters by security operatives at the toll gate had reportedly raised controversies among members of the Lagos Judicial Panel of Inquiry.
#EndSARS protesters are insisting on a permanent lockdown of the toll gate until justice is served to victims of the unfortunate shooting incident of October 20, 2020.
They have also threatened to start fresh protests if the government fails to adhere to their warnings.
Read Also: SocialMediaTrends: 'The future is CowtoCurrency' – Jokes, wild speculations trail CBN's new Crypto policy
The development generated the following reactions:
We will not allow these government to brainwash us ,we need justice for those heroes that sacrificed there lives at the lekki massacre. Enough of these oppression and tyranny.#OccupyLekkiTollGate pic.twitter.com/Obv0DWDlPm

— obikoya Adebowale (@obikoyaemmanue1) February 8, 2021
After you shoot my brothers and sisters like say you dey play call of duty for Lekki massacre, you still won open that same Tollgate to dey collect money?! E gats be ment! #OccupyLekkiTollgate Feb. 13th. If you no RT, you dey ment too.

— SUN? (@shank_comics) February 8, 2021
What your occupation? My occupation is to #OccupyLekkiTollGate on Saturday February 13th.

To fight for justice. pic.twitter.com/qnEQcf56w6

— Hawt Sturvss?? (@Shez_Weird) February 8, 2021
They thought we had forgotten. They thought they could get away with it. They thought we would be too scared to demand that justice is served. They thought my generation will be defeated.

Forever, we soro soke. #OccupyLekkiTollGate

— Olóyè. (@oloye__) February 8, 2021
Seeing #OccupyLekkiTollGate trend has made me smile. One of the sincerest smiles I've worn in days.

Let's do this!

— Uduak-estelle, Scion of B.E.? (@U_estelle) February 8, 2021
What happened on the 20th of October, 2020 has not been fully addressed.
Yet, you want to open toll gate.

Barawo!#OccupyLekkiTollGate

— Hauwa ?? (@Hauwa_L) February 8, 2021
Lagos State government, Lekki Concession Company and some members of the Lagos State Judicial Panel members inspired the #OccupyLekkiTollGate protest planned for 7am on Saturday, February 13.

— 'Gbénga Ṣẹ̀san (@gbengasesan) February 8, 2021
Re-opening of Lekki Toll Gate is the govt saying "forget it, that one has passed". But what they don't know is that youths are determined to get justice.

Lekki Toll Gate must remain closed until investigations are concluded and justice is served. #OccupyLekkiTollGate pic.twitter.com/id2Zo0OgRJ

— K A Y ???? (@Kaylechi_) February 8, 2021
The Dead cannot cry out for justice. It is a duty of the living to do so for them. #OccupyLekkiTollGate

— Adeyemo Ridwan (@son_of_ot) February 8, 2021
We must #OccupyLekkiTollGate, because justice has not been served. The man who killed these youths, General Buratai, is about to be made an ambassador so he can have immunity to escape the @IntlCrimCourt. Until there is justice for #LekkiMassacre, Lekki Toll Gate must not open! pic.twitter.com/gAc6Tny1eC

— Reno Omokri (@renoomokri) February 8, 2021
May be they don't understand that our National Anthem said "The Labours of our Hero's past shall never be in Vain "#OccupyLekkiTollGate #EndSars Bitcoin Tesla Adamu Garba iPhone 6 pic.twitter.com/Rc2vnmcJdB

— Dokubo, Kenneth Promise #EndSARS (@dokubo_kenneth) February 8, 2021
God forbid the Lekki toll gates being brought back!#OccupyLekkiTollGate

— CHISOM (@_PLICE) February 8, 2021
Civil Unrest begins from Uncivil Arrests.
Our efforts must not be in vain. #OccupyLekkiTollGate pic.twitter.com/BhOUgJhCcC

— AY Nigeria ?? #SayNoToRape (@oapaynigeria) February 8, 2021
…By Okiemute Abraham
Join the conversation
Opinions