SPECIAL REPORT… In Osun, votes sell for N2,000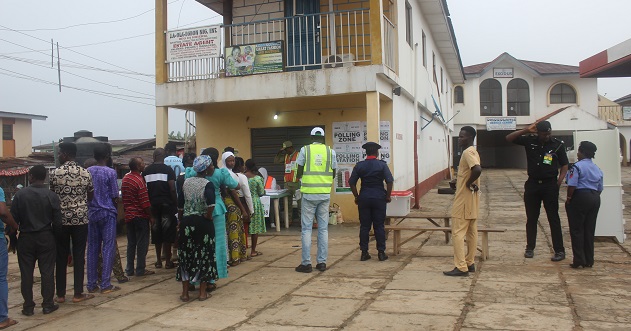 Since 1999 when Nigeria returned to democratic rule, elections at all levels, have been marred with electoral irregularities – violence and ballot box snatching. Now, the trend is fast moving to vote buying – a process of inducing eligible voters to exchange their votes for cash or other material benefits in favour of a political party or candidate contesting an election. In this Special Report, Investigative Journalist Patrick Egwu probes cases of vote buying during the recently held governorship election in Osun state where votes were sold for N2,000 and examines the implications for 2019.
Disguising as a voter with his Permanent Voters Card (PVC), this reporter makes his way to a polling unit located in a community primary school in Osogbo, the state capital where voters had gathered in large numbers for accreditation before casting their votes.
It was drizzling and the weather didn't stop voters from coming out to exercise their voting rights.
By the far-end of the school, a group of mostly young people, had gathered – murmuring and having a conversation in a low tone.
Nurudeen Bolaji, was at the middle, counting some Naira notes and giving to each person in the group. A list of voters who presented their PVCs had been prepared a day to the elections. When somebody's name is called out, Bolaji hands over N2,000 to the person who then gently walks away.
"I have collected my own share of the money," Joseph Tunde, who was part of those who collected money from Bolaji said. "It will buy me food and drinks this night," he quipped.
When this reporter asked whom he would be voting for after collecting the money, Tunde, walking away from the spot, said "I don't know; I don't care about them (APC or PDP), I only need the money."
"I didn't receive any money from anybody but if I had seen someone who offered me money, I would have accepted," another voter at the polling unit who declined to give out his name said. "But as an individual, I know what is on my mind and that's what I will do while voting. I might collect the money, but will not vote for their candidate," he said.
At another polling unit in Ede North LGA, this reporter also observed a group of people sharing wads of N500 notes –unarguably, proceeds from selling their votes to a candidate or political party. Three policemen were standing close to the polling unit but it didn't prevent the voters from doing what they were doing. When this reporter, with an accreditation vest and camera hung on his neck, approached the group of young voters where they were sharing the money, some of them became hostile and sensing danger, dispersed immediately in different directions.
"Don't take my picture," one of them said furiously, while taking quick steps to move away from the location. "Why are you trying to take our pictures?" another young man among the group added.
When this reporter decided to ask them if they had voted and how the election process was going, some of them started laughing, showing indifference to the election.
"Yes, we have voted," they echoed together while smirking and walking away from the location.
"From my observation here, there is nothing like vote buying," said Adetunji Agabi, a former federal legislator and chairman, Agricultural Research Council of Nigeria who was at his polling unit in Ede LGA. "I have been here since morning and nothing like that has happened."
While Bolaji and his group of vote sellers and buyers were lucky to escape arrest, the story was different for others. Few hours later, two voters were arrested at Ede LGA in the state for possessing two PVCs which do not bear their names nor pictures. The two men were arrested by security officials at the polling unit in the area when they had come to cast their votes. Similarly, at another area in the state, three party agents were arrested with wads of cash with which they allegedly intended to induce voters with.
A widespread practice
At every election – local, state or national, voters exchange their votes for monetary benefits or food items from candidates contesting election. This practice is common among political parties and their candidates or party agents – casting doubts on future election outcomes and resolve to end the practice. In most cases, prior to the elections, voters are approached and induced with money in other to influence their choice of voting.
In the rural areas with a majority of the population illiterate, and predominantly farmers, party agents, before elections, visit them at a place where they are largely concentrated – markets, town halls and churches to share food items and stipends while educating them on a candidate to vote for and what they stand to gain if elected.
"This is quite common both in urban and rural communities," said Johnson Madu, director, Centre for Good Governance. "This negativity affects election outcomes because the people vote based on the money they receive and not based on conviction. It would make it impossible for young persons who do not have the financial clout to participate and win an election," he said.
In July, during the governorship election in Ekiti state, voters were offered money, gifts and material rewards by politicians and party agents few hours to voting to influence the candidate they vote for. Prior to the elections, pensioners and government employees in the state received credit transactions of N4000 and N3000 in their bank accounts respectively – a form of inducement to influence their voting decisions on the election day.
"It is gradually becoming a culture in Nigeria," said Jonah Onuoha – a professor of political science at the University of Nigeria, Nsukka. "We saw what happened during the election and how money and food items were shared among the voters who had agreed to the terms and conditions of receiving the money."
After the reported cases of vote buying during the Ekiti elections, subsequent cases followed – in Kogi and Katsina states where cases of vote buying were widely reported.
In Kogi state where a bye-election was conducted into the federal house of parliament, voters who had voted for a designated candidate, received N2000 each from party agents at the polling units. Similar incident happened in Katsina state where the opposition party accused the ruling party of vote buying which was done to help their preferred candidate.
Impact on 2019 elections
With just five months to next year's elections, analysts and experts believe the widespread cases of vote buying will influence the outcome of the process and the candidate who emerges winner across different elective positions.
"If you look at the budget of some of these political parties, you will see that they are ready to buy anything in 2019, not just votes. It will determine who wins or who may not win in the 2019 election.," Onuoha said.
The negative outcome of vote buying on next year's election according to Onuoha, will be seen in the form of "insecurity, bad schools for your children, bad roads for your communities. You will become their slaves to be feeding from the crumbs they give."
Most importantly, the practice of vote buying might have effect on young people seeking to run for public office for the first time since a recent law was passed. In May, president Muhammadu Buhari signed into law the Not Too Young To Run Bill which removes the age restrictions preventing young people from contesting public offices.
The practice of vote buying which is currently, unfortunately, a decisive factor on who gets elected, might however, limit their chances as they might not have the financial capabilities to entice or buy votes even if they want to.
"You must have the money to buy votes to win election and I think it will take a long time for a young person to emerge as president in Nigeria because they do not have the resources and the only way they can emerge is if they are adopted by a godfather who sponsors them financially," said Madu. "And when you finally get elected, you start paying back. That is what is currently happening."
However, despite the selling of votes during the elections, some of the voters who spoke to Ripples Nigeria said they cannot sell their votes despite the offer.
"No amount of money will be given to me that I will collect because I am here to perform my civic responsibility as a citizen," said Christopher Ade, 60, a pensioner. "And since we started this process this morning, things have been moving fine because I have not spotted any malpractice".
Demola Ajire, a 20-year-old student who is voting for the first time told Ripples Nigeria, "I don't see any reason I should sell my vote for whatever amount the person is offering because selling it means I'm selling four years of good governance due to temporal benefits.
"We are not here for money or anything but to vote for our choice and our future."
Tackling it
The Independent Electoral Commission (INEC) has been accused of not doing enough to tackle the widespread practice of vote buying during elections at all levels.
The INEC boss, Mahmoud Yakubu confirmed that vote buying occurs during elections but said that those who resorted to the practice were those who could not subvert the administrative process of the Commission.
According to the Nigeria Electoral Act 2010, vote buying and selling is a punishable offence. Article 130 of the Electoral Act specifically states that: "a person who (a) corruptly by himself or by any other person at any time after the date of an election has been announced, directly or indirectly gives or provides or pays money to or for any person for the purpose of corruptly influencing that person or any other person to vote or refrain from voting at such election, or on account of such person or any other person having voted or refrained from voting at such election; or (b) being a voter, corruptly accepts or takes money or any other inducement during any of the period, commits an offence and is liable on conviction to a fine of N100,000 or 12 months imprisonment or both."
But the level of implementation of the Act since it was signed becomes debatable.
"We are taking it very serious because it was not obvious until the last election when it became so widespread," an official of INEC who begged not to be mentioned because she was not authorized to speak on the matter said.
"We are adopting stringent measures and reviewing strategies with the security agencies for arrest and prosecution of vote buyers," she said. "We embark on effective voter education and sensitization so that people will be told the harm that they are doing to the process by allowing people to buy their votes. They are just selling their future and that of their children by selling their votes."
Recently at a stakeholders meeting in Enugu state, the Resident Electoral Commissioner, Emeka Ononamadu restated the Commission's readiness to end all forms of electoral malpractices like vote buying, ballot box snatching while ensuring free and credible elections.
"We are committed as a matter of patriotism to better the electoral process in next year's election because we have braced up for greater dedication and more work," he said.
But analysts like Onuoha described the moves as mere political statements which is not always taken into action. "The only way to end it is to arrest, prosecute and jail those that are responsible for that and that must be done before 2019 otherwise it will be cash and carry election."
Despite INEC declaring the first batch of election in the state inconclusive and a run-off fixed for Thursday September 27, if not checked properly with adequate measures, the already reported cases of vote buying might still play out among voters and party agents, and ultimately determine who wins the election.
As an evolving phenomenon, vote buying is capable of undermining the people's choice and the nation's democracy, because it is akin to rigging.
The authorities need evidence to nib it in the bud.
If you do have evidence of vote buying in the Osun State gubernatorial election or any other elections within Nigeria, kindly provide them to enrich Ripples Nigeria investigations into the malaise . You can get in touch by call, SMS or WhatsApp on 234 809 049 1377, or send a mail to [email protected]
RipplesNigeria… without borders, without fears
Click here to join the Ripples Nigeria WhatsApp group for latest updates.
Join the conversation
Opinions
Support Ripples Nigeria, hold up solutions journalism
Balanced, fearless journalism driven by data comes at huge financial costs.
As a media platform, we hold leadership accountable and will not trade the right to press freedom and free speech for a piece of cake.
If you like what we do, and are ready to uphold solutions journalism, kindly donate to the Ripples Nigeria cause.
Your support would help to ensure that citizens and institutions continue to have free access to credible and reliable information for societal development.