SPECIAL REPORT: Shell's inaccurate data raises questions around efforts to control methane emissions in Nigeria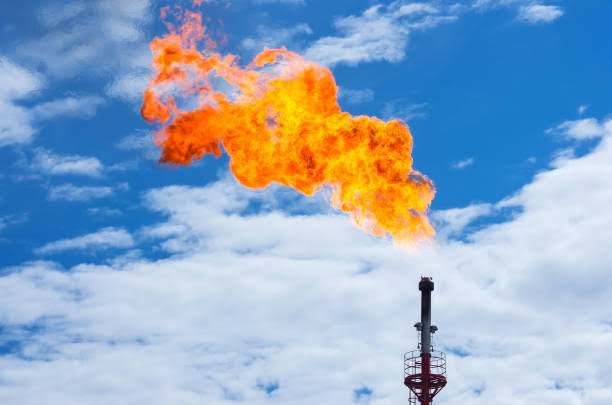 Much worse for the environment than carbon dioxide, despite global efforts to control methane, emissions continue soaring. With over a third stemming from fossil fuels production and operation, oil majors – led by Shell – publicly claim to be reducing their methane pollution, but scientists, experts and watchdogs warn that industry data reporting is very misleading.
Fermin Koop, Michael Buchsbaum and Samuel Ajala report
Despite years of awareness of the climatic problem greenhouse gases are causing, emissions are still soaring. Though historically much of the focus has been on carbon dioxide, it is now clear that a rapid and sustained reduction in methane pollution is also key to limiting global warming.
Methane, with over 80 times the heat-trapping potential of carbon dioxide over 20 years, has contributed to over 30% of global temperature rise since the Industrial Revolution, according to the International Energy Agency (IEA).
A waste stream of agricultural and other human activities, unlike carbon dioxide, for the gas industry, methane is not a by-product but the sought-after product fracking and other gas extracting companies are producing. Methane constitutes up to 90% of the so-called "natural" gas that these companies are selling.
In that sense, allowing asset-produced methane to be leaked or vented would seem a waste of potential profits. Nevertheless, the energy sector alone is responsible for about 35% of all methane emissions, an estimated 80 million tons per year.
In the case of Shell, one of the world's largest oil and gas producers and leader in industry efforts to control methane, the company says it reduced total methane emissions from its operations by 27% to 40,000 tons in 2022, compared with 55,000 tons in 2021. It also claims to have met its target to keep methane emissions intensity below 0.2%
However, the way fossil giants calculate their emissions is questionable. Currently only a small number of producers are actually going into the field to regularly take measurements to determine if their equipment is leaking or proactively searching for unplanned emissions.
Sector-wide there's virtually "no direct measurement happening at oil and gas extraction sites or infrastructure, including pipelines," said Dominic Watson, a methane expert at the Environmental Defense Fund, an international NGO.
For decades oil and gas producers have generally been self-reporting their methane emissions while setting pollution targets in whatever ways "they saw fit for their sustainability reports, using whatever metrics, baselines and target years they wanted to," continued Watson.
Relying instead on "factors-based" calculations punched into off-the-shelf computer software by back office accountants given how much infrastructure a company has, "methane emissions from oil and gas are consistently underestimated," he continued.
Everywhere we go, we find methane
In this sense, as power plants and industrial facilities have been rapidly shifting away from burning dirty coal towards supposedly cleaner fossil gas, "fugitive" methane escaping all along the oil and gas value chain has been significantly underreported – even in jurisdictions where regulators are supposedly paying attention.
In 2018, a pivotal study of oil and gas facilities in the United States found that rates of methane pollution were more than 60% worse than what the U.S. Environmental Protection Agency was then estimating.
Using ground-based, facility-scale measurements validated against aircraft observations across regions where almost 30% of U.S. gas production was happening, researchers found that over 2.3% of all produced methane was simply venting into the atmosphere.
Likewise, in early 2023, the environmental NGO Clean Air Task Force (CATF) released a report visually documenting widespread methane pollution venting from European oil and gas infrastructure. Field tests from 430 oil and gas sites over two years documented over 881 sources of emissions across 15 countries.
"Almost everywhere we go, we find methane," said Theophile Humann-Guilleminot, one of CATF's certified thermographers who collected visual evidence of methane emissions in the field. "Up and down the value chain there is dangerous methane pollution coming out of Europe's oil and gas network."
As global methane production and emissions keep rising, a new study published in the scientific journal Environmental Research Letters found that even leakage rates as low as 0.2% puts fossil gas' climate risk on the same level as coal given methane's severe warming potency.
Given how much pollution is now in the atmosphere, essentially any amount of methane leakage contributes to the worst effects of climate change.
Even "very small methane leakage rates from gas systems rival coal's greenhouse gas emissions," said Debbie Gordon, senior principal of RMI's Climate Intelligence Program and co-author of the analysis along with scientists from NASA's Jet Propulsion Lab, Harvard and Duke Universities.
Shell's role on methane emissions
Last year, Shell was the world's 7th largest oil producer by volume and fifth largest oil and gas super major by revenue with ongoing exploration, production, refining and chemical operations spread across 70 countries. The company's profits soared to $42 billion in 2022, surpassing the U$39.9 billion reported in 2021.
Aware of the industry's growing methane problem, in 2018, Shell made headlines by announcing their intent to lead the sector's efforts to control leakage. The company vowed to keep methane emissions intensity below 0.2% by using advanced equipment to detect and repair methane leaks and replaced older equipment.
Other companies then followed with similar targets, leading to industry initiatives such as the Oil and Gas Methane Partnership 2.0 (OGMP). It's the world's only attempt to set a comprehensive measurement-based reporting framework, covering all material sources of methane emissions from both operated and non-operated assets in the oil and gas sector. Over 100 companies have already signed up.
In the OGMP's 2022 report, based upon 2021 data, Shell's efforts yielded them the award of Gold Standard label – the OGMP's highest rating.
However, this was not at all reflective of any actual methane reductions by Shell. Nor did they receive this label because they had improved their emissions reporting either. In reality, this only means that in 2021, Shell was on a path towards providing more robust, accurate reporting of their data in the future.
In the company's 2022 Energy Transition report, Shell claimed it had reduced total methane emissions from its operations by 27% to 40,000 tons compared with 55,000 tons the year before.
For Shell and the rest of the industry to curtain emissions, operators need to both understand where accidental emissions are escaping from, as well as end the practice of deliberately "liberating" methane during routine venting operations. Unintentional methane leaks can flow from malfunctioning valves, compressors and storage tanks, which often are designed to vent methane when pressures build.
Studies conducted by the IEA found that more than 70% of emissions can be abated using existing technologies and that almost half of current emissions can be avoided with measures that would come at virtually no net cost.
READ ALSO:SPECIAL REPORT: Untold story of how inconsistent salary payment frustrates Cross River road sweepers
How oil majors address methane emissions at their owned and operated assets compared to their non-operated assets also varies dramatically. Shell and others "make a lot of public facing statements that say they are addressing the issue, but significant equity is placed in non-operated assets for which they do not report and have not made any commitments towards cleaning up," said James Turrito, director of Global Campaigns at CATF.
As many reports show, non-operated assets are usually run through complex business structures, like joint venture companies with individual boards that are not accountable to shareholders. Also, many non-operated joint ventures have national oil companies (NOCs) as their operating partners. "To date, we have not seen as many NOCs attempt to really tackle the methane issue. There are reasons for this and barriers that go beyond simply being bad actors," Turrito continued.
Shell's on-going methane stain in Nigeria
"25 years after Shell left Ogoniland in Nigeria, it continues to ooze oil from wellheads and pipelines into the Niger Delta," said Avena Jacklin from Friends of the Earth South Africa. As it reduces its climate commitments, Shell "continues to extract massive profits from countries in the South…increases in methane emissions, and contamination of our critical water supplies from Shell's operations will exacerbate the climate crisis," she said.
According to the World Bank's 2020 Global Gas Flaring Tracker, Nigeria is the seventh-largest gas-flaring country globally. But a 2022 World Bank report shows Nigeria contributed most to the overall global reduction, reducing its flare volumes by 1.3 bcm in 2022, a 20% reduction from 2021 levels. Shell joined the Nigerian Gas Flare Commercialization program alongside other producers in support of Nigeria's goal to achieve zero routine gas flaring by 2035. First launched in 2018, the program was relaunched in 2022.
Shell which helped establish Nigeria's oil sector in the 1950s, contributes close to 40% of the country's total oil production and is the largest oil operator. In 2022, Shell Nigeria paid the Nigerian government over $900 million in taxes and royalties.
According to statistics provided by Nigeria's National Oil Spill Detection and Response Agency (NOSDRA) and the Gas Flaring Tracker satellite of the World Bank, oil companies throughout the nation, including Shell, have flared about $3.9 billion worth of gas in the last four years.
However, Shell's Sustainability Report 2022, scope 1 emissions for upstream flaring in Nigeria witnessed 2 million metric tons of emissions reduction, with a figure of 3 million metric tonnes in 2022 compared to 5 million metric tonnes in 2021. Their data also shows that between 2018 and 2019, the metric tonnes emissions were pegged at 4 million, respectively. For 2020 it increased to 5 million metric tonnes of emissions.
"They have to explain their data," said Segun Omidele, President of the Polaseo Group, a Nigerian oil and gas service company and former Shell employee. Given all the many crude thefts throughout the Niger Delta, leading many operators to reduce, shut down or abandon production, "it is difficult to accept there's been an emissions reduction," he said.
Dr Ayodele Oni, an oil and gas expert and member of the legal advisory team for Nigerian National Petroleum Company Limited (NNPCL), said all identified gas flare points in Nigeria are part of the commercialization program and compliance which is necessary for companies and producers to get or renew their mining and operating permits. He said reportedly gas flaring in Shell dropped by 80% between 2010 and 2019. Ayodele said this was due to the IOCs investment in gas-gathering facilities in Aloma, Adibawa and Otumara.
Send in the satellites
Detection tools, including handheld devices, airborne technology and more robust methane monitoring satellites, are increasingly available and coming online.
Last year, satellites detected around three million tons of methane from oil and gas operations. The European Space Agency alone tracked dozens of "methane events" from oil and gas operations lasting for more than 15 days across almost 70 countries, according to IEA's Methane Tracker.
A BBC investigation last year, using World Bank flare-tracking satellite data, identified millions of tons of undeclared emissions from gas flaring at oil fields where Shell, ExxonMobil, and other majors operate.
In 2021, Geofinancial Analytics, a satellite data provider, compared the methane output of fossil fuel companies with their expected emissions level based on self-reported data. Shell and Chevron were the worst performers. The company relies on satellite readings of airborne methane concentrations in North America, Europe and Brazil.
However, the coverage provided by satellites isn't complete, which means there could be more leaks that are not being accounted for. Existing satellites don't provide measurements over equatorial regions, offshore operations or northern areas such as Russia's main oil and gas-producing areas, the IEA said in a report last year.
With help and support from the UN, using a combination of satellite, private and public monitoring methods, the OGMP funds, coordinates and facilitates measurement studies around the world.
There are plans to launch a series of cutting-edge satellites with significantly enhanced resolutions in the coming years.
Shell Games
Despite the ongoing climate crisis, Shell continues to develop new oil and gas assets. Since a Dutch high court ordered the company in May to make deeper carbon cuts, Shell has made investments in 10 assets in various countries, including Argentina, Australia, and Brazil.
The company's share of the oil and gas from these assets, once burned, will result in 325 million metric tonnes of CO2 emissions, campaigners estimate. The company also co-owns more than 750 untapped oil and gas assets which would amount to 4.3 billion metric tonnes of extra CO2; 30 times more than the total emissions from the Netherlands in 2021.
"Every new extraction project Shell approves digs the world into a deeper hole of climate crisis, and the company's relatively meager investments in renewable energy do not make up for that," Kelly Trout, Research Co-Director at the NGO Oil Change International, said.
This report was supported by Clean Energy Wire grants for cross-border journalism on company climate claims.
Join the conversation
Opinions
Support Ripples Nigeria, hold up solutions journalism
Balanced, fearless journalism driven by data comes at huge financial costs.
As a media platform, we hold leadership accountable and will not trade the right to press freedom and free speech for a piece of cake.
If you like what we do, and are ready to uphold solutions journalism, kindly donate to the Ripples Nigeria cause.
Your support would help to ensure that citizens and institutions continue to have free access to credible and reliable information for societal development.