INVESTIGATION: How Oyo State, contractors spent N1.1bn on water projects, but communities don't have a drop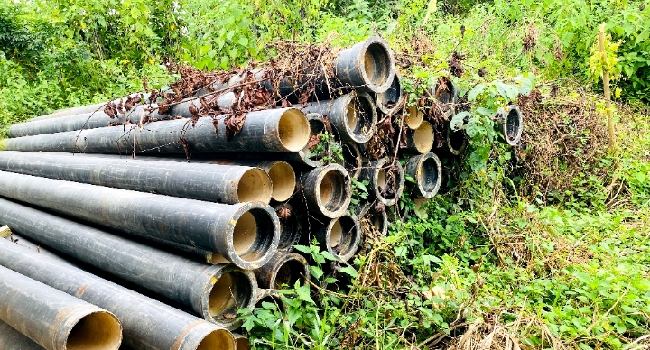 Multimillion naira water projects largely initiated by the late Abiola Ajimobi-led state government in Oyo State to benefit over 40 villages in five communities are nowhere to be found. Investigative journalist, JUSTICE NWAFOR, who toured the project sites reports.
Abandoned Water Project
Like most rural communities, Ogbooro, a sleepy town of Saki East Local Government Area (LGA) in Oyo State, lacks access to portable water supply. To redress the water supply gap, a water scheme was initiated and awarded to make the essential life commodity readily available to residents of the community.
Initiated and launched by the late Gov. Abiola Ajimobi-led state government, the sum of N840.1 million was earmarked for the project in November 2018 and awarded to Aremol Ventures for the construction of a 200cu.m/Hr Mini Water Supply Scheme. It was also soon announced started.
Four years down the line, residents of this quiet community are still deprived of portable drinking water. During a visit to the project site in late October 2022, this reporter found that any signs of work had stopped and the project was practically abandoned.
According to findings, since 2018, N252 million out of the budgeted N840.1 million has so far been released to the contractor. However, the current state of the project, as seen by this reporter, amounts to nothing. The water works have not been completed and the communities they were supposed to serve are still reeling from lack of access to clean water.
Checking the site in Ogbooro to know the level of works done, the reporter saw that thick bush had covered the project's main entrance. The water storage and treatment tanks were seen half constructed, just as buildings for offices to accommodate personnel were left half-finished, and pipes meant to ease water distribution to the communities haphazardly flung in bushes along road paths.
As for site workers, not a single one of them was there.
42-year-old Fatokun Amos, a resident, had anticipated a new life when the project commenced but he was soon disappointed.
He said: "I was very happy when I learned of the water project because I felt it would help me stop waking up early and rushing out to fetch water for my family about six kilometres away every day from a small body of water in the community.
"Coupled with that, the water is stagnant, unclean, and covered by shrubs and water hyacinths; yet, that's the main source of water in Ogbooro that we all use for cooking, bathing and drinking. So, to be among the first set of people to fetch, I must leave very early before other people arrive to avoid it getting stirred and muddied."
Amos also explained the impact of the lack of water, especially during the dry seasons. He said, "As a farmer, I have not been able to go to my farm as early as I used to because by the time I return from fetching water, the sun would have come out."
Despite the project's 'ongoing' status on the state government's website, Amos told this reporter that neither the contractor, its workers, nor government officials had visited the site to execute any works since early 2020.
Ogbooro community chairman, Mr. Ajayi Ojekunle, told this reporter that regardless of letters from the community executives reminding the Ministry of Environment and Natural Resources of the project and other local initiatives, nothing had happened.
He said, "Because of this project, I went to Ibadan a few times to complain and remind them about it, still, nothing has been done. I still repeated the visit to Ibadan a few weeks ago, and followed up by writing so many letters; sadly, we don't even know the contractor so we can address him directly as government officials have turned deaf ears."
Litany of uncompleted projects
Data from the Oyo State Government website shows that the paid amount for the water project is 30 per cent of the budgeted amount, and the Water Corporation of Oyo State supervised the project. Yet, absolutely nothing is seen on the site to justify the sum of money supposedly expended.
Aside the Ogbooro water project, the late Ajimobi-led administration awarded other water projects in the state, that have also been abandoned. They're also reported not to have given full budgeted amounts for the contractors. Other projects similarly visited by the reporter have also not been completed, contrary to the information that the government provided on its website.
Barely six months to leaving office as governor in November 2018, the late Abiola Ajimobi initiated and awarded the construction of a 300cu.m/Hr Mini Water Supply Scheme for Pade, Akinyele LGA.
Promptly, the beneficiary contractor, Roosco Resources Nigeria Limited, was paid N271.8 million, representing 30 per cent of the N906 million contract sum for the project, according to the government.
When this reporter visited the project site in October, there were no ongoing works. The location was all bushy and completely uninhabited. Yet, on the state government website, it is listed as ongoing. As things stand in that location, anyone visiting the place would need a cutlass to clear the road and be cautious of reptiles to walk safely without harm.
Though the site is desolate, it is said that the contactor engaged a community resident, Tunde Oriole, to always watch over it.
When approached, Oriole told the reporter that he was actually part of the workers initially; but since 2020, no work has been done at the site. He said, "I'm assigned to monitor the site only to wade off thieves and to ensure criminals don't steal some of the materials locked up in some of the uncompleted buildings at the site."
For a water project meant to help the community, Oluniyi Oladosu, a resident, said he is highly saddened that it had stalled. The project, located close to a dam to source water, was aimed at treating and circulating the aquatic life line around Pade and nearby villages.
Residents currently trek to the project site with jerry cans to scoop water from any of the unfinished storage and treatment tanks, contrary to the original purpose for which it was awarded.
Although still uncompleted, some storage, filter, and treatment tanks have been built and are connected to the dam by pipes. There was filthy water in the tank when the reporter visited.
Commenting on the situation, Oladosu said, "We don't have water in this community. We always go with kegs to the project site and fetch from the tank. When work started, it was moving well, but we were surprised that the project suddenly stopped, and even sadder because we need water everyday for everything."
From Pade to Owode Estate in Ido LGA, the narrative is the same.
The contract amount for the construction of a 200cu.m/Hr Mini Water Supply Scheme for Owode Estate, awarded in the same month and year as the one in Pade, was N840.1 million; and the contractor, Eurobel International Limited, was paid N252 million, which is 30 per cent of the contract's total amount, according to government documents.
At the site, a tall signpost displaying the contract information, a locked, rusted entry gate, an incomplete building covered in weeds, and a tank still under construction, were the only things visible when the reporter visited the location.
There was no evidence of recent human activity as the project had also been abandoned like others.
In early 2019 "we noticed there was a project there that would be for the good of everybody in the estate, but suddenly, it just stopped, and we have not heard of anything about it," said Tijani Bioluwatife, a resident.
Although some residents of the estate have boreholes in their homes, Tijani added, "many households, including mine, still rely on wells dug by our individual efforts. However, the drawback to that is, during rainy seasons, we fetch brown and visibly dirty water which we are forced to drink in our houses," Tijani said.
Also awarded in November 2018 is the construction of a 600cu.m/Hr Mini Water Supply Scheme at Sanusi, in Oluyole council area at a contract amount of N1.1 billion, of which N200 million, or 17.88 per cent of the sum had been released to the contractor, Epignosis Nigeria Limited. Again, as with other sites visited, the project has been overtaken by weed and completely abandoned and its intended goal of supplying water to locals and other areas of Ibadan jettisoned.
The scenario is not any better in Alabata, Akinyele local government area of the state where the construction of a 500cu.m/Hr Mini Water Supply Scheme was awarded in the community to Arifix Nigeria Limited. On the state government's website, N150 million, or 15 per cent of the project's contract sum of N995.9 million, had been cashed out.
Like others, it reads an 'ongoing' status, but in reality, a visit to the site reveals that no work is being done and that the buildings and other project components are still incomplete.
N1.12 billion down the drain
ALL project sites visited by this reporter have one thing in common – abandonment and their supervising agency is the Oyo State Water Corporation – sadly, none of the projects are completed.
Another disturbing fact about the projects is that they were all awarded in November 2018, six months prior to the former Governor Ajimobi's exit from office.
READ ALSO:INVESTIGATION: Inside Kwara school where students are used as labour on teachers' private farms
Also notable is the fact that none of them has more than 30 per cent of the budgeted amount released to contractors.
In all, a total of N1.12 billion (N1,125,882,857) had reportedly been released for the five projects. But not a single one of them was operational. The communities they are supposed to serve continue to be deprived of the needed commodity as records found on the state government's portal show.
An economic and public affairs analyst, Bala Zakka, said the projects' abandonment reveals the type of political orientation that is common in Nigeria. "We can only hope that the state government may have its reasons. Howbeit, abandonment of old projects by new administrations is bereft of economic wisdom.
"That takes the state backward, especially if there are upfront payments. Any time a new regime comes in and jettisons what had been there, there will be a new start. And when that happens, the cost is likely to be higher due to inflation eroding everything. So, there's no way such will make economic sense," he said.
He noted that if only one project had been done per time rather than all five simultaneously, "money that had so far produced nothing would have been sufficient to finish one of the projects, even if it's just the one in Ogbooro, and the locals would have breathed a sigh of relief."
Contractor with no CAC record, wrong office address
FOR the five water scheme projects, five different contractors were engaged by the Ajimobi government.
There is no evidence that Aremol Ventures, awarded the N840.1 million water scheme in Ogbooro is registered, as it has no information on the Corporate Affairs Commission or NG Check portals, both of which list registered Nigerian companies. Except for newspapers' reports of the contract on the state government's website, a basic Google search on the internet reveals nothing specific about the company, which is contrary to stipulations that for companies to bid for, and get government contracts, they must be registered.
However, registration numbers, addresses, and dates or details for the other four companies awarded the four individual projects revealed no information on any of them via same Google search. Not a single one of them had active status. On NG checks, they are all unknown.
Although, Eurobel International Limited, a company reportedly paid N252 million for Owode estate project, has a registered office address, a security guard named Joshua Samuel informed this reporter that there was no such business at the given address of 44, Dejo Oyelese Street, Old Bodija, Ibadan. He said the building is a residence with families in the apartments. There were also no other companies there.
Additional information on NG Check reveals Bello Ahmadal Fufai, Bello Juwerat Abidemi, Bello Fathiat Damilola, and Bello Abdulkareem Bayowa as Eurobel's four listed directors and registered on January 16, 2008; while Bello Nurudeen Adeleke was named the company secretary.
Further search also shows a Mr. Adeleke, initially listed as the secretary, but he is the current general manager as stated on his Facebook account.
Adeleke was promptly contacted via his Facebook messenger by this reporter for comments but he has not responded as at the time of this report.
For Arifix Nigeria Limited which was paid N150 million for the project at Alabata, it was registered on 14 April 1989, according to its CAC registration details with No 37, Ojoyin Street, Ile-Ife, as its company address.
However, a visit to the address by the reporter reveals no presence of the company there aside a dilapidated residential building.
Also an online search shows Olaniyan Olagboye and Oluwakemi Olagboye, listed as directors of the company without any contacts for them to be reached.
And as for Epignosis Nigeria Limited (Enterprises), which was paid N200 million for the project at Sanusi area of Ibadan, search shows it was registered on 23 May 2007 with registration address as Km 3, Abuja-Keffi Road, Nyanya, Abuja; on NG Check, no information on owners and directors were provided.
Colleagues sent to check and confirm the address in Abuja told the reporter that the address is vague as the address did not exist in the so-called Km 3.
Roosco Resources Nigeria Limited on its part, which got paid N271.8 million for the Pade project was registered with the CAC on 31 July, 2004, as a private unlimited company with address as 76A, Durumi Area 1 Garki, Abuja. But a visit to the Durumi area in Abuja has no such address.
Rather, its registration details show Al Rouss Marcel; Al Rouss Carole Marcel; Al Rouss Maria and Al Rouss Elissa as directors. Then, via LinkedIn, this reporter reached out to Al Rouss Marcel, whose profile shows he is the Managing Director, for comments; but he is yet responded till the publication of this report.
Governments, not companies, should be held culpable
A Corporate Law Abuja-based barrister who doesn't want her firm mentioned, Chidiebube Uzosike, said, the beneficiary contracting firms are not to be entirely blamed for their inactive status on the CAC portal as the commission may occasionally fail to update loaded information.
She also said it could be because the businesses might not have submitted their information to be uploaded or annual returns to the CAC, so, they would continue to have an inactive status as long as they didn't do the needful.
Uzosike said there was a time when the CAC portal was unavailable and she and her team had to submit registration applications without the online portal, adding that, on the other hand, some business owners may purposefully choose not to register with the CAC, and pointed out that most businesses engaging in illegal activities don't. "Companies that do legitimate and capital businesses always want to register with the CAC, and it's easy to do that."
Projects Not Abandoned – Government
Asked to speak on the projects, Bolaji Tunji, former press secretary to the late Ajimobi, said, "Should I talk, I would be speaking for the governor I served, not the state. However, I am not commenting on this issue."
Also, the former commissioner for information, Toye Arulogun, was contacted and he too said he had no information on the projects. He advised the reporter to contact the commissioner for environment and water resources, Isaac Ishola, to speak on the time the contracts were awarded.
Arulogun insisted that Ishola was in the best position to respond to queries about the contracts.
Responding, Ishola said he was aware of the contracts and could confirm that funds were mobilised but wondered why the current state administration could not follow up and complete the projects.
He said "Funding of the project was not based in the ministry of environment and water resources, though we generated the memo. I can only wonder why the projects were abandoned by the present administration. I am aware that funds were mobilised for some of the projects".
Reacting, the Chairman, Oyo State Water Corporation, Moroof Akinwande said the concepts of the projects have been challenged by the high cost of energy and noted that the state government was taking steps to redesign and reconceptualise them to make them sustainable when completed.
"The projects are not abandoned. The government is trying to work on them. About three weeks ago, the governor called for the files (of the projects) and we are working on them. The initial concept of how to deliver portable water to these communities have been challenged due to the economic realities and situations on the ground. Power is a major challenge to water production. The government is looking for alternative sources of power," he said.
The projects concepts, Akinwande expained, relied solely on getting power from public power supply source and power generators and these sources are not sustainable at this time.
"Looking at the cost of diesel in past year, things have changed. There are hardly companies generating power with diesel that are not running under now. As of 2018 when the projects where conceptualized, the cost of diesel was way lesser.
"Therefore, the projects have to be redesigned, reconceptualised, so that it's not be after we are done with the projects, we would not be abe to produce water. We are looking at alternative sources of energy (for the projects) which will not only meet the yearnings of the people but will be sustainable. The projects are being reviewed," he said.
This report is funded with the support of McArthur Foundation and the International Center for Investigative Reporting (ICIR), Abuja.
Join the conversation
Opinions
Support Ripples Nigeria, hold up solutions journalism
Balanced, fearless journalism driven by data comes at huge financial costs.
As a media platform, we hold leadership accountable and will not trade the right to press freedom and free speech for a piece of cake.
If you like what we do, and are ready to uphold solutions journalism, kindly donate to the Ripples Nigeria cause.
Your support would help to ensure that citizens and institutions continue to have free access to credible and reliable information for societal development.