INVESTIGATION: 4 yrs after completion, Kwara PHC facility inactive, rural dwellers in pains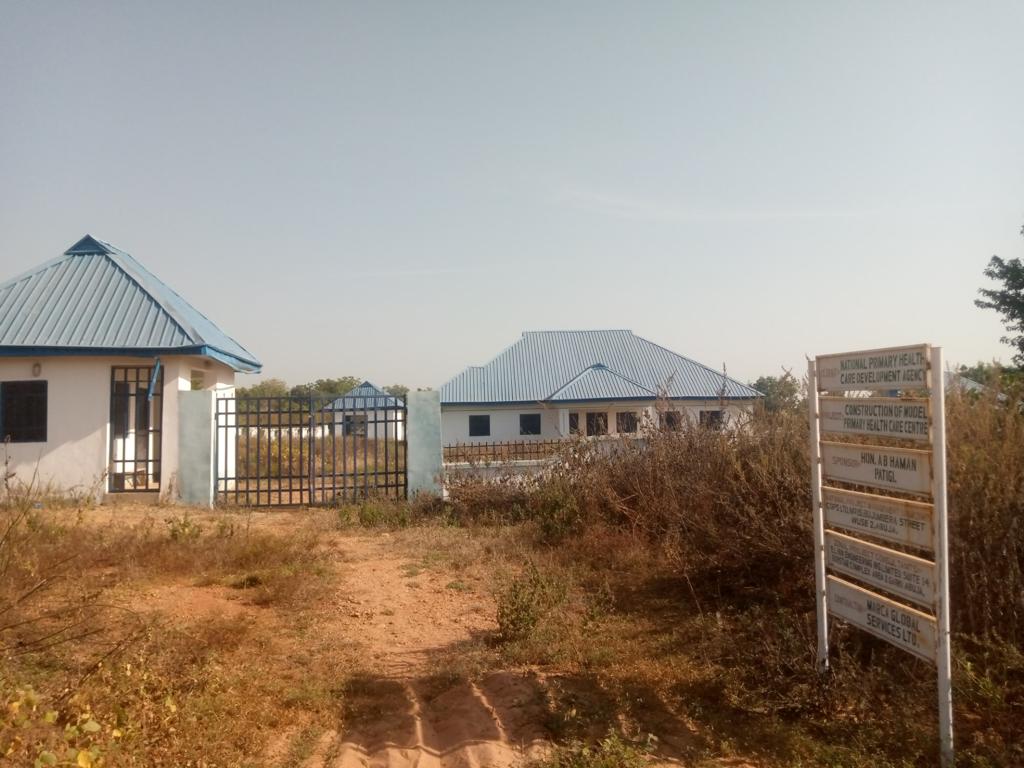 In the middle of the night sometime in September 2019, Fatimah Ballah struggled with severe pains as she tries to bring her sixth child to life.
Mrs Ballah, a resident of Gbado village in Patigi Local Government Area of Kwara State, had previously given birth to five children with the help of a local midwife in her community.
Unfortunately, at the time Ms Ballah was due to deliver her sixth child, the midwife had relocated to a distant community, leaving a huge gap in the life of many other pregnant women.
As she struggles with labour pains, her husband, Ballah Muhammad, rushed to the roadside with hopes of getting a vehicle to take the wife to the general hospital in Patigi town, which is four kilometres away, and about 20minutes to get to.
That is the only alternative as there is no health facility in Gbado community, where Muhammad calls home.
While Mr Muhammad palpitates with the fear of losing his wife, he had spent more than 15 minutes with no help in sight. As the wife continues to groan in pains, Mr Muhammad made a decision to trek down the long route leading to the general hospital.
Although Mr Muhammad's decision is applaudable, it could only save his wife's life. The child couldn't make it alive "due to late arrival to the hospital," the doctor had said.
"We trekked for almost 20 minutes before getting help from a vehicle. Though they attended to us immediately we got to the general hospital, but the baby had died before she could push him out," Mr Muhammad tearfully told this reporter.
Abandoned PHC
Ballah son's death could have been prevented if the constructed primary health centre in her village had been put to use.
"I know his life could have been saved if there had been a functional health facility close by. It was the prolonged labour that made us lose the baby. She couldn't go for antenatal care because the health centre is far from here.
"We thank God because he has given us another baby." Mr Muhammad said as he recounted the previous experience.
Despite the fact that Ms Ballah and other women in the nearby settlements had written the deaths of their infants to fate, they expressed resentment that many lives could have been saved if the abandoned health centre in the village had been operational.
"We heard that the building you're talking about is a health centre, but what makes having it better than not having it since it can't allay our concerns? ​That is how it has been under lock since it was completed some years ago. You can see everywhere is covered with bushes." Said Ramatu Iliasu, another resident of Gbado community.
Getting pregnant has now become a nightmare for women in the area, as they live in perpetual fear of losing their lives and babies when their delivery time falls into when they can't promptly access health care.
Despite PHCs being the nation's cornerstone of the health system and serving as the first point of contact for the citizens' health care, Gbado and its neighboring villages are among many areas in Nigeria with inequality in access to health services, as it highlights the world of difference between city and village inhabitants.
Many cases have been reported increasingly in Nigeria about how people are losing their lives due to inaccessible health care centres that should have saved them.
Findings by CISLAC showed that only 20 percent of the PHC facilities across Nigeria are fully functional, with a survey showing that one in 13 women dies during pregnancy and childbirth, many of which would have been prevented if there had been functional health centres.
These challenges hampered the nation's determination to achieve Sustainable Development Goal 3–Good health and well-being, and Universal Health Coverage, UHC, by 2030.
To achieve these, Nigeria needs to accelerate its health policy enormously.
The Completed PHC Laying To Waste
In 2018, through facilitation by the then member of the Federal House of Representatives, Aliyu Ahman-Pategi, who represented the Edu/Moro/Patigi constituency of Kwara North between 2007 and 2019, the National Primary Health Care Development Agency (NPHCDA) awarded the N42 million construction of a primary health care center in Patigi to Marca Global Services Limited, to address the medical needs of Gbado community and over 15 nearby settlements NOCOPO.
Other communities the project would benefit are Mawogi, Latayi, Guluka, Eka, Esungi ,Sachi, Egwamam, and others.
Until 2018, these communities had been crying out for a health centre to meet their needs.
When they finally got government intervention for the health centre through a capital project, the facilitator, Mr Ahman-Pategi, captioned the project to be located at his private university, Ahman Pategi University. This gave rise to a subsequent outcry by the people not to situate the project in the university, knowing it would not be accessible to them after completion.
Despite the protests by the residents for relocation to where it can benefit the public, the project commenced at the university.
After an outcry and intervention by a developmental CSO, ENETSUD, the project was relocated to Gbado village, where it is laying to waste in the bush despite the dire necessity by the communities.
ENETSUD is a civil society organization in Nigeria that promotes good governance, transparency, and accountability and ensures that public funds work for the citizens.
"The project construction had started at his private university before ENETSUD intervened that the project should serve the public and not for personal use, they now took it to a village, Gbado, near that university." Said Muhammad Sukari, a community activist in Patigi.
Gbado village is one of many rural communities in the state that are neglected for development. When its residents saw that the construction of the health centre commenced in their community, joy filled their hearts as they hoped it would serve them and other nearby communities.
Despite the project being closely located to the roadside, it is difficult to identify the particular facility behind the thick bush. When approached, it was observed that a vast piece of land in the community houses the project with four building structures painted white and blue, including the PHC building which are all sitting in the bush.
This means, four years after the project was completed, it remained inaccessible and overgrown with grass. These dashed the hopes of the residents and more communities that had hoped the health centre would address their health care needs.
Jiya Liman, a community leader in Gbado who expressed sadness that the abandoned PHC remains a source of concern in the area, said they were not aware of how the project would look other than what they (the contractor) told them that it was the federal government that allocated the project to help them with health care.
He added that they didn't know who they could run to when they saw that the project had been abandoned.
"We were unaware of the project until we saw them working on the site one day, at which point they informed us that the federal government had ordered the construction of a health center for our village.
We were happy at the time and hoped it would end our plights and distress of going far to access health care.
"Though they first stopped working there for some time and continued later, but it has been more than three years since they left it in that state. We don't know what is inside of it but a guard is securing the place. That's all we know about the project", said Mr Liman.
READ ALSO:INVESTIGATION: In Cross River, civil servants retire into poverty as govt looks away, squanders funds on frivolities
Liman, due to his age-induced incapacitation, visits Patigi General Hospital every two weeks for a medical check-up. But he's often absent whenever he doesn't have money to take himself to the hospital.
"I used to go to the hospital every two weeks for a medical check-up. The doctor will ask me if I have any health complaints and also check on things like BP. But not every time I have money to go there."
As many Patigi residents told this reporter, our investigation revealed that one of the reasons the project was abandoned was that the facilitator, Mr Ahman-Pategi, couldn't return to the House, as he lost his election at his party's (PDP) gubernatorial primary candidate to Abdulrasaq Atunwa in 2019, the year the project was supposed to open for use.
Two guards, Muhammad Chatta and Jibril Muhammad, have both been guarding the place for two years, and are monthly paid #10,000 each by the Emir of Patigi, Ibrahim Umar, who employed them to secure the project to avoid vandalisation.
Both first denied his reporter access to the inside of the facility until a permit was granted by Mr Umar's secretary, Idris Abubakar.
When entered, it was observed that part of the PVC ceiling has fallen while the entire interior is dust-ridden and dotted with cobwebs.
When Ripples Nigeria checked around the facility, it was noted that it had not been supplied with medical equipment to become operational while some rooms have not been supplied with fans.
The building was observed to have a laboratory, laying and delivery wards, pharmacy, staff room and offices, injection room, and consulting room.
Without prejudice to the specifications in the BEME (Bill of Engineering Measurements and Evaluation) the facility was evidently small compared to other similar projects that had been visited. With only one mini-laying ward for all, without categorisation for gender and age limit.
Speaking on behalf of his principal, Mr Abubakar, while expressing that the project brought pure joy to the "entire emirate council" as new development came into the area, also lamented the long abandonment of the project which had yet to serve its intended purpose.
Up until the time Ripples Nigeria reached out to him, he noted that the authorities in charge had not shown any commitment to equip and commission the project.
"We've not heard from them since then, but we plead with our government to assist us in completing the project so that we can start benefiting by putting it to use.
"We are not satisfied with the way the project was abandoned, but now, we are happy as we hope your report will draw the attention of responsible authorities to fully complete the project and ensure it is functional." Mr Abubakar said.
He added that the council had many times written letters pleading for the total completion and commissioning of the project, but there had been no fruitful resolution to commission the facility.
"We've been expecting their responses but up till now, we've not received any assistance to aid the total completion. Even the security guards who were there to avoid vandalisation were employed by the royal father.
"There was a time when we heard from the contractor that he had not been paid completely, which was why he couldn't complete the project with electricity and water." Mr Abubakar added.
Lawmakers Fail to Respond.
Efforts to reach Mr Ahman-Pategi and the current lawmaker, Ahmed Abubakar, for reactions on the challenges and way forward to ensure the project serves its purpose were futile as both failed to answer calls or reply to messages sent to them.
NPHCDA keeps mum, Others Trade Blames
To acquire the project details, including the BEME and other details of the contract award and implementation, a Freedom of Information (FOI) request was sent to the NPHCDA in November and was duly acknowledged. However, the agency failed to reply within the 7-working-day window stipulated by the FOI Act, 2011.
Abubakar Umar, the agency's director of procurement, refused to pick up calls nor reply a message sent to him.
Its state division, the Kwara State Primary Health Care Development Agency (KWSPHCDA), also failed to respond to a request sent to them.
The project's billboard indicated the awarded company's details as Marca Global Limited. A search for the company's name on the Corporate Affairs Commission(CAC) website scored it "inactive". This means that it has not fulfilled its annual returns up-to-date.
Further investigation on CAC revealed that the company was incorporated on October 21, 2013 with registration number, RC 1147245 and located at plot A89 Aldenco Estate, Galadimawa Game Village, Abuja, FCT.
The company's additional details were found on Nigeria24, a website that provides information sourced from Nigeria's public records and other public sources about Nigerian companies, with its three directors listed as Philemon Oluwatimilehin Olowe, Deborah Modupe Olowe, and Abraham Kolawole Olowe.
However, Ripples Nigeria investigation found that the three directors are also the key management personnel (directors) of two other companies, Aso Renovations and Building Technologies Limited (RC 785418) and Podebap Global Services Ltd (RC 1473067) which were incorporated as private unlimited company in 2008 and 2018 respectively, and were both found "inactive" just like the company awarded the PHC project.
Only Building Technologies Limited was found to be a construction company, while others including Marca Global Services Limited were "General Merchants and Traders".
When a call was made to the project supervisor, Ibrahim Ladan, he said the project was completed in commensuration with what was awarded to the contractor.
He revealed that the contract didn't include the provision of water and electricity, though there have been electrical installations inside the facility but haven't been connected to the national grid.
"The facility hasn't been connected to the national grid because there's no power in that community, though in such a situation they used to provide solar power, but this particular project was not powered with solar, there's no water, there's no medical equipment attached to the award letter", Mr Ladan said.
He added that the project initially was not assigned to him to supervise until when the project was abandoned for some time and gave him much concern that he picked up the project file and dragged the contractor back to site.
"It was when a delay was discovered on the project I had to take over that project, because coincidentally I'm from that community. I had to call the contractor to mobilise to the site to complete the project.
"The project has been completed based on what they awarded to the contractor, and it has been handed over to the community.
On the day of the handing over, the Emir's representatives, Village head and members, and Local government representatives were there", he added.
He, however, told this reporter that whatever might be needed in the PHC for operation lays with the local government health authority, who also depends on the KWSPHCDA.
"But what was awarded to the contractor has been done."
Speaking on the issue, the head of department of the local government health agency, Rabiat Saliu, said they were not aware of the project because it wasn't reported to their office.
She expressed that they were got to know it when they were passing by after construction commenced at the project site.
"We were just passing by when we saw them digging the foundation, later we saw that it was a primary health care project which should be under us", she said.
She added they couldn't take over the project for operation because it was not handed over to them by the executing agency (NPHCDA), and no record of the project is with them.
"Though the community reached out to me to take over but I couldn't because we're under the Ministry of Health. I asked them to hand it over to the state primary health care agency but they (contractor) refused", she added.
When Ripples Nigeria reached out to the executive secretary of KWSPHCDA, Nusirat Elelu, to obtain more information about the project, Ms Elelu said the project has not been handed over by the NPHCDA to the state health care.
Ms Saliu called this reporter the next day that she was directed by Ms Elelu to warn this reporter not to mention any of their names in his report.
"She said I should warn you not to print her name in your paper or my name, because we don't have anything to do with that facility. You should go to national health care. It is a very serious case ooo.
Inconsistency in Budgetary Provision, Lack of Representatives' Commitment—CSO laments problems
Reacting to project abandonment, Lanre Osho, the Deputy Coordinator of project tracking for an anti-corruption civil society organisation in Kwara State, Elite Network for Sustainable Development (ENETSUD), said the inconsistency in budgetary planning and inadequate handing over have been the most reasons for project abandonment, as they constitute many abandoned projects strewn around the country.
"It is due to our intervention that the project was relocated to that village, Gbado. So not releasing enough funds for equipping was the problem we discovered when we tracked the project.
"Since the construction has been completed there was no appropriation for the supply of medical equipment, and I know it wasn't properly handed over to the state health care.
"The problem we have is how the government releases funds for projects. A project of N300 million, to be surprised, in appropriation year, the federal government can release N50 million, and the following year, another N50 million. That means it will take six years for such a project to be completed, and that's a big problem." Mr Osho said.
He added that power transition is also part of the challenges that affect project abandonment, which lies on MDAs who are responsible for project execution.
He said there should be a consultative system with government parentals and MDAs on what allocation should be given to the projects to complete them.
"The new lawmaker representing the same constituency always wants to initiate new projects of his own, he's not committed to ensure the completion of the ongoing projects the former lawmaker left for him.
He added that lawmakers need to be sensitised to ensure any ongoing project facilitated by them or their predecessors is completed and serves the people of the community.
"My assertion means that the current lawmaker, Mr Abubakar, and state Ministry of Health need to be properly engaged to facilitate the total completion of the facility and serve the people of the communities", Mr Osho counseled.
By Abubakar Abdulrasheed
Join the conversation
Opinions
Support Ripples Nigeria, hold up solutions journalism
Balanced, fearless journalism driven by data comes at huge financial costs.
As a media platform, we hold leadership accountable and will not trade the right to press freedom and free speech for a piece of cake.
If you like what we do, and are ready to uphold solutions journalism, kindly donate to the Ripples Nigeria cause.
Your support would help to ensure that citizens and institutions continue to have free access to credible and reliable information for societal development.