Atiku advocates punishment for govs who divert funds allocated to education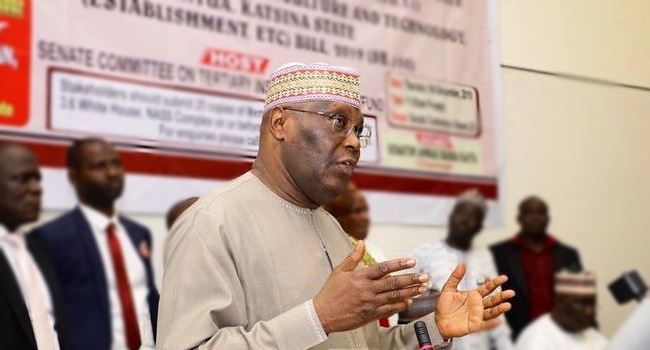 A former Vice President, Alhaji Atiku Abubakar has called on the Senate to carry out a review of the law regarding allocations to education.
He advocated that such laws should allow for the punishment of state governors who divert allocations from the Federal Government meant for education in their states.
The presidential candidate of the Peoples Democratic Party (PDP) in the 2019 general elections made the call on Thursday while making an appearance at a public hearing organised by the Senate Committee on Tertiary Education and Tetfund on a bill for the conversation of the Moddibo Adamawa University of Technology to a multidisciplinary university.
Atiku, who accused governors of diverting funds that are allocated from the Federal Government to fund education in their various states, noted that he fanatically believes in education as the surest road to the development of Nigeria as a country.
Read also: Buhari meets APC govs in Aso Rock
Atiku said: "There is largely overwhelming demands among college-age Nigerians. When we were in office, we passed compulsory education from primary to Secondary schools and also imposed taxation on education. DSP, Senators and members of National Assembly, I will appeal to you to look at that law again because there is a defect in the sense that money and fund being given to States to develop education are being diverted. There is need for you to look at the law so that you can amend it in such a way that if a particular state refuses to do the proper thing, it should be penalised.
"I want to appeal to the Senate to look at defect in funding. Ensure that States that divert allocation for education are penalised. About two-thirds of applicants for tertiary education don't get admitted into higher schools, leading to insecurity, poverty and more pronounced in Northeast because of insurgency. Even when admissions are offered, it is more precarious for parents to send their children."
Join the conversation
Opinions