OPINION: The Oracle Has Spoken!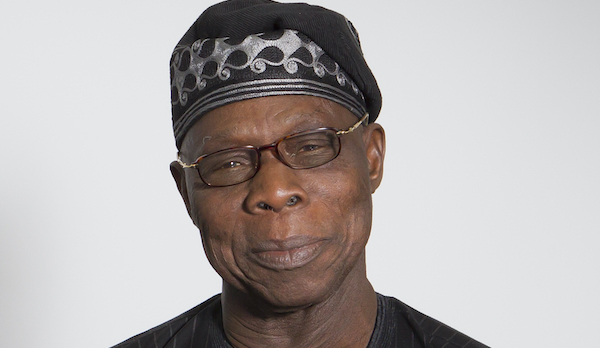 Despite his vindictive political manners, his occasional display of hubris and 'Babacracy', the corrupted version of true democracy, Olusegun Obasanjo, the former Nigerian imperious President, remains an enigma. A patriot and statesman few among his peers could claim a better international commanding clout and credibility. Like him or loathe him 'Baba' is as constant as the northern star! Very few among us have had the rare privilege of seeing it all, paying their dues in terms of service to the motherland. As a military dictator in the 70s General Obasanjo ruled Nigeria as a reluctant leader, one whose fortune changed suddenly following the brutal assassination of General Murtala Mohammed.
Providentially blessed with sound health (even as an octogenarian) OBJ is about the best 'export' from Nigeria in terms of integrity, diplomacy and legitimacy. He is not the only ex-President still living in retirement but his national presence and interventions place him well above others.
In life Obasanjo has almost seen it all (the good, the bad, the ugly) and accomplished great feats ordinary mortals and even great men could dream of: fame, wealth, longevity and relevance. As a soldier, leader, scholar, author and farmer the Owu Chief cannot but count his blessings.
His global peace-making and brokering exploits had taken him far and near in countries where tranquility was threatened. Few weeks ago he was leading the AU/UN-mandated peace talks between the warring Ethiopian government and the separatist Tigray region of the country. In the end a robust peace accord was signed in South Africa by the belligerent parties and the cessation of hostilities still endure till this day.
Today, the internecine war that had killed close to a million souls had been brought to an end. By reaching that historic peace deal Obasanjo succeeded where many had failed. Millions of lives are saved as basic services and amenities have been restored to the hitherto blockaded region.
Recently, the Abeokuta-based elder statesman released a new year missive to the youths entitled: "My Appeal To All Nigerians Particularly Young Nigerians". Describing the Buhari administration of the past seven years as "eventful and stressful years for many Nigerians….We have moved from frying pan to fire and from mountain top to the valley." He accused the President of nepotism describing the argument of 'competence' as the basis of national appointments as "ridiculous".
Comparing the current APC-led federal government to his administration 'Baba' thundered: "Nigeria was not faced with the level of pervasive and mind-numbing insecurity, rudderless leadership, buoyed by mismanagement of diversity and pervasive corruption, bad economic policies resulting in extremes of poverty and massive unemployment and galloping inflation."
It was a quintessential vintage Obasanjo in his best patriotic vitriolic element. The letter to the youths was nothing but a bombshell from Abeokuta! In it OBJ pulled punches attacking frontally what should be attacked fearlessly. He was candid, coherent, intrepid and brutally frank in his submissions.
Taking the APC presidential candidate, Asiwaju Tinubu, to the cleaners, 'Baba' was unsparing in his condemnation of the 'emi lo-kan' mentality declaring that the Nigerian Project was bigger and greater than the self-entitlement inclinations of anyone.
Above all, however, Obasanjo endorsed the presidential aspiration of the Labour Party presidential hopeful, Peter Obi, comparing and contrasting his credentials and qualities with others in the race. He made it clear that the charismatic former Anambra State Governor has the capacity and all it takes to pull Nigeria from the brink. He compared Obi to that listening leader whose ears could be pulled and truth whispered on to them without any complex or protocol.
Ever since the bombshell was dropped the ruling party and the opposition PDP are up in arms! For the PDP OBJ harboured certain hatred for Atiku Abubakar's guts. But the Ota famous farmer had sworn that he would not be alive to witness an Atiku presidency! Of course, Obasanjo knows Atiku better than most of us, having worked closely together under his presidency.
The mis-ruling APC attack dogs (including those found in the presidency) hit back at Obasanjo calling him names. Some said he was a political featherweight! Others lampooned him for always denigrating President Buhari arguing that 'jealousy' could be blamed. Others equally claimed that he could have been under a 'spell' for endorsing Obi!
Obasanjo apparently detests Atiku more because of the latter's strong belief in fetish priests (marabouts) and his power mongering and insubordination. Again it rankles the possibility of a Fulani President handing over power to another Fulani man in a fragile federation like ours.
Read also:OPINION…Simon Ekpa: A 'Fin(n)ished' Rebel In A Rebellion
Apart from being stupendously rich (much like Asiwaju Tinubu) Atiku and Tinubu cannot honestly boast of any personal entrepreneurial achievements outside those obtained in the corridors of power through deals and fraud.
Despite the attacks against OBJ's personality and pro-Obi stand, some well-meaning Nigerians had risen to applaud his patriotism and deep sense of duty. The big man from Ota is controversial at the best of times but he never gave a damn. For a man from a relatively poor parental background rising from zero to hero, to the very top of his political career responsibility entails speaking truth to power and joining forces for national rebirth.
The 'Obidient' train is getting ever enlarged. There is room for everyone. OBJ was the latest high-profile personality to hop in! More are expected to squeeze themselves in in the near future. Passengers inside the over-crowded train on motion are convinced that the driver is a professional, one capable of piloting them to their destination safely.
Let us end this piece by quoting the assassinated Burkinabe revolutionary leader, the inimitable Captain Thomas Sakara: "It took the madmen of yesterday for us to be able to act with extreme clarity today. I want to be one of those madmen. We must dare to invent the future."
For us to invent or reinvent the future and act with extreme clarity today then let our traducers call us 'madmen' tomorrow!
The Oracle of Ota has spoken! And he has spoken very well indeed. No matter his strengths and weaknesses, electoral value and military and professional baggage, Obasanjo is a man of conviction in whom one is pleased. He always has his eyes firmly fixed on the larger national picture.
Long after the grim reaper must have struck, sending him to join his ancestors, long after the forthcoming presidential poll has been won and lost history and posterity will remember his position for a better greater Nigeria.
We hail Baba OBJ's staying power and patriotism! We commend his intervention in the general interest of Nigeria and Nigerians. Nigeria must be saved this year from herself, one me or one you at a time!
(Pour la patrie ou la mort nous vaincrons!) For God and country we shall prevail!
AUTHOR: Ozodinukwe Okenwa
---
Articles published in our Graffiti section are strictly the opinion of the writers and do not represent the views of Ripples Nigeria or its editorial stand.
Join the conversation
Opinions
Support Ripples Nigeria, hold up solutions journalism
Balanced, fearless journalism driven by data comes at huge financial costs.
As a media platform, we hold leadership accountable and will not trade the right to press freedom and free speech for a piece of cake.
If you like what we do, and are ready to uphold solutions journalism, kindly donate to the Ripples Nigeria cause.
Your support would help to ensure that citizens and institutions continue to have free access to credible and reliable information for societal development.