The hate speech republic; who's guilty, who's innocent? See 11 selected quotes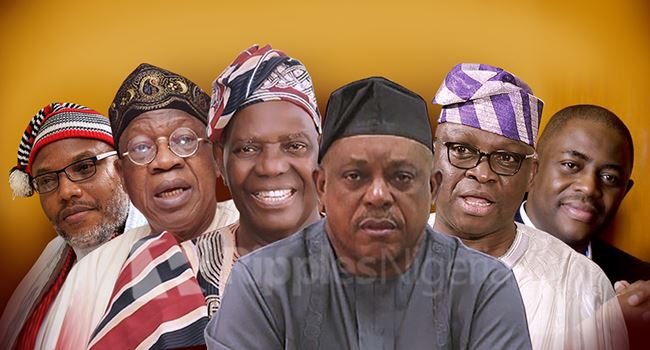 The proposed bills on hate speech and social media regulation have continued to be a subject of national discourse. The Deputy Chief Whip of the Senate, Sabi Abdullahi, who is the sponsor of the hate speech bill titled: "National Commission for the Prohibition of Hate Speeches (Establishment, etc) Bill, 2019," on November 18, 2019, noted that the proposed bill is targeted at achieving peace in the country. He also dismissed criticisms of the death sentence attached to the bill which has since stirred up commotion among the populace.
"Giving the context and happenings within the country, it is time to check this monster that is known as hate speech. The death penalty is not definite like some Nigerians are making it seem. In the National Assembly, bills go through legislative processes. The concerns on the death penalty are genuine and will be amended accordingly," the All Progressives Congress (APC) lawmaker said.
Similarly, Senator Mohammed Sani Musa, representing Kaduna Central Senatorial District in the Senate, is pushing the bill on social media regulation titled: "Protection from Internet Falsehood and Manipulation Bill, 2019 (SB. 132). The bill which scaled second reading, in the Senate, on November 20, 2019, has been widely interpreted as one which is positioned to constrain freedom of speech.
"The bill is not an attempt to stifle free speech or dissenting views; it is rather an opportunity to address a growing threat which, if left unchecked, can cause serious damage in our polity and disrupt peaceful coexistence," Musa clarified.
The Minister of Information and Culture, Lai Mohammed, has already declared that the Federal Government will not rescind its decision to regulate social media. On November 14, 2019, during a courtesy call on him by the Guild of Corporate Online Publishers in Abuja, he said: "the fear of stifling free speech or muzzling the media is totally unfounded. We have no such plan. As we speak, people are on the social media criticizing the administration. We have no problem with that. But our concern has to do with the abuse of the social media by those who are bent on spreading fake news and hate speech, and the dangers inherent in that for our national peace and unity."
With so much apprehension raised, the debate over which segment of the Nigerian society is heating up the political space has taken centre stage. John Chukwu of Ripples Nigeria, chronicles some statements made by political actors which have deepened the nation's fault lines and threatened its peace and stability.
1. Labeling Jonathan a kindergarten President
The former interim National Chairman of the APC, Bisi Akande, on November 10, 2013, while speaking to reporters at his IIa-Oragun country home said that only a thinking leader can take Nigeria to the Promised Land while stressing that the then President Goodluck Jonathan was incapable of running the country.
"What the country needs is a thinking leader not a kindergarten President with no solution to the myriad of problems plaguing the nation," he stated.
2. Describing Buhari as a curse
The former Minister of Aviation, Femi Fani-Kayode, on September 4, 2019, alleged on his official Twitter page, that President Muhammadu Buhari was a curse to Nigeria.
"South Africa kills Nigerians. Czech Rep. pays Nigerians money to leave and never come back. Angola says it does not want Nigerians. Congo storms and takes over the Nigerian Embassy. Libya buys and sells Nigerians. Ghana persecutes and humiliates Nigerians. Buhari is a curse!" he tweeted.
3. Calling Obasanjo a cheat
The former governor of Lagos State and National Leader of the APC, Asiwaju Ahmed Bola Tinubu, on January 22, 2019, blasted former President Olusegun Obasanjo accusing him of being an election rigger. He made this accusation, among others, in a letter titled "Chief Obasanjo – At War with his own deeds."
"Moreover, Chief Obasanjo should be the last to complain about election rigging. His administration was an unalloyed miscarriage of justice and of the best aspirations of the Nigerian people. We all know he was not elected in 1999. When it comes to elections, he has been a rigger without peer. There is no election which occurred under Obasanjo's watch or in which he participated that did not involve cheating on his part," he stated.
4. Branding Buhari a mad man
The leader of the proscribed Indigenous People of Biafra (IPOB), Mazi Nnamdi Kanu, on December 13, 2016, during his trial, for treasonable felony due to his activities as the Director of Radio Biafra, at the Federal High Court in Abuja, lost his temper while protesting the decision of the court to shield witnesses who would testify against him and called President Buhari a mad man.
"I will not stand this travesty of Justice. Buhari spoke in public, he accused me in public. I must also be allowed to stand my trial in public. This is nonsense! I will give testimony before this court! By the time I finish, there will be no Nigeria. This is no Sharia court. It is a court that operates under the common law. There will be no screening of witnesses, no fake identities or fake addresses.
"I cannot be tried in secret. No! Nnamdi Kanu cannot be jailed in secret! They are mad. Why must I be tried in secrecy by a government that does not obey court orders? They are killing my people in public, after killing my people they want to try me in private? That person is mad. I won't allow it. Tell Buhari that's what I said; that he is mad. He cannot jail me. He cannot jail me. He's a mad man," he said.
5. Buhari's call for bloodshed
While addressing members of the now defunct Congress for Progressive Change (CPC) from Niger State on May 14, 2012, President Buhari, who contested the 2011 Presidential election under the party (CPC) told them that "If what happened in 2011 (alleged election rigging) by the grace of God, the dog and the baboon would be soaked in blood."
6. Describing the Igbos as uncultured
Some Northern Nigeria youth groups, on June 6, 2017, issued a three-month ultimatum for the Igbos to leave the North. They warned that from October 1, 2017, no Igbos should be seen in the North and also asked Northerners in Southeast to leave the area.
"From today, June 6, 2017, when this proclamation is signed, the North, a critical player in the Nigerian project, hereby declares that it will no longer be disposed to coexisting with the Igbos and shall take definite steps to end the partnership by pulling out of the current federal arrangement. This conclusion is necessitated by the realization that it since ceased to be comfortable or safe to continue sharing the same country with the ungrateful, uncultured Igbos who have exhibited reckless disrespect for the other federating units and stained the integrity of the entire nation with their insatiable criminal obsessions.
"Rather than certain sections holding the whole country to ransom at every stage, each should be allowed to go its own way as we categorically proclaim today that the North is fed up with being the same country with this pack of acrimonious Igbo partners," they said.
7. Accusing Buhari of romancing bloodshed
The National Chairman the PDP, Uche Secondus, on February 19, 2019, slammed President Buhari as one who will do anything to win election. This was in reaction to the President's controversial comment about directing security operatives to be "ruthless" in dealing with ballot box snatchers during the build up to the 2019 General Election.
"Nigerians are tired of President Buhari. And of a truth, over three years, killings and killings and now you have ordered that more people should be killed. Why do you like blood? I want to ask Buhari, 'why do you like blood?' Why do you want to kill your country men and women for the sake of election? That you must be a President? You know you are not God. Buhari, I'm addressing you, you know you are not God. All your actions in the last three years are against the people: hunger, killings, unemployment; you are not sensitive to it."
8. Branding Jonathan a despot
The defunct Action Congress of Nigeria (ACN) on May 5, 2013, asserted that the then Jonathan administration was descending into despotism with its brazen assault on the freedom of expression and the media.
The party in a statement by its then National Publicity Secretary, Lai Mohammed, said: "the Jonathan Administration is anchored on a Transformation Agenda. But the only transformation that we can see is the one from a democratically-elected President to an Emperor, a despot."
9. Tagging Buhari as archaic and analogue 
The National Conscience Party (NCP) on July 16, 2015, in a statement by its General Secretary, Comrade Ayodele Akele, described President Buhari as a President who is not in tune with the trends of the day.
"He is an archaic and analogue President. He is so slow. They are calling Jonathan a clueless President. He is more clueless than Jonathan. We expected him to name his ministers not more than two weeks after assumption to office. The Senate has approved the list of 15 Special Advisers he sent over a month ago. Where are the advisers? Nigerians don't know them because he is still keeping the names to himself," the statement read.
10. Equating Obasanjo with corruption
The former governor of Ekiti State, Ayodele Fayose, on March 16, 2017, described Ex-President Obasanjo as the father of corruption. He made this statement in reaction to a comment credited to Obasanjo that African leaders should ensure that treasury looters are exposed and his warning of former Attorney-General of the Federation (AGF) and Minister of Justice Mohammed Adoke to stop mentioning his name in the controversial $1.09 billion Malabu Oil deal.
In a statement by his then Special Assistant on Public Communication and New Media, Lere Olayinka, Fayose asserted: "the father of corruption in Nigeria who sits on stolen wealth and lacks moral rights to accuse anyone of corruption. It smacked of the highest level of hypocrisy for someone like Obasanjo to be sermonizing about corruption, having superintended over a corrupt government himself. I challenge the former President to explain to Nigerians the source of his stupendous wealth. We saw how Obasanjo was when he became President and the magnitude of both direct and indirect investments that he has now. Can he in all honesty tell Nigerians that he acquired his wealth through legitimate means?"
11. Calling Jonathan persecutor of Yoruba
Former APC Chairman, Akande, on October 15, 2014, during the first inaugural lecture organized in honour of a former Premier of the old Western region, Chief Dauda Adegbenro, described the government of former President Jonathan as government of impunity and power tyranny which marginalizes Yoruba leaders.
"We are back in similar era of using the regime of impunity in Jonathan's Federal Government to impose unwanted individuals as leaders in each of the states of Yoruba land. Apart from marginalizing the Yoruba in all constitutional appointments of his government, Jonathan's trait has always been to persecute the Yoruba leaders who he perceived to have contrary views to his own," he said.
Join the conversation
Opinions
Support Ripples Nigeria, hold up solutions journalism
Balanced, fearless journalism driven by data comes at huge financial costs.
As a media platform, we hold leadership accountable and will not trade the right to press freedom and free speech for a piece of cake.
If you like what we do, and are ready to uphold solutions journalism, kindly donate to the Ripples Nigeria cause.
Your support would help to ensure that citizens and institutions continue to have free access to credible and reliable information for societal development.