Tinubu: Shots fired! El-Rufai's hit that may unleash the fury of the Lion of Bourdillon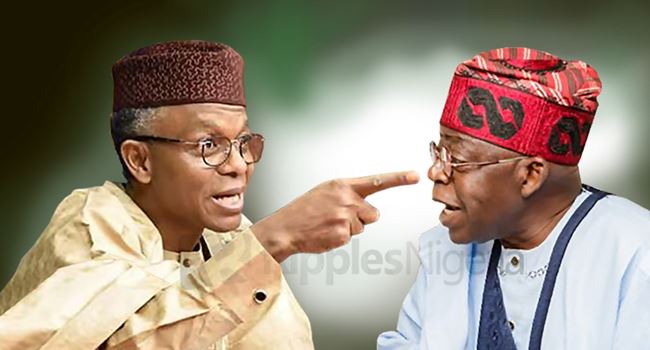 And, El-Rufai pulled the trigger
One Nigerian politician who is widely believed to be a professional in the act of renewing his importance through making controversial statements and moves is the governor of Kaduna State, Mallam Nasir El-Rufai. The courageous, fearless and diminutive former Minister of Federal Capital Territory (FCT), on May 4, 2019, took what is assumed to be an indirect swipe at the National Leader of his party – All Progressives Congress (APC) – Federal Capital Territory; when he asserted that he, in the last general elections, defeated and retired four political godfathers in Kaduna State and such could be replicated in Lagos State.
El-Rufai fired this political missile – as perceived by Tinubu's loyalists – in Ikoyi, Lagos State at an event organized by the Bridge Club tagged, An Evening with His Excellency, Mallam Nasir El-Rufai, Governor of Kaduna State. His shot came when a three-time Commissioner in Lagos State, Dr. Muiz Banire (SAN) asked him, during the question and answer session, how godfatherism could be dealt with while noting that godfatherism was one of the drawbacks for professionals and businessmen who might want to go into politics.
Answering Banire, El-Rufai said: "Godfatherism. This is Lagos. Let me tell you something Sir; you know, Kaduna State used to be like that. There were three or four politicians in Kaduna that you could not become anything unless you had them on your side. Those were the godfathers of Kaduna politics and you had to carry them along and you know, the three words, 'carry them along' mean paying them regularly. But we chose a different path and the long and short of it now is that after this election in 2019, we have retired all of them; we had to.
"Here in Lagos, you have over six million registered voters, only about a million voted (in 2019 general elections); five million did not vote. If I want to run for governor of Lagos, I will start now. I will commission a study to know why those five million registered voters did not vote; where do they go on Election Day? Then I will start visiting them for the next four years. I will try and get just two million of them to come and vote for me; I will defeat any godfather. The key is to go to the people. The card reader and the biometric register have given us the tools to connect directly with the people. I assure you if you do that for the next four years, connecting with the people; the tin godfather, you will retire him or her permanently. But it is hard work; it requires three to four years of hard work. So, if you want to run in 2023, you should start now."
The polity has witnessed a great heat since El-Rufai spewed this political venom in the territory of the lion of Bourdillon – a name Tinubu is known with because of his political prowess and accomplishments. Many consider El-Rufai's statement a politically brazen affront on the person of Tinubu – who was the first executive governor of Lagos State in the fourth republic and has been influential in the election of three other governors, after him, in the state. One striking fact to be noted and has irked Tinubu's loyalists more is that El-Rufai fired this shot in Lagos of all places.
So, is Tinubu another Awo?
One indelible aspect of Nigerian politics is that politicians lean on the shoulders of politically experienced, influential and financially loaded people to ride to power. Tinubu, is the political godfather of Lagos State. He has a strong influence and wields much power in dictating who becomes a governor in the state. After his two terms as governor in the state (1999-2007), he ensured Babatunde Fashola – now Minister of Power, Works and Housing – succeeded him.
He was also instrumental to the coming of Akinwunmi Ambode as the governor of the state in 2015. It could be recalled that Tinubu, stood against the second term bid of Governor Ambode. He eventually lost the party ticket to Babajide Sanwo-Olu – Tinubu's favoured candidate – at the APC party primaries. Sanwo-Olu went on to win Jimi Agbaje, of the PDP, in the March 9 governorship election. This tells how powerful Tinubu is in Lagos State politics.
Many have insinuated that he has turned Lagos into his personal property. His political influence is not just within the confines of Lagos State, his political tentacles reaches out to the entire South-west region. Thus, it is not always surprising to hear that a politician is currently groveling at his knees in order to get his endorsement or support while contesting for a political position or seeking a government appointment. Many have even likened him to the Great Awo of the South-west region.
This is about 2023 Presidency stupid!
You would not be wrong to think that the political pushing and shoving is about contestations for who occupies the presidency four years from now. There have been speculations in some quarters that El-Rufai is quite interested, though pundits argue that he is merely positioning for the Vice President slot. Whether he is fighting a direct battle or a proxy war still remains a matter of conjecture.
What is, however, clear is the power and influence Tinubu wields in Lagos and the South-west region ahead of 2023. It could be recalled that Tinubu was a key factor towards the actualization of President Buhari's presidential ambition which eluded him in three different presidential elections – 2003, 2007 and 2011. He was considered a vice presidential candidate for President Buhari in 2015 but, the plans did not see the light of the day based on the premise that a Muslim/Muslim ticket could be costly for the APC – a move not good enough for a religiously diverse Nigeria.
His Vice presidential move was allegedly stopped by the Senate President, Bukola Saraki, and other political like minds. "Again, let me reiterate my position that my uncertain and complex relationship with Tinubu has been continually defined by the event of 2014 when I and other leaders of the APC opposed the Muslim-Muslim ticket arrangement about to be foisted on the APC for the 2015 polls," Saraki said
Speculations that Tinubu is also keen on occupying the presidential villa after President Buhari's exit in 2023 has not been denied by his acolytes. Rather, many of his 'boys' continue to lend credence to it. Not-too-long-ago, a leading Northern politician, Alhaji Tanko Yakasai, told The Interview: "There may be unwritten understanding that when President Muhammadu Buhari finishes, the Vice President will likely be the next presidential candidate of the APC. If it's not Osinbajo, then somebody from there, probably Tinubu will likely emerge as the candidate of the APC."
Therefore, El-Rufai's statement is also interpreted to be a missile targeted at weakening the political strongholds of Tinubu who, political watchers believe, has been positioning himself in different ways as a fine replacement for President Buhari.
It is widely admitted that Tinubu has sacrificed a lot for the APC and has a strong standing to contest for the Presidency. However, El-Rufai's postulations have sent clear signals that there may be a looming conspiracy to scuttle the presidential ambition of the lion of Bourdillon. Thus, the subtle move to scheme him out of the APC political equation.
Will Tinubu bare his fangs?
Strategy is the name of the game at the moment, and it would be foolhardy to expect a frontal attack by Tinubu. There is no denying the fact that he has enough foot soldiers to do his battle. They are not and would not be in short supply as the clock thicks towards 2023.
In a move to defend its own, the Yoruba Council of Youths Worldwide has already issued a stern warning to El-Rufai. The group warned the governor to avoid acts that could earn him a disgrace from the Yoruba nation. They were of the view that he made a seditious statement in Yorubaland.
The President of the Council, Aremo Oladotun Hassan, asked why the governor would leave his state – Kaduna – which is under intense insecurity to come and teach Lagosians how to end godfatherism.
According to him: "Even as he claimed that he had ended 'godfatherism' in Kaduna, we are yet to see the benefits of his political victory in the lives of the people of Kaduna and the development of the state, unlike Lagos where our progressive leader of leaders has great successes to show.
"Our so-called 'godfatherism' system helped in sustaining the struggle against opposition in Nigeria and led to the building of the strong political party, the All Progressives Congress (APC) that made it possible for the enthronement of President Muhammadu Buhari, which also helped the same El-Rufai become the Kaduna State governor.
"Our so-called 'godfatherism' helped sustain Lagos as the commercial hub of Nigeria and the fifth largest economy in Africa. Our so-called 'godfatherism' has produced some of the best brains, who are currently an integral part of Nigeria's political base and socio-economic development today, thriving in all sectors of the economy, with succinct track records of excellence and landmarks achievements in the country. Our so-called 'godfatherism' has put Lagos as the most viable self-sustaining state in Nigeria today. Our so-called godfatherism has made Lagos among states with the best infrastructure in Africa, leaving no stone unturned towards achieving greater heights economies."
Also, the publicity Secretary of the APC in Lagos State, Joe Igbokwe, in reaction to El-Rufai's comment said that Lagos was not Kaduna where El-Rufai ended godfatherism. Part of Igbokwe's statement reads: "That was what happened; he was making reference to Tinubu. The person that threw up the question is Muiz Banire, and you know the relationship between Banire and Asiwaju. But Lagos is not Kaduna. They want to be like Asiwaju, they want to command respect, they want the world to accept them the way they have accepted Asiwaju, they want to get great followers like Asiwaju BAT, they want to be admired the way people admire Asiwaju, they want the people to love them the way they love Asiwaju, they want to stand all anywhere they go like Asiwaju, they want to attract attention like Asiwaju, they want to be celebrated and honoured like Asiwaju, they want to be worshipped the way Asiwaju's great followers worship , they want to be lifted up the way God has lifted Asiwaju up, the want to influence decisions at all levels like Asiwaju's etc"
The lion would roar but…
A common trait that cannot be denied Tinubu is that he does not fight shy. However, his ambition regarding the presidency in 2023, if confirmed true, may be one where he would need to deploy all the tricks in his political arsenal. Will he, as has often been claimed, stand his ground once his mind is made on the issue of 2023? A few examples may suffice.
Bold and courageous, many recall the vigorous political opposition Tinubu gave to former President Olusegun Obasanjo while he was Lagos State governor. More so, it is argued that he loses no opportunity at throwing jibes at political enemies while asserting his own credentials.
Not known to swallow political insults, El-Rufai's perceived shot at Tinubu, however, portends dangerous potholes ahead. How the acclaimed national leader navigates the terrain will depend not just on his sagacity but concerns over his alleged overbearing influence and domineering tendencies.
The proxy wars may, indeed, have kicked off. Tinubu and El-Rufai's men have pitched tents, and only time can tell exactly how and when the lion will roar.
This parting shot from Kaduna wing of the All Progressives Congress (APC) speaks volume. "Having found out from our interactions with many stakeholders, we discovered that Mallam Nasir El-Rufai did not insult Asiwaju Bola Tinubu or anybody for that matter at the occasion rather the Kaduna State governor was only encouraging all registered voters to vote at every election so as to downplay the role of godfatherism in Nigeria politics just as it were in the recently concluded general elections where many political godfathers were sent out of business," the Assistant Publicity Secretary, Salisu Tanko Wusono, said in a statement.
Join the conversation
Opinions
Support Ripples Nigeria, hold up solutions journalism
Balanced, fearless journalism driven by data comes at huge financial costs.
As a media platform, we hold leadership accountable and will not trade the right to press freedom and free speech for a piece of cake.
If you like what we do, and are ready to uphold solutions journalism, kindly donate to the Ripples Nigeria cause.
Your support would help to ensure that citizens and institutions continue to have free access to credible and reliable information for societal development.