INVESTIGATION… How Lagos Environmental Sanitation Officers maltreat, extort residents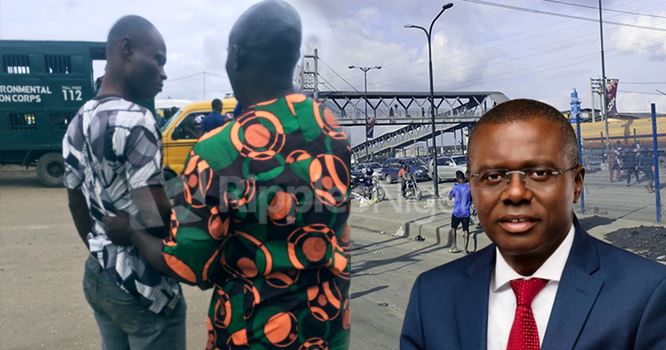 Allegations of extortion by officials of the Lagos State Environmental Sanitation Corps (LAGESC), especially those deployed to various pedestrian bridges in Lagos, had been rife.
In this first of a two-part undercover report, KELECHUKWU IRUOMA puts the claims to test. He was arrested a couple of times, and shares his participant-observer experience.
On a sunny Wednesday morning, I boarded a commercial bus popularly called Danfo at Iyana Ipaja, a bus stop along Lagos-Abeokuta expressway going to Ikeja Along, where I would then navigate my way to computer village to repair a broken phone screen. Upon reaching Dopemu under the bridge, the usual morning traffic had begun. Vehicles moved slowly like snails.
Worried I would not meet up with my daily schedule, I alighted from the bus, stopped a motorcycle, which drove me to Ikeja Along in less than 10 minutes. Due to the non-operation of the Bus Rapid Transit (BRT), motorcycles use the BRT lane.
I alighted from the motorcycle at the width end of the BRT lane separating the two commercial lanes and then crossed the road leading to computer village. There was a pedestrian bridge but I could not use it. To use the bridge, I needed to cross four lanes, including that of the BRT. But where the bike had dropped me off, I only needed to cross a lane and head to the village. I admitted crossing two lanes would be safer than crossing four lanes before applying the bridge.
Soon, a tall man, working with the National Union of Road Transport Workers (NURTW), but in mufti, grabbed me.
He then handed me over to another man in mufti who showed his identity card, which revealed he was an officer of the Lagos State Environmental Sanitation Corps (LAGESC), a law enforcement agency under the Lagos State Ministry of the Environment established as part of the broad environmental sanitation reforms in the environment sector in the state.
It was the erstwhile Kick Against Indiscipline (KAI) Brigade. The establishment of LAGESC came up with the provision for the environmental court with the jurisdiction to hear and determine civil and criminal proceedings in respect of an offence committed in contravention to the provision of the Environmental Protection Law, 2017.
One of the functions of the agency is to prevent people from crossing the highway and prosecute individuals who fail to use the pedestrian bridges, where they are available. The construction of the bridges is to reduce casualty to ensure citizens are not hit by moving vehicles.
The popular bridges manned by the agency's staff include the ones located at Ikeja Along bus stop, CMS, Ojota, Ketu, and Oshodi. More of the bridges are still being constructed.
"You have committed a crime by crossing the expressway," the LAGESC officer said to me. "I never committed any crime," I replied.
At this point, it became clear to me that LAGESC officers work in partnership with thugs to apprehend people who crossed the highway. The thugs apprehend the offenders and hand them over to the LAGESC officers.
The officer then asked me to follow him. He took me closer to the agency's van painted orange and green and popularly called black maria, where offenders are locked up. I was calm.
As we continued to dialogue, I observed some LAGESC officers requesting money from other arrested offenders before they could be released, or risk being taken to court and possibly jailed for committing a civil crime as they were told.
"Give us N5,000 so that I can let you go," he said. I protested, insisting I would not pay.
"Can we go to court so that we will tell the magistrate when we get there," he threatened. I replied in the affirmative and then revealed my identity as a journalist. But that never stopped him from requesting money from me. "I don't want to tell you to pay a fine again. I said just contribute to our fuel and go. Buy fuel for us." I refused. He then asked me to go.
The scenario above happened in April this year and it is what led me to this investigation — to unravel how officers of LAGESC extort Lagos residents who may have violated the law by not using the pedestrian bridge where provided.
Before the investigation, I visited the head office of LAGESC at Oshodi, where I asked to see the Executive Secretary. I was directed to Idris Adeshina, who in turn referred me to an officer in charge of training and ICT, Koyejo Oyenola. I explained to Oyenola how LAGESC officers extort offenders. He disagreed, claiming it is the offenders who beg and persuade the officers to accept bribes from them to prevent them from being sanctioned.
However, my findings on the field proved Oyenola wrong.
How LAGESC officers extort individuals  
On a Friday morning in August, I carried a school bag and headed to Ikeja Along bus stop to intentionally commit a crime that will land me in a black maria. Ordinarily, committing such offence would mean that I would be subjected to community services if found guilty after trial by the environmental court, but this never happened.
I alighted from a commercial bus and rather than using the pedestrian bridge, I crossed the expressway to find my way to the road leading to computer village. Immediately I crossed, a fair-complexioned man jeans trouser and striped shirt grabbed me and showed me his phone. He had taken a photo of me while crossing as evidence in case I ever denied it.
Officers who apprehend offenders are always in mufti walking around the bridge so that individuals who commit the crime won't identify them and run. "You have broken the law. Why did you cross? Why can't you make use of the bridge?" he asked repeatedly. I was mute for a few seconds. "I forgot a bridge existed," I replied.
He then took me to the black maria. He looked at me and said, "You're a gentleman. I see you as a responsible somebody." He asked I sit on a seat made available beside the entrance to the black maria. "You will pay a fine of N10, 500," he said. I told him that amount he asked was too much. "I am not working and I do not have that kind of money to pay," I said pleadingly.
"If they take you to the office, you won't pay anything less than N25,000 as a penalty," he said. I insisted I would not pay such amount of money. "What do you want me to do for you?" he asked. "Please let me go," I pleaded. As this was ongoing, I watched as a young man who had just been arrested was being forced into the black maria.
I requested I should be taken to the office but he was reluctant. He believed he could still convince me to pay. As we negotiated my release without compromise because I was unwilling to succumb to pressure, he referred me to a dark junior officer in mufti whom he asked to continue the negotiation. I insisted I should be pardoned being my first time of committing such an offence.
The officer also asked me to pay N10,500, which I was still reluctant to give. We kept bargaining. "I have N4,000," I said to him. "Do am 5,000," he replied in pidgin. Then we came to a compromise. I agreed to pay N5, 000.
I told him I did not have cash that I would like to transfer the money to his account through my mobile app. He agreed. He gave out his Access Bank account details and then I transferred the money to his account with the name "Abiodun Joseph Olorunfemi".
After transferring the money to his account, I was furious and then he said, "N5,000 is not too much. If we take you to the office, you will pay N25,000 with three years tax clearance and if you don't meet up with your bail, they will take you to court." he said.
Experience with officers at CMS pedestrian bridge
One week after my experience at Ikeja Along, I proceeded to the Christian Missionary Society (CMS) bus stop, where again I crossed the expressway intentionally to be arrested by LAGESC officers. I got to the bus stop where there is a pedestrian bridge at about 11:23 am, and saw the officers in mufti observing the expressway and watching to arrest individuals who would cross the highway.
I crossed and as usual, I was apprehended by one of the officers who questioned my audacity to cross the road when a pedestrian bridge existed. I pleaded I was in haste prompting my need to cross the highway.
At CMS, LAGESC has an office — an intermodal container turned office. The officer in a striped shirt took me behind the container and said I should pay a fine to be released.
"N10,500 is your fine. As you can see, we are already loaded and we are about to move to the court," he said. I told him I don't have the money. "What can you afford?" he asked. "Why not let me go?" I questioned.
He insisted I pay the N10,500 saying I should quickly pay before their boss on an official uniform would come, but I insisted I should be taken to the office for sanction. "If you drop the money here, they will not take you to court," he said. "At the office, it is N15,500 you will pay or be taken to the Magistrate Court at Ikoyi, but here it is N10,500."
I pleaded he should accept N5,000 from me. He insisted. "Have you gone to the court to see what is happening?" he tried to instill fear in me. Another officer whom I told I just finished my National Youth Service Corps (NYSC) and can't afford N10,500 later accepted N5,000 from me. He refused to accept a transfer. "You can't send the money. You can go to the bank to withdraw. You can only give us cash." I gave them the money and left.
Subsequent days I kept monitoring the officers until I would find a new set deployed at CMS so that I could commit again to see if what happened with the previous officers would occur again.
Arrested and locked in a black maria
It was on a cloudy Thursday morning. I alighted from a BRT bus at CMS bus stop. I stood there for some minutes monitoring the officers. They were all inside the office. I waited till a few of them would come out. Seeing them outside, I crossed the expressway.
I was apprehended by yet another officer in a mufti who held my trouser thinking I was going to run. "You have committed an offence and you will enter the black maria," he told me. After pleading for pardon he refused. He took me to where the black maria was stationed, opened it and locked me inside. It was dark and lonely with tiny open spaces where air could come in.
That was the first time I ever entered a black maria – a kind of van I have always been scared of since I was a child.
After 15 minutes, he opened the black maria and called me out. I came down from the van and he took me to an office, where I met a senior officer who was seated on a yellow plastic chair. I was then surrounded and questioned by four other officers, including the one who arrested me.
"You have committed an offence and it is a civil offence. We will take you to Alausa and you will pay a fine there," the senior officer said to me. I kept mum. "Do you want us to sort it out here?" He asked. "That will be fine because going to Alausa is a problem," I replied.
"Do you know what I will do for you? I will allow you to pay a caution fine and allow you to go. The caution fine is N7, 500. You are to pay a fine of N15,000 in Alausa," he said.
"Can you reduce the money? It's too much." I begged. "Officer, collect N6, 000 from him," he told one of his subordinates. "What if I give you N4,000 so that I can go?" I pleaded. "Collect it like that," one of them told the senior officer in Yoruba, a local dialect. I requested to do a transfer but they refused. "It [transfer] is not allowed. You can't send." I then gave them N4,000 without being issued a receipt.
Immediately I paid them and was released, I came out and the officials followed me. I leaned on a wall. Then I heard shouts coming from the direction I just left. It was the officer who arrested me exchanging words with another officer. With annoyance, he said in Yoruba, "If it's God that created you [officers], any of you should arrest people."
From their conversation, I was able to discern that he was not satisfied with the amount he was given from the money I paid.
The officials who arrest and extort offenders were always in mufti that it was difficult to identify them by their names. Their uniforms had their names written on them, but you will not see it on them while they perpetrate the illegal acts.
This story is supported by Ripples Centre for Data and Investigative Journalism, and the Premium Times Centre for Investigative Journalism (PTCIJ)
Join the conversation
Opinions
Support Ripples Nigeria, hold up solutions journalism
Balanced, fearless journalism driven by data comes at huge financial costs.
As a media platform, we hold leadership accountable and will not trade the right to press freedom and free speech for a piece of cake.
If you like what we do, and are ready to uphold solutions journalism, kindly donate to the Ripples Nigeria cause.
Your support would help to ensure that citizens and institutions continue to have free access to credible and reliable information for societal development.