Ranking Nigerian Governors… Sept/October 2023: Kefas' exemplary strides in education, Alia's dangerous gamble with bandits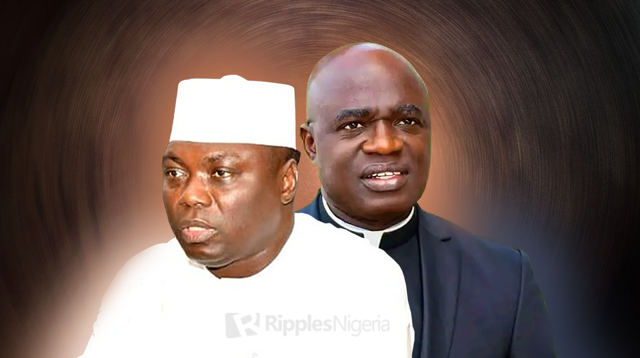 Ranking Nigerian Governors is a monthly special publication of Ripples Nigeria dedicated to the review of the performance of Nigerian state chief executive officers.
In this publication, we take a critical look at the policy statements, actions or inactions of state governors, and their impact on citizens resident in the states, using a ranking system that groups them into Top 5 and Bottom 5. This we did in the early days of the publication from its inception in August 2019.
However, the ranking system changed with the decline in governance at all levels in the country. To bridge the gap, a new approach was adopted, though temporarily, in assessing them. This approach focuses on identifying those worth mentioning either positively or negatively, while giving a verdict on the general state of governance by the governors.
Though we acknowledge the challenges associated with governance in this part of the world, especially the dwindling resources at the disposal of state governors and the ever-rising wage bills and other needs calling for attention, it is our belief that leaders who are smart enough and creative, should not have too many problems making things work given the abundant natural and human resources available all over the country.
In the month of August 2023, Ranking Nigerian Governors reviewed the responses of state governors to the challenges facing Nigerians following the removal of fuel subsidy and the clamour for palliatives.
For September/October 2023, Ranking Nigerian Governors singled out two state governors for contrasting reasons.Taraba State Governor, Dr Agbu Kefas and Benue State, Rev. Fr Hyacinth Alia made the list.
Agbu Kefas- Taraba
Taraba State Governor, Dr Agbu Kefas, in September, through his Commissioner of Information and Re-orientation, Zainab Usman, announced some packages to motivate members of the National Youth Service Corps (NYSC) posted to primary and secondary schools in the state. The package included a one-time medical allowance, housing allowance three times a year to cover the three school terms, and a monthly stipend to augment their monthly allowance.
We recall Commissioner Usman saying during a media briefing in Jalingo, the state capital: "The surge in new enrollments witnessed in our primary and secondary schools over the past ten working days has necessitated immediate action.
"As an emergency response to the education situation, His Excellency has approved significant allowances for National Youth Service Corps (NYSC) members serving in Taraba State schools, and they include; Additional ten thousand naira will be added to their monthly allowance.
"A one-time payment of fifty thousand naira as a medical allowance. An accommodation allowance of twenty-five thousand naira per term, totaling seventy-five thousand naira for three terms.
"Also, Exceptional Youth Corps members who distinguish themselves while serving in schools will be offered automatic employment opportunities."
We further recall that the surge that necessitated the action of the state government came as a result of the declaration of free basic and secondary education in the state, pushing school enrollment through the roof and making school-shifting arrangements inevitable until more classrooms are built.
"Schools that have reached their maximum capacity in terms of facilities will implement a shifting system temporarily while additional buildings are provided to meet the increasing demand", Usman said.
READ ALSO:Ranking Nigerian Governors… July 2023: Cost of living crisis demands the best of governors; so far, they're falling short
She further said that "Uniforms, shoes, socks, and books will be made available by January to support students in their pursuit of education.
"Commencing this term, an ICT-based registration system will be introduced. This will apply to Teachers, and both new and returning students. Ensuring that they are registered will guarantee the provision of essential school materials upon their arrival."
Governor Kefas, in a statement through the Commissioner for Information and Re-orientation, Zainab Usman, in Jalingo on Sunday, approved the sum of N50,000 as medical allowance for corp members.
The governor also approved an additional N10,000 monthly allowance to be given to them as support from the state government.
The commissioner also disclosed that the state government had also set aside N25,000 as accommodation allowance per term for the corps members.
The commissioner further said in the statement: "Uniforms, shoes, socks, and books will be made available by January to support students in their pursuit of education.
"Commencing this term, an ICT-based registration system will be introduced. This will apply to Teachers, and both new and returning students".
For many Nigerians in the southern part of the country, this may not be a big deal, as not many families need serious motivation to send their children to school, nor would corps members be generally reluctant when posted to schools in the rural areas. However, in the North, especially North-East, where Taraba belongs, the incentives and other educational policies of the Kefas administration were targeted at addressing some of the things holding back education in the state.
We acknowledge the fact that Taraba is one of the educationally disadvantaged states in the country, contributing large numbers to the nation's out-of-school children. We therefore applaud Dr Kefas' free education that has skyrocketed school enrollment in the state.
We note that when some other states in the North are busy awarding money to female students in their states in order to keep them in school, Taraba achieved even better results by being more proactive, going ahead to ensure that these children do not just stay in school, but have quality teaching from qualified teachers.
We reckon that with the extra incentives in place, corp members posted to Taraba will be more than willing to teach in schools in the state.
For Taraba, the upsurge in school enrollment and the availability of quality teaching hands are products of good thinking, and an example of how states in the country can effect change through the implementation of the right policies.
Rev. Fr Hyacinth Alia- Benue
In Benue, a state that has continued to prostrate under the burden of the activities of bandits and suspected criminal herdsmen, the state government, under its Catholic priest-governor, Hyacinth Alia, has decided not only to just negotiate with bandits operating in the state, but 'lobby' them.
Though according to the statement of the government, the recent upsurge in the activities of the criminals leading to several deaths informed its decision, those who are familiar with the history of negotiations with bandits in the country are less than impressed.
The Special Adviser to Governor Alia on Security and Internal Affairs, Joseph Har, who disclosed this to journalists in Makurdi, reasoned that the killing of a bandit kingpin, Terwase Akwaza, aka Gana, by the military in September 2020 had worsened the situation in the state.
Har said: "What we are doing now is to build back the confidence in these guys (bandits). We are asking them to come out. We are talking to them; we are engaging them. We have told them that what they are doing is destroying their community; it's destroying our economy, it's making the society look ugly and it's giving the state a bad image.
"So, we are going to build back the confidence in them, using the traditional institutions. In a very short while, you will see results.
"We are talking to the bandits and asking them to calm down. I will refer you to the 'Gana' (Terwase Akwaza) era which was erroneously done.
"So, these bandits are having doubts but we have a governor who is sincere and honest and willing to extend hands of fellowship to everyone.
"The fact that things were done wrongly yesterday (before now), does not mean that things will be continually done wrongly. We are telling them to trust this government as well as security agencies, who are committed to a peaceful non-kinetic approach."
Though we note that the intention of the Alia administration is the return of peace in Benue, the experience of other states that had towed a similar path shows that it is not the way to peace.
We recall the peace moves and negotiations entered into by the immediate past Zamfara State Governor, Bello Matawalle and his Katsina State counterpart, who chose to negotiate with bandits, even when there were doubts in some quarters, and practically got their hands burnt.
We concede that the use of non-kinetic approach or what others call "carrot" approach, may be desirable at times, it has, however, proven to be ineffective when dealing with criminal elements whose only joy is causing sorrow for fellow humans and making profits from the misery of others.
Relaxing security agencies' hot pursuit of these criminals in favour of lobbying or negotiations, or in the words of Har, "building confidence" in bandits may just be another dangerous gambling by Alia in the mold of what Matawalle did and experienced.
We hope that the state government will realise the ineffectiveness of this move and retrace its steps before the bandits take advantage of this slip in policy.
Join the conversation
Opinions
Support Ripples Nigeria, hold up solutions journalism
Balanced, fearless journalism driven by data comes at huge financial costs.
As a media platform, we hold leadership accountable and will not trade the right to press freedom and free speech for a piece of cake.
If you like what we do, and are ready to uphold solutions journalism, kindly donate to the Ripples Nigeria cause.
Your support would help to ensure that citizens and institutions continue to have free access to credible and reliable information for societal development.