REVIEW… Fayose's fall as foreplay to 2019 election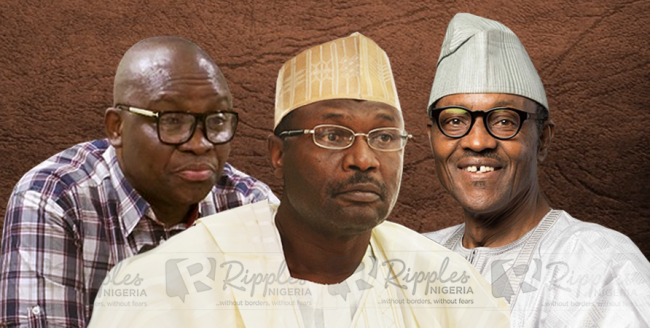 By the end of his tenure in 2023, Kayode Fayemi would have completed his cycle in the governance of Ekiti state just like his predecessor-successor-predecessor, Ayo Fayose.
Perhaps, people of the state would look back at Otunba Niyi Adebayo to return and complete his own cycle, that is, if he's still willing before looking again at Segun Oni whose tenure was cut short by an Appeal Court for Fayemi.
The story of governance of Ekiti state, said to be the state with the most educated elite, revolved around the above four. It started in 1999 with Niyi Adebayo who enjoyed only four years before he was defeated by Fayose in the 2003 general election. Fayose enjoyed four years before he fell out with President Olusegun Obasanjo and the Ekiti elite over his brand of leadership, which ignored the elite while dancing with the crowd.
His disagreements with the traditional institution in Ekiti led him through a course he did not envisage. He literally abandoned office and ran for cover while the State House of Assembly was guided through an impeachment exercise. Outcome of the exercise was the 'election' of Segun Oni, the preferred candidate of PDP in the 2007 general election.
However, his romance with office did not last long as the Court of Appeal, whose president at the time was Justice Ayo Salami, removed Oni and pronounced Fayemi governor. In ordering Fayemi to be sworn in as governor, the Court of Appeal cancelled the result of election in some local government of the state and made Fayemi governor based on a result that was not representative of the will of Ekiti voters.
However, both Oni and Fayose battled to return to government while Fayemi took the state through a course of leadership that irked the people. He was alleged to have surrendered the state to his financiers in the Action Congress of Nigeria, now defunct. His leadership style brought pain on the people as he went on a gale of sack in his bid to cut down on the state's workforce, in a state which economy is predominantly civil service and education. For his misdeeds as governor, Fayemi struggled to retain the favour of the people. They now looked towards either of Fayose or Oni.
Back to the polls in 2014, Fayose, who had become more popular in the streets than he was in the boardroom of Ekiti state, beat his way back as governor leaving Oni craving for his turn. As it is, Fayose has run his two-term course. Fayemi is now about to begin his. What he does with Ekiti in the next four years will define him better. But for the 2018 governorship election, it was seen as a game of cash-for-vote.
Read Also: EKITI: How APC won the election —PDP candidate Eleka
Cash-For-Vote
Many in Ekiti proved that ongoing orientation against sale of votes has been meaningless in the face of crushing poverty. Both PDP and APC, according to observed developments on Election Day, engaged in vote buying. Payments ranging between N3000 to N5000 were made by both parties. On election eve, Fayose, who had been unable to pay salaries of civil servants, engaged in the sharing of N3000 to each civil servant. He tagged it 'stipend'. That was to be in place of unpaid salaries of seven months.
On the other hand, Fayemi and his team were said to have engaged in vote-buying, dishing out N4000 to voters who flashed evidence of their ballot papers to show that indeed, they voted APC.
The implication here is that some made as much as N7000 or more, between the eve of election and on Election Day. This included both the educated and the non-educated. This development betrays Ekiti's acronym as the home of knowledge, showing that an empty stomach does not sit back to listen to long grammar.
Besides, it showed the real effect of Fayose's policy of stomach infrastructure which he developed to keep the people with him. Fayemi allegedly paid more for votes and the people went with him.
As it is, Ekiti people will need either the 2019 general election, or the governorship election of 2022, to prove that they are not ruled by cash. They need to now show that they have higher values. In preferring Fayemi, the people publicly stated their readiness to now flow with his ideas, some of which made them vote him out in 2014.
The Fayose Effect
Ayo Fayose was not a candidate in the Ekiti governorship election. His deputy, Eleka, whom he single-handedly anointed as the governorship candidate, was. In making Eleka his choice candidate and forcing him on PDP in Ekiti, Fayose destroyed every known tenet of internal democracy in a political party.
As party leader in the state, his main focus ought to be creating the platform for every aspirant to contest and allow the delegates to do the needful. He failed here. And having so failed, he took on the campaign to make Eleka the governor like he was seeking another term of office. He ran the campaign himself while keeping Eleka in the background.
In doing so, he forgot that Fayemi was an incumbent when the electorate voted him out. Perhaps, the story would have been different had Fayose allowed Eleka to be his own man, or better still, allowed the party delegates to elect their choice.
Fayose/Fayemi Popularity Test
The election may have come around as a contest of popularity between Fayemi and Fayose. No doubt, Fayose is more popular in Ekiti than Fayemi is. Being governor at two-different terms placed him on a pedestal. But he became more popular because of his garrulous nature.
He was always in the news for the most uncouth of reasons. He became the unofficial voice of his party, PDP, against the policies of the federal government led by APC. He attacked the APC and the president without restraint. For this, he was disliked. Many said he was un-Yoruba to have constantly picked holes in President Muhammadu Buhari's pronouncements and sometimes, silence over burning national issues.
His move against herdsmen in Ekiti state brought him back as one who looked farther than his peers. But these also brought him against those who love to like whatever the APC did and did not do. They 'fought' him like no other. For this reason, if Fayose was seen as abrasive, Fayemi was seen as cool headed which was one reason his time as minister was without landmarks.
But Fayose had feared the Fayemi factor in Ekiti politics. This was reason he moved to bar Fayemi from holding public office in the state ever again using judicial means. An inquest he set up found Fayemi guilty of mismanaging funds belonging to the state while he was governor. He was also accused of using scarce resources of the state to fund Buhari's election in 2015. Having been pronounced guilty, Fayose issued a White Paper which barred Fayemi from holding public office in the state for ten years. That decision was quashed by a high court few days to the election.
Read Also: Your victory 'proof that the people of Ekiti value your leadership', Obasanjo tells Fayemi
Allegation of Rigging
Elections in Nigeria are always seemingly rigged. It is difficult to convince any Nigerian that an election, at whatever level, was not rigged in favour of the ruling party. However, many believe that every party in a Nigerian election involves itself in rigging but that the issue is about being out-rigged.
PDP's governorship candidate, Eleka has, as expected, rejected the result of the election alleging rigging. He claimed that he won the election but was shoved aside by 'federal might' which was on full display before and during the voting.
Federal Might
With an unprecedented number of security personnel deployed to Ekiti for the election, it was obvious that the plot was to asphyxiate the PDP and its agents to ensure that APC won, either way. The Police deployed 30,000 personnel with other security agencies including the Department of State Security, Civil Defence, adding up the numbers to have over 35,000 personnel on ground.
The deployments were not simply for an election. They fall against logic in a nation where the need for security against rampaging and murderous herdsmen was dire. As the deployments were made, over 100 persons were killed in Taraba state. Some more were also killed in the Plateau with no police presence.
Southwest now APC Zone?
Leader of Southwest politics, Bola Tinubu, has always craved to have the zone under same political roof. This was the post-1999 situation when all states of the zone were under the control of Alliance for Democracy (AD). The fun ended with the 2003 elections when PDP swept most of the states leaving only Lagos with AD.
The battle to regain the post-1999 position has been fierce. Through Action congress of Nigeria (ACN), Tinubu sought to bring all the six states of the zone under same roof. The party won back some states in the 2007 elections but PDP still maintained its presence. The 2015 poll returned almost all states of the region to the same fold of All Progressives Congress (APC) under direct supervision of Tinubu.
However, Ekiti remained with PDP. It was obvious that Ekiti would fall to APC as PDP was no longer in control of the center. However, will the control of Southwest translate into political gains for APC in the 2019 presidential election? It is doubtful as even the policies of the APC central government have not been particularly favourable to the southwest.
By Femi Qudus…
RipplesNigeria… without borders, without fears
Click here to join the Ripples Nigeria WhatsApp group for latest updates.
Join the conversation
Opinions
Support Ripples Nigeria, hold up solutions journalism
Balanced, fearless journalism driven by data comes at huge financial costs.
As a media platform, we hold leadership accountable and will not trade the right to press freedom and free speech for a piece of cake.
If you like what we do, and are ready to uphold solutions journalism, kindly donate to the Ripples Nigeria cause.
Your support would help to ensure that citizens and institutions continue to have free access to credible and reliable information for societal development.