Another torture center uncovered in Daura, over 60 maltreated children rescued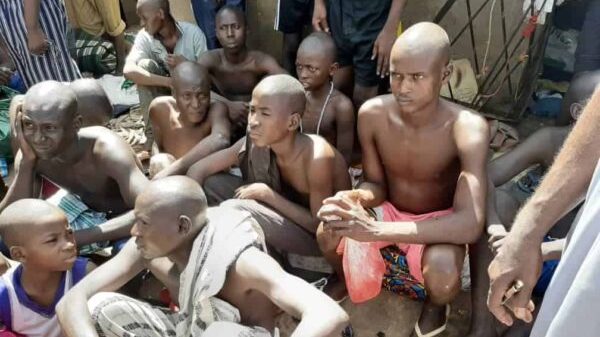 The Katsina State Police command has discovered and shut down another Islamic home, where they rescued some children and youths who were reportedly subjected to abuse, sexual assault and serious torture.
A 78-old cleric, Bello Maialmajri, owner of the spiritual rehabilitation centre discovered in Sabon Garin Daura area of Katsina North, has also been arrested.
The building was discovered after some of the boys who had escaped embarked on a protest over allegations of violation of human rights at the centre which housed people perceived to be outlaws from their parents and the society.
The escapees, numbering over 200, ran into the town, narrating how they were being maltreated, a development that sparked outrage in the community against the owner.
State Commissioner of Police, CP Sanusi Buba, while briefing journalists at the center on Monday, said preliminary investigation revealed that Bello had been running the center for about 40 years and later left it in the hands of his son, Umar Bello.
Buba decried the deteriorating situation at the center. He said each of its six rooms accommodated over 40 inmates who were subjected to all forms of dehumanising conditions including being chained.
The police commissioner said, "Based on the information the command received, we were here to see things for ourselves and take appropriate action.
READ ALSO: Suspected rapist claims he was 'tortured' by police to make confessional statement
"We learnt that the inmates here are over three hundred and because of the sordid and inhuman treatments they are being subjected to, the inmates revolted yesterday (Sunday). Some of the inmates escaped while these ones you are seeing now, about sixty of them stayed back," Buba explained.
"The inmates are from various parts of Nigeria, Niger Republic and from Katsina as well. But after we leave here today, I am going to meet the Emir of Daura and Governor Aminu Masari on the issue. We shall do the profiling of the remaining inmates with a view to determining where they are from and we shall thereafter appeal to their parents and their guardians to come and pick them up.
"As you heard from the inmates, apart from being subjected to inhuman conditions, some of their so-called teachers practised homosexual acts with them. Although the teachers escaped in the course of the confusion when my men came here after the inmates revolted, we shall get all of them and they would face the full wrath of the law.
"From what I have seen here, the old man who is the owner of this place and who is over 78 years old does not have the capacity and facilities to run this place again."
Join the conversation
Opinions