BUSINESS REVIEW: NES #25 —5 things Dangote, Awosika, Aig-Imoukhouede, Ajaere may have in common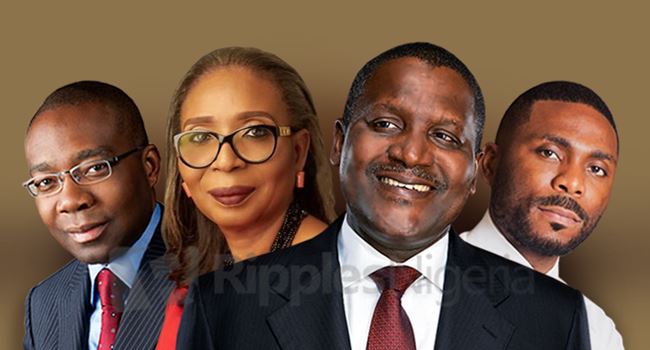 Understanding the place of visionary dialogues and economy-focused exchanges aimed at repositioning Africa's largest economy, Nigeria, the Nigerian Economic Summit Group, NESG, selected top drivers in business across Nigeria as panelists for the 25th edition of the summit slated to take place in the Federal Capital Territory on Monday, October 7, 2019.
A cross section of these panelists include, among others, Africa's richest man Aliko Dangote, Ibukun Awosika, Aig-Imoukhouede and Chidi Ajaere.
Against this backdrop, in our review this time, it interests us to look at the realities surrounding running businesses in Africa (Nigeria in particular) and what most successful business owners have in common to have excelled despite unfavourable economic policies, and recent economic contractions, that plague the global economy.
Many are called but…
Although, there are several arguments expressing likely reasons on why businesses fail; often time, research has shown that, the collapse of a business has more to do with the body language of business owners than their business ideas.
As has been observed, some businesses fall out in their first year while a number manages up to 3 years before eventually folding up. In fact, going by the data recently published in 2019 by the Small Business Administration (SBA), nearly twenty percent of business startups crumble in their first year.
SBA, in the report, further established that a half of these businesses surrender to failure within five years. And, by the 10th year, only about 33% survive. Before considering likely traits common to successful business owners, let's examine potential factors that often lead businesses to crash out along the line prior to maturity.
To start with: Who is a businessman or businesswoman?
Leading online encyclopedia and open source digital library, Wikipedia, has defined a businessman or businesswoman as a person involved in the business sector.
According to the digital library, this person undertakes activities (commercial or industrial) for the purpose of generating cash flow, sales, and revenue by utilizing a combination of human, financial, intellectual and physical capital with a view to fueling economic development and growth.
So, why do some businesses fail?
A lot of factors can come to play in the failure of a business when reviewed. Sometimes, two-three or more factors comingle. In some unfortunate cases, a factor is sufficient to nail the coffin of a business. Here are some of the most widespread ones in the bullets below.
• Messy management or poor coordination
• Launching a business for the wrong reasons
• Lack of planning and business strategies
• Insufficient funds
• Problem of wrong location
• Jumping to expand at the slightest sight of success
A bit of illustration
Some people consider owning a business as a good way to escape from answering to people –a boss, most times. This is not true. In fact, when you enter into your business, you become answerable to a wide spectrum of people –your customers are kings; your investors (where applicable) are your supervisors; and sometimes your employees (if you hire a handful) can be another pain in the neck.
Read also: BUSINESS REVIEW: 13 quick steps Nigeria must take to attract quality foreign direct investment
This way, you are not completely free to do as it pleases you. If your customers are not on your neck, there are chances that your investors or employees would tamper with your time, patience or your comfort seeking drive –that wrongfully led you to pushing to go solo. Hence, it is mandatory that you start a business for a right reason.
Likely acceptable reasons to start a business
• Passion and love for the business idea.
• Confidence that you have learnt the art and ready to test waters.
• Certainty that you have researched the market and identified potentials.
• Sure you have overcome succumbing to failure and capable of learning from mistakes.
• Acquired various skills that are integral to running the business.
5 things successful businessmen have in common
1. In-depth Understanding of Business
2. Accuracy-driven
3. Opened and Leadership personified
4. Sense of Foresight
5. Alertness
In-depth understanding of business:
When you carefully study the likes of Dangote, Aig-Imoukhouede, Awosika, Ajaere and others, you will discover the crucial role of knowledge in building a successful business or brand. When, as a businessman, you don't have an expertise in an aspect of your business; you must be ready to hire an expert to fill in for your deficit or simply make consultation if it can serve the purpose. Anything short of this is risky.
A lot of businesses have failed as a result of lack of competence on the part of the owner or staff members. This is about understanding the clear vision and objectives of the organisation. In the absence of this, the business is seating on a one-foot stool, a standing that will trip over sooner or later.
Analyzing processes and business visions of both the Dangote Group and the GIG Group, for instance, helps understand this point better. You only need an interactive session with chairmen of these groups to be convinced that knowledge comes first before anything else. Add to this, leadership and technology.
Accuracy-driven:
The likes of Bill Gates and Mark Zuckerberg wouldn't have made significant success in the tech-world if not for their spirited drive for accuracy. While, as humans, we are imperfect; our ability not to give in to the belief that we can relax in our business idea is the beginning of wisdom. At all times, we must think like perfectionists –always finding imperfections in our ideas and addressing them with the latest trend.
Aigboje Aig-Imoukhouede, the co-founder of Access Bank Plc and chairman of Coronation Capital Nigeria Limited, displays this trait with complete poise. We can say his thirst for knowledge has contributed to his nudge on accuracy and timeliness approach at doing business.
Today, Dangote is building an oil refinery and Otedola is switching into energy. This speaks volume of how businessmen think. They identify potentials and accurately harness them.
Back in 2009, just 10 years ago, you could not book seats over the mobile but with Chidi Ajaere leading many other transport platforms, this has become easy, simple and cheap.
Just in the light of Microsoft and Facebook trend advancement, you will agree that the Microsoft Operation System has evolved and still evolving. Also, the social media platform Facebook we reluctantly used in 2006-2007 is a complete different ball game from what we are rushing to use in 2019. It is a rule of the thumb that whatever business you do, being keen on accuracy is key.
Leadership personified:
The story of businesswoman and author, Ibukun Awosika, who currently sits as Chairman, Firstbank of Nigeria, is enough to illustrate how successful business personalities demonstrate leadership as a way of life.
She has, through the hosting of mentorship events, displayed true leadership qualities. Like a leader, successful business(wo)men know the way forward and lead their subordinates through the way. It's so natural to see them take on challenges without fright. They are not only intelligent, they are solution-driven and face challenges with an opened mind.
Sense of foresight:
Time is everything. In business especially, when you miss it, you pay costly for it. You must know when to invest and when not to. You must make informed decisions that are time bound. Once the Ripples Stocks-to-Watch segment is out, you can stay guided on the stock market processes, juicy deals and can invest wisely as time passes.
In business, understanding the current market is not enough, you have got to have a sense of the future of your niche to stay confident and mentor emerging businessmen in your circuit of operation. Your sense of possible things to come will help you predict the future and harness potentials before others do.
Alertness:
Regarding alertness, this is staying on the pulse of developments. This could be in one's business or the entire business cycle. If you consider the 7 business names cited in this review, you will observe they are part of the driving force –little wonder the NESG listed them as panelists. A business(wo)man understands that being isolated is a way to dig the grave of his/her person and business. Instead, He/she takes initiatives and invests in ensuring the breaking news in his/her sector is happening within.
In a nutshell
It must be mentioned that building a business is a time game and never an overnight adventure. Starting a business for the right reasons is important while persistency and goodwill is required to see the business scale through maturity. It can be very helpful understudying successful business personalities like the ones mentioned in this review. And, before you consider expanding, do ensure it is safe and the best thing to do so. Your ultimate goal, success, will come when you imbibe above enumerated qualities and live them as you do business.
By Ridwan Adelaja…
Join the conversation
Opinions