SPECIAL REPORT: Indiscriminate waste dumps, open defecation pose threat of epidemic in Kwara as govt slow to act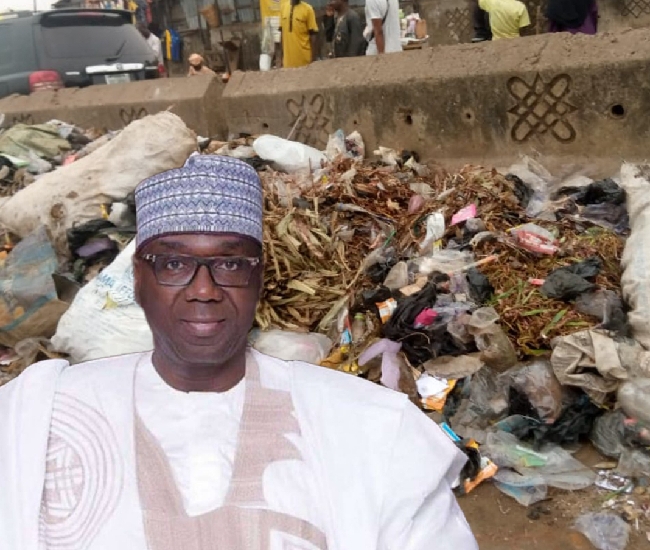 Forty three-year-old Bilikis Abdulrahman covered her pineapple fruit she is selling inside a white bucket container. This, she does to avoid flies perching on them. They plentiful from the piles of dumped waste on the road median close to her shop at Mandate Market in Ilorin, the Kwara State in north central Nigeria.
As she sipped from a bottle of Mirinda in her right hand and began talking, flies started buzzing close to her ears, causing her to tilt her head while shooing them away.
"You also see them don't you? this is what happens every day, because a lot of rotten wastes are dumped there, and the fruits I'm also selling attracts flies. Many times, we outside the main market have complained about people dumping refuse on the road, and the issue has made us enemies with those involved because we used to fight whenever they dump", said Mrs Abdulrahman.
Mrs Abdulrahman told this reporter that he would have experienced a very bad odor and seen bigger flies if he had come during rainy season. She said people dump thrash on the road due to inadequate waste facilities in the area.
Atanda Ismaila, who is a motorist at the market, had left his tricycle to take a rest at a a corner of Mrs Abdulrahman's shop. He said he preferred to rest inside his tricycle at the tarmac but the obnoxious stench and rile buzz of flies wouldn't let him.
He revealed that it's not only the traders at the market that engage in indiscriminate dumping activities, but that residents of the community and nearby areas like Gerewu and Yebumot also do it because of the unavailability of dumpsters in their areas.
"Every day, we arrive at this place early in the morning, and we do see residents of this community come with loaded sacks of waste and dump it on the road. People from other areas come with cars to dump waste, even during daylight. We've fought over this many times, but nothing has changed", Mr Ismaila said.
In Ilorin, Kwara's capital, it's a common scene to see people engage in activities of waste dumping on the road medians, rivers, drainages, and other undesignated places, releasing bad odour and creating habitat for parasites that carry diseases. These also pave way for open defecation at these facilities.
However, near these places are roadside food vendors whose shops are widely open to the filthy environment, alarming foodborne diseases such as cholera, typhoid, and diarrhea.
Concerned about these activities, the Kwara State government in 2019 set up a 15-member committee to assess and proffer recommendations to curb illegal dumping of refuse and ensure clean environments in the state.
Almost four years down the line, the activities persist with refuse increasingly littering various parts of the metropolis owing to the uncontrollable growing population which increases waste generation from commercial activities.
According to the World Bank, Nigeria is among many low-income nations with over 90 percent of waste dumped openly and left untreated. This setback the nation's determination to achieve Sustainable Development Goal 6—clean water and sanitation— which includes adequate and equitable sanitation and hygiene for all and ends open defecation by 2030
The Goal 3—good health and well-being, which includes ending epidemics—is also impeded.
The World Health Organization (WHO) says cholera transmission is closely linked to inadequate access to clean water and sanitation facilities.
In 2021 alone, cholera—an acute intestinal infection caused by the Vibrio cholerae bacillus and aided by an unhygienic situation including open defecation and dumping of refusein undesignated areas killed no fewer than 3,604 people in Nigeria. Apart from that, there are other diseases associated with unhygienic environment.
Kwara State, from a filthy environment, experienced an epidemic outbreak of cholera in 2007 and 2017 due to non access to clean water and poor environmental hygiene.
Despite funding and promises to address the problem, dumping activities are rife due to the state government's failure to provide adequate waste facilities in the state.
The state government between 2019 and 2021 earmarked over N800 million for waste management, including purchase of motorcycles, tools and equipment for prompt evacuation of generated waste for disposal, but the lack of manpower for adequate management sabotages the effectiveness to meet the daily growing demands of the generated waste.
The scene at Mandate market is common in other markets and public places where people and refuse dumps live side by side in filthy environments.
With detrimental consequences, the constant abuse of the environment through illegal dumping degrades environmental protection and safety, thereby posing a risk of epidemic spread across the state.
Indiscriminate dumping is not the only situation posing an epidemic threat, the overflow of dumpsters laying unattended for evacuation also sets it off, as the concerned authority to get rid of them often fails when due.
Murtala Tanbaruku, the market leader of the Mandate market, said the area is studded with dumps because the market with thousands of traders was provided with only one dumpster at the Phase 1 area of the market, while traders in the other two phases dump waste anywhere around.
He lamented the late evacuation of the lone dumpster when it overflows which force traders to dump refuse around corridors.
"The securities we employed have caught many residents of communities like Gerewu, who came to dump waste. Just last week, some people came to dump waste, we caught them, and they turned it into a fight. They even tore my clothes, which made me hand them over to the police." Mr Tanbaruku said.
At Oja-Oba, the most populous market in the metropolis, while many parts are dotted with dumps of waste, Baba Abdulfatai was seen sitting on the top of the dumpster, lifting sacks of waste from people and emptying them into the dumpster.
He said he does this voluntarily while also scavenging materials like plastic bottles to sell to get money.
The fact that many street sweepers and scavengers sell plastic bottles and other reusable items they scavenge from trash to merchants, who then use them to package local beverages like Zobo and Kunu drink, portends how diseases can fast spread through scavenging.
Speaking, a trader, Aishat Abdulmumeen said both the residents and traders are involved in the hideous dumping, added that the two dumpsters in the market area are not enough for their waste collection as they get overfilled quickly.
"The two dumpsters are not enough for us to dump our waste. Those people in other parts don't usually go to any of the dumpsters because of their distance, they just dump on the road, expecting sweepers to come and pack it.
"Sometimes when you come here and see waste workers packing the waste, you'll pity them because it used to be very much, and they even create traffic jams when packing. If not God that is protecting us, the odour is enough to contact diseases." Mrs Abdulmumeen said.
Paving The Way for Open Defecation
Various communities in the metropolis have doubled their dumpsites with open defecation. In the 20 minutes spent at Ode-Babata community, not fewer than five children were seen defecating openly on a field.
Ayinde Isiaq, a resident, told this reporter that it started with dumping a few wastes on the site before every household turned it into their dump site. He laments that the government didn't provide them with any dumpsters in the area, so people lack regard for a particular area for dumping.
"That is the reality you just saw, people don't just dump waste there, they also practice open defecation, adults defecate there at night. We can't even stay outside at night because of the smell."
This is the same story in many other areas where mountains of dumps are part of their communities' assets.
N100 Million Erosion Control Project Turns to Dumpsite
Shockingly, at Abata-Babaoyo in Anifowoshe, residents have turned the multi-million naira erosion control drainage into a dump site and where they practice open defecation. This obviously impedes the free flow of water which constantly devastates the community with floods.
The drainage was a project facilitated by Bukola Saraki, an ex-lawmaker representing Kwara Central Senatorial District in 2019 to curb the persistent flood in the area.
Four years after completion, it doesn't serve its purpose, rather it has become an eyesore with dumped waste and defecation.
The dumping of refuse and defecation into the waterway have been age-long activities in the area, which results in intense flooding. But despite the completion of the drainage project which spans a few kilometers from Abata-Babaoyo to Abata-Oloduku, residents couldn't stop dumping refuse and practicing open defecation into the drainage.
In the 30-minute spent in the area, various dumping and defecation were observed, some defecate in a potty and emptied it into the drainage while others directly defecate and dump refuse into the drainage.
READ ALSO:SPECIAL REPORT: Small businesses suffer, as govts fail to end sit-at-home in Nigeria's South-East
Even this reporter doubled his nose mask with a handkerchief, tightly covering his nose, residents were found breathing in the reeky environment. The community school, Abata Babaoyo, was exposed to the dumpsite.
Residents who spoke with this reporter said the activities persist incessantly because more houses in the area don't have toilets and waste facilities.
Sulyman Olatunju, the community chairman of Anifowoshe, said dumping and defecating in the area have been common acts even before the project, but the activities couldn't stop because the problem of many houses not having toilets and wastebins still linger.
"I don't know the problem with our people, we were complaining about the erosion ravaging our homes before, now, they've constructed a drainage for us but our people don't let it serve its purpose by dumping waste and defecating in it.
"Though the project was well completed, but they (government) knew what they faced when they commenced this project. They first cleared dumps on the waterway, so they should have provided dumpsters along with the project so that people wouldn't turn it into a dumpsite. we don't have a particular place where we are dumping our wastes."
Mr Olatunji, like every other resident, pleaded with the government to provide the communities with dumpsters to stop indiscriminate activities and ward off the environmental disaster looming in the area.
Unsafe Water
At Oke-Foman in Ilorin, residents are in the habit of dumping waste into the river. The river, according to a resident, streams through various communities and down to the rural areas, where they likely depend on it for drinking and other domestic uses.
At the river bridge, two ladies were seen with two sacks of waste, emptying them into the river.
Speaking to one of them, Hamdalat Olaoluwa (not real name), she said there are no other places they could dump waste other than the roadside and the river. She pointed at the dumpsite at the riverside where they were earlier dumping but the landowner had forbidden them, however, they now dump into the river.
"Look around, there's no dumpster here, the nearest one is at Pakata roundabout, and that will take up to 25 minutes there.
If the government didn't want us to dump anyhow, where is now the place they've provided for us to dump?" She said.
This portrays how people do not spare drainages from dumping as many were found clogged up with various waste and have been responsible for the devastating flood disaster in various areas.
Kwara's hospitals, schools at risk of epidemics from illegal waste disposal
Schools, hospitals, and other public places are at the forefront of the outbreak of diseases. Most hospitals were found to have inadequate waste collection facilities, they engage in dumping medical hazardous waste openly in the health premises.
Hospital waste from the Cottage hospital, Ogidi was being dumped around a corner of one of the wards. Most of these wastes, experts say, are 'infectors', that if not properly disposed of, could cause epidemics.
A nurse who spoke on condition of anonymity said the 'container' they do dump waste into is always overfilled and caused them to dump on the ground before it gets evacuated.
"You'll see it's a water steel tank, we just converted it to a waste bin. The management didn't provide any disposal facilities", she said.
Various schools in the state are also into the act of dumping in unregulated areas owing to the non-provision of waste bins.
Gambari Afolabi, a duty controller at Interproject Nigeria Limited, a social waste management agent, said many times people have been warned against the unwholesome act of indiscriminate dumping of refuse, but they don't heed the warning, they're ignorantly unaware that the waste they indiscriminately dump come back to attack them through flooding, and diseases.
He blamed the government for ineffective environmental law to prosecute violators and not providing adequate dumpsters in many areas.
"Before, people don't dump on the road medians, we don't know how it came about that they started dumping there. Though the government is trying to end the activities which they have been announcing a charge for whoever gets caught. But you know, we just make laws in this state, we don't follow it.
"There is no way the indiscriminate dumping could end in this state except charges are brought against violators.
"If we pack all these now, before we take a turn back, we'll find a new dump, so they don't appreciate us or impress us."Mr Afolabi said.
He added that the Ministry of Environmental and the Kwara State Environmental Protection Agency (KWEPA) have been making announcements and awareness that these activities can cause the spread of diseases, but people don't desist from dumping.
General Manager of KWEPA, Saad Dan-Musa, said the agency was initially charged with the responsibilities of waste management and disposal within the state but the task has now been taken over by the Ministry of Environmental which couldn't handle it effectively causing many dumpsters to overflow.
He said the state has both social and commercial waste management agents, adding that government is the only one responsible for the evacuation and disposal of wastes in places provided with dumpsters, while undesignated areas are to make use of commercial waste management by paying a small amount for their refuse disposal.
"You have a house or shop, you must pay for your waste disposal, and they'll come to your place and pick up your waste for disposal.
"But due to lack of discipline and awareness, people think they can dispose of refuse anyhow.
People want everywhere to be placed with 'roro-bin' (waste bin). No, it's not possible, unregulated areas must use the service of commercial waste management".
He said the management is looking at the best way to improve commercial waste management to curb illegal disposal through an effective enumeration system.
"We will ensure we formulate policies for them, every house will be enumerated, and your number will be on our system, and the number of the waste manager will be there on the sticker in every house, so if you're not seeing him dispose of your waste you call him, and you can also report to our office, and we'll also take necessary action. By the time we do these illegal waste disposal it'll minimize."
He also blames the government for not prioritizing a clean environment despite funds which should have adequately addressed the problem.
"indiscipline by people and ministry make the problem worst, where people would not come to work or don't do what they should do. We're just an agency under the Ministry of Environmental, and this roro-bin is not under me, it's under the Ministry of Environmental, and I'm sure the commissioner of police would have addressed that [to hand it over to KWEPA].
"Since our people lack discipline, what we can do is to sensitise people, which we've been doing. Government and individuals should end the hideous activities the same way they are curbing insecurity and social vices by reporting to the police.
Expert Laments Government Poor Waste Management System, Says What May Happen
Amusa Victor, a pollution specialist said the inadequate waste infrastructures and lack of competency in the waste management system by the government worsens the dumping activities which degrade the environment and remains a threat to public health.
He said the government couldn't adequately manage the generated waste despite the growing population in the central region, adding that the government made limited plans for waste management than required.
"You know waste generation is a function of demography, the more people you find in a certain area, the more the waste that is being generated, but they didn't look at it that way to address the issue.
"There is a yearly growing budget for waste management but we're not finding it taking effect in the communities. We grossly have inadequate waste infrastructures. The number of collection bins you find in the metropolis is not enough to serve the population of three million people, as estimated by the last census for Kwara State, which you know, Ilorin (state central) is about 1.2 million", Mr Victor said.
He lamented the inadequate vehicles that are being used in conveying the collected wastes for disposal, and said it shows that the environmental ministry lacks human capital resources.
He also revealed that poor collection strategy and lack of stakeholder engagement, including government failure to provide corresponding incentives for municipal haulers contribute to lingering indiscriminate dumping by the people.
"What happens in the environmental sector is that anybody can head the ministry, who are placed there without investigating their competence. And people like that struggle all their days trying to fix what they really do not know about", he said.
"Whosoever is appointed to head the ministry of environment and municipal waste management should know that there are stakeholders in that sector, right from those who are generating the waste to commercial haulers who have been in the business of collecting wastes by collecting revenues, to industrial waste generators who are producing things in large scale and their waste is in mass, people like these should be gathered and a proper strategy should be drawn for municipal waste handling", he added.
Mr Victor further suggested that government should adopt charging people for their waste disposal and also increase the strength of the commercial waste collectors. This, he said, will address how people get their trash dropped on the road expecting waste workers to come and pack it.
"If you can generate waste in your house you should be able to pay for the waste you generated. Every household must have its waste bin and the state government should thoroughly inspect it.
"But to achieve the desired solution to address waste disposal in Kwara, is to put the right people in the right office to effect these plans."
He also laments how the state government mobilises social compactors with millions of naira every month without recorded data of the waste collected for the month.
"If there is no efficient data, how would that government plan when budgeting or planning for waste management? You can't get reliable data for waste generated in Kwara State."
He explained that there's a need to open up the waste management sector for investors who will put in their funds for commercial operations.
Speaking about what could happen from indiscriminate dumping, Mr Victor said flies infect people with diseases from the piles of inappropriately dumped wastes, which can cause epidemics.
"The danger is quite enormous, from cholera, typhoid, air-borne diseases, and water-borne diseases that can break out when pathogens that have had contact with waste get into food items.
He stressed some potential measures that could improve solid waste management and save people from living in deadly dirt.
He said the state should improve waste management through increasing human capital resources and effective plans for collection and evacuation, while waste recycling and awareness for behavioural change to ensure a clean environment should be prioritised.
"Recycling of wastes will help reduce the amount of recyclable wastes littering our streets. This could be achieved if there is a provision for the collection of different categories of waste like papers, plastics, and glass bottles using colour-coded dumpsters.
"There's also a need to sensitise people on appropriate disposal, ringing to their ears that roads, drainages, and rivers are not dumping sites, telling them the danger of the activities, and ensure they are provided with alternative infrastructures for disposing of their waste".
By Abubakar Abdulrasheed
Join the conversation
Opinions
Support Ripples Nigeria, hold up solutions journalism
Balanced, fearless journalism driven by data comes at huge financial costs.
As a media platform, we hold leadership accountable and will not trade the right to press freedom and free speech for a piece of cake.
If you like what we do, and are ready to uphold solutions journalism, kindly donate to the Ripples Nigeria cause.
Your support would help to ensure that citizens and institutions continue to have free access to credible and reliable information for societal development.