Minister Amaechi, Igbophobia And 2023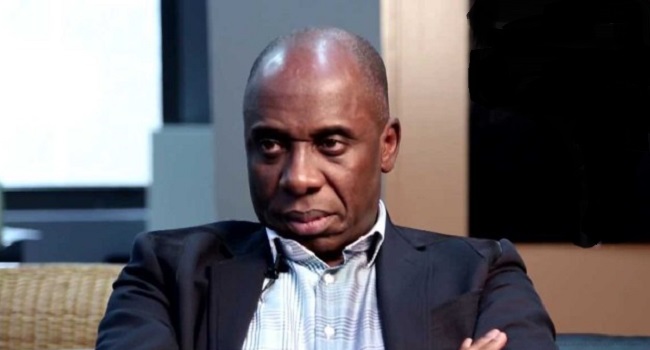 Rotimi Chibuike Amaechi, former Governor of Rivers State and now the Minister of Transportation in the Buhari embattled administration, is a big man full of himself, a political animal who plays vindictively the politics of godfatherism for whatever it is worth. In his oil-rich state in the Niger Delta region the incumbent Governor, Nyesom Wike, who was his former Chief of Staff, has somewhat demystified him politically by winning re-election in a guber poll that the Minister's APC was barred by the courts from participating in.
Amaechi was desperate to play Tinubu in Rivers State but he soon found out the hard way that Rivers was not Lagos where Asiwaju, like the late Lamidi Adedibu, could do anything (including playing god) and go away with it with impunity. In his usual braggadocious self he always seeks to take out anyone unable to abide by his dictates no matter how disgusting. But unlike Tinubu Amaechi is not a mobilizer, a benevolent 'godfather' or a good manager of men and resources.
Minister Amaechi had never won any gubernatorial election in his volatile state in the first place. The courts handed him the governorship executive position on a judicial platter! Following his insistence, via litigation, much like Peter Obi of Anambra state, of doing justice to a perceived electoral injustice done to him the Supreme Court did the needful by ruling in his favour against the then Governor Celestine Omehia. He won the titanic battle against the then godfather, ex-Governor Peter Odili, his former boss turned enemy.
Today, he suffers from a bloated ego, a political hubris from which many a Nigerian politician suffers. Amaechi is good at throwing verbal jabs around having mastered the art of political propaganda in the Garden city as a two-term corrupt Governor for eight years.
He has fought Governor Wike with everything he had in his political arsenal but the latter had proven to be smarter if not more desperate than him. Wike himself may not be a great example of political correctness or politeness but he has achieved a lot infrastructurally as a Governor in touch with the grassroots. Like him or loathe him he has somewhat performed above average in terms of delivery of democracy dividends to his people. And perhaps that reality on the ground makes Amaechi green with envy!
Minister Amaechi as the National Campaign Director of the Buhari re-election bid, the APC National Chairman, Adams Oshiomhole and the cabal around President Buhari are suspected by the opposition PDP of being behind the monumental presidential electoral heist of last February. According to the PDP, armed with digital evidence, the ruling party colluded or connived with INEC to massively rig the 2019 presidential poll in favour of Buhari.
Read also: 'The Yoruba deserve 2023 presidency, the Igbo are not a serious people'
Since the matter is in the hands of the eminent Judges of the Presidential Election Petition Tribunal let us not dissipate much intellectual energy on an election that has gone down in the annals of our national history as the worst electoral event ever. Suffice to say here, however, that the controversial outcome deserved to be challenged as the 'loser' is currently doing.
Last weekend Minister Amaechi spoke in an exclusive interview with 'The-Sun' newspaper in Lagos. He lamented the fact that majority of the Igbos had voted against his principal in the presidential election telling them to forget the presidency of 2023. His words: "I don't know what they will do now for voting against the APC….For refusing to support the APC, they cannot come to the table to demand the presidency slot…What argument would the Southeast come up with now to convince anybody that they deserve the slot for 2023 President".
While the prominent pan-Igbo socio-cultural organization, Ohanaeze Ndigbo, had deservedly rebuked Amaechi for his misguided diatribe telling him that he was no God that decides the destiny of an organized race or people in a forced 'union' as ours the loudmouth from Ikwerre-land must be told that his opinion amounted to a balderdash unworthy of his office or glorified 'Igboness'. The offensive postulation was unfortunate indeed.
The Igbos are predominantly found in Anambra, Imo, Ebonyi, Abia and Enugu states. But extensively they could be found as well in Delta and Rivers states, some parts of Kogi and Bayelsa states. No matter whatever imaginary differences in terms of culture or orientation it is always a thing of pride to count oneself among the millions boasting of belonging to the great tribe east of the Niger.
That the Igbos voted overwhemingly for the opposition PDP could be rationalized on three grounds. First, Atiku Abubakar had a proud Igbo son, Peter Obi, as his running mate. Secondly, Atiku had a better socio-economic programmes and policies that would benefit the Igbos more. And lastly the Igbos were disenchanted with the wobbly Buhari presidency given its bigotry, nepotism and clannishness, hence the urgent need, in their reckoning, for a change at the centre.
The problem with many Niger Deltans is that they suffer from Igbophobia without acknowledging same publicly. They bear Igbo names yet conveniently deny their Igboship preferring rather ignorantly to be called Ikwerres, Delta Igbos or whatever. You cannot accept bonafide Igbo names like Woke (Nwoke), Wike (Nwike) and Amaechi yet detest the original tribe from which the names you bear originated.
A late friend of mine from Rivers State called Onyemechi spoke and understood Igbo language fluently but he vigorously resisted any association with his Igbo heritage or origins. Inferiority complex could be behind the anti-Igbo sentiment. And that is beyond comprehension given the historical links, cultural affinity and etymological similarity in language.
The truth behind their Igbophobia could be that they fear the average Igboman in Onitsha, Aba, Enugu or Port-Harcourt for his gut, free republican lifestyle, independent-mindedness and business acumen cum economic power. That was why we had the "abandoned property" imbroglio after the Nigeria/Biafra civil war of the late sixties and early seventies. That was why the late playwright and poet, Ken Saro-Wiwa betrayed the Igbos!
For voting against Buhari in the presidential poll, therefore, the Igbos must not be persecuted. The Amaechis of this world must spare us the homily of belonging or not belonging to the 'winning' party. The Minister must not insult the sensibility of a great ethnic component of the Nigerian federation.
In the said controversial election fraught with tales of militarization, vote-buying, voter intimidation and mindless manipulation many Hausa/Fulanis voted for Atiku as well. And in Amaechi's Rivers State Atiku posted a commanding electoral performance, the state being a traditional PDP stronghold. Many Yorubas in spite of VP Osinbajo and Tinubu's influence voted for the PDP in support of 'Atikulation'.
Those playing the dangerous politics of 2023 in 2019 must be reminded that four years are still far off; they are pregnant with good and bad and ugly tidings. Many would live to see 2023 for sure (since the end of the world has not yet been forecast for now) but some may not be alive to witness what the year holds for humanity in general and Nigerians in particular.
It is therefore instructive in the final analysis to note that the 2019 presidential poll is yet to be settled definitively and satisfactorily. So in that sense whoever, in their juvenile fantasies, are playing Nostradamus over 2023 must be seen for what they truly are: agents of provocation, distraction or confusion. Let the Tribunal give their verdict first and foremost and then we can take it from there.
By SOC Okenwa…
Join the conversation
Opinions
Support Ripples Nigeria, hold up solutions journalism
Balanced, fearless journalism driven by data comes at huge financial costs.
As a media platform, we hold leadership accountable and will not trade the right to press freedom and free speech for a piece of cake.
If you like what we do, and are ready to uphold solutions journalism, kindly donate to the Ripples Nigeria cause.
Your support would help to ensure that citizens and institutions continue to have free access to credible and reliable information for societal development.