Nigeria: Counting the Cost of Existentialism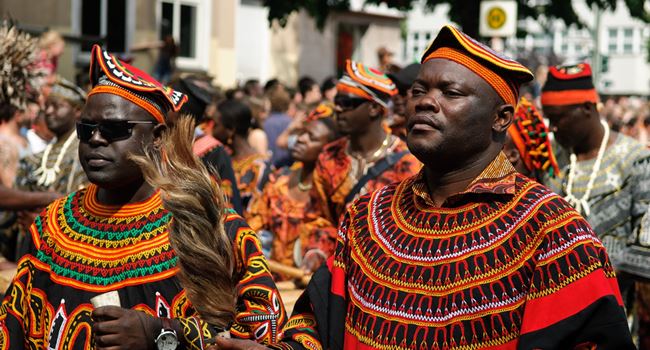 On Sunday 9th of June, 2019, Berlin, the capital of Germany, was in the mood for celebration. The annual Karneval der Kulturen (Carnival of Cultures) held on that day and streets of the hugely historical city wore new looks. Filled with people and lots of excitement, participants from across the globe turned up in beautiful colours depicting their national identities.
Residents in Berlin from all walks of life did join in the party as they danced with flags of their countries of origin from Europe to Latin America to the Asian subcontinent, Oceania and the Middle East. Africa was not left out either.
As the procession moved on, flashlight from cameras of hundreds of photo journalists and tourists shone brightly on the beautiful costumes on parade as scantily clad ladies turned the whole atmosphere into a spectacle of rainbow. It was simply a sight of cultural assembly and splendor to behold.
Sadly though, for my country, Nigeria, it was another missed opportunity to tell the world who we are. There was a vacuum on display which didn't go without notice. After waiting for hours to see representatives of Nigeria file out, few individuals emerged on the scene displaying flags of Nigeria and that of Biafra, side by side. Majority of these fellows appeared in clothes bearing 'Biafra-Nigeria.' Although it was not too apparent that many of those in the crowd understood what just happened and its implications for Nigeria. Maybe they cared less, really.
But that ugly scenario was another affirmation of the clash of identities which threatens to bring Nigeria on its knees. I overheard a man (another Nigerian who sounds like a Yoruba) lamenting the shameful occurrence, few metres away, and I could not resist the temptation to listen further. We got talking and he told me that there was a similar incident in 2018 when (according to him) fisticuffs nearly broke out among some Nigerian residents in Berlin as to how the country is represented at the carnival.
Few of my compatriots would readily argue that what happened at the Karneval der Kulturen has no direct political consequences on the country, thus why worry? One would come to some level of appreciation of the course of action only if there is an understanding of the mindset of those involved and the socio-political significance of their action on the psychology of the hailing spectators. It was an opportunity to further market a brand and etches it into people's memory. Nigeria missed it though.
It is high time Nigeria faced the unpalatable reality of its frail existence regarding that question of identity. The burden of pretence which had accumulated through the yester years now seems increasingly too enormous to be discounted. Ndigbos (likewise other minority ethnic groupings) are clearly not happy with a skewed system which denies them of access to a balanced political equation and quite a few of them would not mind discrediting the brand Nigeria wherever and whenever an opportunity exists. They made the most of such an opportunity on Sunday in Berlin. I perceive it will not be too difficult for the younger generation to give up on Nigeria when the elderly are busy digging its grave.
Read also: JUNE 12: The truth that sets democracy free in our land
And if politicians in Abuja would bat no eye, as far as whatever a set of 'disgruntled few' does in Berlin or elsewhere is concerned, then they would have only succeeded in fast tracking the day of Armageddon for the same society whose honour and glory they swore to uphold. It leaves a bitter taste in the mouth but one must admit, at this juncture, that history may one day vindicate exile or fugitive (depending on where one belongs) leader of the Indigenous Peoples of Biafra (IPOB), Nnamdi Kanu as a hero of the Igbo race. Questions raced on his dramatic escape from the country in September 2017 – and subsequent perplexing appearance in Israel a year later – are yet unattended to.
In April 2019, Kanu and his entourage were hosted and treated to a warm reception by the Chief Rabbi of Munich and Greater Berlin, Shmuel Brodman in pursuance of his 'divine project'. The young man is busy building international confidence on the need to support the actualization of a sovereign Biafra while Abuja looks worryingly unperturbed. That international conspiracy can, but should not, be overlooked by arbiters of political authority in Nigeria if indeed they are interested in safeguarding the country from the possibility of extinction.
Back home, weeks ago, it was reported that many residents of core Igbo States in Nigeria stayed away from work in obeisance to (or fear of) the 'sit at home' order by IPOB. Shops closed, banks shut, trade and commerce suspended. Again, the fact that such a declaration is gaining traction as each year passes should not be discarded as a mere harmless barking of a hungry dog.
For Nigeria, it is neither now or it gets too late to address germane questions confronting its national identity. The chants of marginalization among the ethnic components must be addressed in order to forge a mutual agreement of how the country is run. The injustice of the past must be redressed from the viewpoint of true reconciliation to douse the burgeoning chauvinism in the land. And this will of course lead us into that uncomfortable discourse of restructuring. The current Constitutional texts are fraught with irregularities and inconsistencies which cannot guarantee social harmony without being diagnosed with the aim of addressing the many ills.
Unfortunately, nothing better captures the leadership hemorrhoid which has led the country to the path of self destruct than the troubling and continuing lethargic posture of successive occupants of Aso Villa to address questions of Nigeria's corporate existence.
Having spent the day meeting new people, making new friends, and learning new cultures, I made my way home troubled reflecting on how Nigeria missed it. How other Africans took the shine off the sleeping giant. How denial caused my country a credible display. And if anything, to hope that Nigeria is still not beyond redemption. I hope.
By Funmilola Ajala…
Join the conversation
Opinions
Support Ripples Nigeria, hold up solutions journalism
Balanced, fearless journalism driven by data comes at huge financial costs.
As a media platform, we hold leadership accountable and will not trade the right to press freedom and free speech for a piece of cake.
If you like what we do, and are ready to uphold solutions journalism, kindly donate to the Ripples Nigeria cause.
Your support would help to ensure that citizens and institutions continue to have free access to credible and reliable information for societal development.