Propaganda or facts? 5 times Osinbajo left room for more questions than answers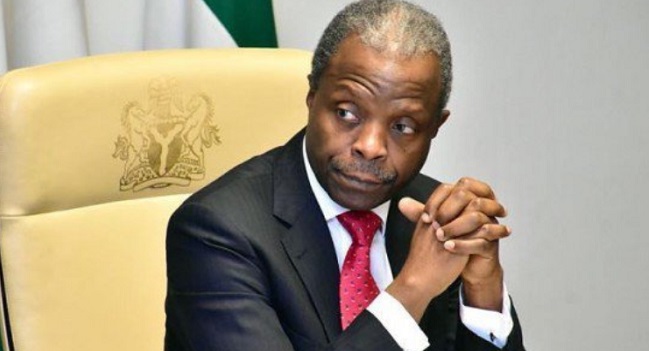 In the evening of June 23, 2019, the Vice President, Professor Yemi Osinbajo, in a town hall meeting, was addressing Nigerians based in New York, United States of Nigeria, when he asserted that the stories of kidnapping, in Nigeria, were not entirely true and mostly politically motivated.
"With respect to general kidnapping which we have seen in parts of the country, again, this is not entirely new. In fact, some of the kidnapping stories you read or listen to are simply not true anywhere, some are fueled by politics," he said while answering a question on the deplorable security situation back in Nigeria.
Osinbajo's statement was greeted with wide outrage by individuals and groups who dismissed it as untruthful and one of the bare-faced denials channeled to cover up the shortcomings of the administration of his principal, President Muhammadu Buhari.
The Yoruba socio-cultural group, Afenifere, after their meeting on June 25, 2019, in a communique signed by its spokesman, Yinka Odumakin, blasted Osinbajo and requested him to answer if the report of the kidnap of a District Head from President Buhari's town, Daura, from his house, on May 1, 2019, was politically motivated, if the former Health Minister, Prof Isaac Adewole was playing politics when it was announced that his son was kidnapped and what politics was afoot when Governor Rotimi Akeredolu of Ondo State announced that his convoy was waylaid by kidnappers?
"If he cannot answer these questions, he should kneel before his God and ask for forgiveness for violating 'Thou shall not lie' commandment," the communique read in part.
John Chukwu of Ripples Nigeria examines four other times the number two man in Nigeria has been caught speaking from both sides of his mouth.
1. President Buhari is poorer than he was in 2015
President Buhari has always been positioned as a man of modest means. He was reported to be lacking the financial power to purchase APC's presidential ticket to contest for primary election prior to the 2015 general election. His supposed indigent status was even politicized to project him as a man of integrity, honesty and perfect manager of resources during his campaigns.
Therefore, it was not surprising when Osinbajo, during a dinner in honour of volunteer supporters of the All Progressives Congress (APC) for the 2019 election, held at the Presidential villa, on March 14, 2019, asserted: "I can tell you that he (President Buhari) is perhaps, even poorer than he was in 2015 when I saw his declaration of assets form."
Osinbajo's claim that President Buhari was poorer than he was in 2015 generated a lot of ripple within the polity. It is believed, in different quarters, that the President cannot possibly be poorer than he was in 2015 and that is if he was actually poor – in the right sense of the word 'poor' – in the first place. Moreover, given his wife's – Aisha Buhari –ostentatious lifestyle of wearing highly expensive clothes and jewelries, it is even more difficult for critics to admit Osinbajo's claim.
2. In 2010, Nigeria had 112.7 million people living in extreme poverty
While on his recent visit to the United States, where he met with his US counterpart, Vice President Mike Pence, and other key groups and interests in the country, Osinbajo said: "as at 2010, Nigeria had about 112.7 million people living in extreme poverty. Nothing in place, there was no social investment programme, there was no social security, no way of taking people out of poverty," he said.
In proving that Osinbajo's statement was false, the former spokesman of former President Jonathan, Omokri, on June 25, 2019, in a statement said:
"The statement is a lie and it is very easy to disprove Mr. Osinbajo's fallacious assertions. According to the United Nations and the World Poverty Clock, Nigeria overtook India as the world headquarters for extreme poverty on Tuesday, June 26, 2018, when her population of extremely poor people increased to an unprecedented 87 million people.
"If, according to both the United Nations and the Word Poverty Clock, Nigeria's population of extremely poor people hit an unprecedented number of 87 million people in 2018 under General Buhari, how is it possible that there were 112.7 million people living in extreme poverty in 2010?"
On his claim that there were no social investment programmes to get people out of poverty, Omokri noted that it was not true that there were no social investment programmes under the Jonathan government. In the statement, he listed the social investment programmes ran by the then Jonathan government.
"This included the subsidy removal empowerment program called SURE-P, whereby roads, hospitals and child care clinics amongst others were funded from proceeds of the partially removed subsidy, headed by renowned industrialist and diplomat, Dr Christopher Kolade and the Conditional Cash Transfer program to poor Nigerians and pregnant women."
According to Omokri, other social investment programmes include: the Youth Enterprise With Innovation in Nigeria (YouWin), the Graduate Internship Scheme (GIS), the Presidential Special Scholarship Scheme for Innovations and Development scholarships (PRESSID) to First Class Nigerian graduates among others.
3. In the last 10 years, PDP did not complete any major infrastructural project
Vice President Yemi Osinbajo, while speaking at the 11th colloquium of the acclaimed National Leader of the ruling APC, Asiwaju Ahmed Bola Tinubu, on March 31, 2019, alleged that in 10 years, before President Buhari's administration, the PDP never completed any major infrastructural project despite the fact that Nigeria earned $383bn between 2010 and 2014.
"You cannot point to a single major infrastructure project that was completed in the 10 years period despite the high revenue, including power," he said.
Disputing Osinbajo's claim, the PDP Deputy National Publicity Secretary, Diran Odeyemi, said: "it is unfortunate that Osinbajo as a Pastor will come to a public forum and lie against the PDP. Nigerians are not stupid. If Osinbajo said we have not completed any infrastructural project in 10 years, we leave if for Nigerians to judge."
4. Former President Goodluck Jonathan's officials shared billions of dollars before 2015 general election
President Buhari has, on March 19, 2018, in Abuja, Vice President Osinbajo declared that "in one single transaction in a few weeks to the elections in 2015, N100 billion and $295 million were just fretted away." He added that whereas the Jonathan administration spent only N153 billion on infrastructure in the three years preceding 2014, N150 billion was shared in just two weeks before 2015 elections.
Discrediting Osinbajo's claims, former President Jonathan's spokesman, Reno Omokri, in a statement, read in part stated: "On this most recent allegation, let me state categorically state that Jonathan did not share N150 billion two weeks to the 2015 election. If Osinbajo has proof that Jonathan did so, then we challenge him to publish his proof. He is a Professor of Law and ought to know that he who alleges must prove."
The Vice President is yet to provide a prove of his claim or further assert his position on the allegation. His submission is seen in different fronts as one of the propaganda peddled by the ruling All Progressives Congress (APC) in shielding themselves of blames from their inability to address some pressing national issues since they took over from the Peoples Democratic Party (PDP) in May 29, 2015.
Join the conversation
Opinions