RANKING NIGERIAN GOVERNORS, SEPTEMBER, 2019: Top 5, Bottom 5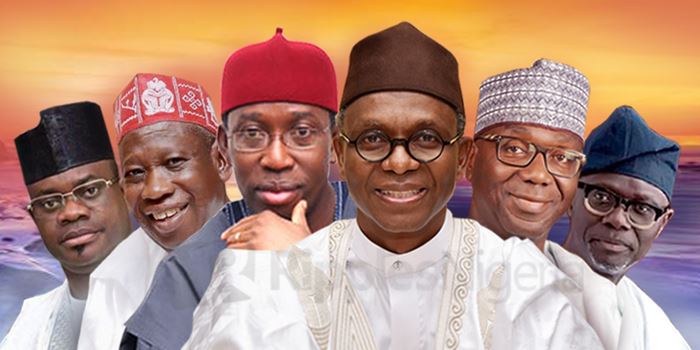 Editor's note:
Nigerian Governors, as custodians of the people's mandate at the state level, have so much expectations placed on their shoulders. These range from policy formulations to execution of sustainable projects targeted at improving the lives of citizens.
Admittedly, governance is a daunting task, especially in the face of lean resources. But even in the face of these huddles, some helmsmen have shown exceptional capacity to better their societies while others have appeared as laggards.
The debate is on, necessitating an urgent media intervention to guide public discourse. Ripples Nigeria, in line with our avowed mandate of holding leaders, especially elected ones, accountable on behalf of the people, will attempt a monthly performance review of the governors.
These series of publications started in August, 2019, and will continue to run through the lifetime of this platform. For September 2019, we again present a ranking of Nigerian governors, highlighting top 5 and bottom 5.
We hope that, through these special publications, we would engender a competitive spirit between and among the governors and ultimately drive our nation toward the path of lifting its citizens from abject poverty to prosperity.
TOP 5
ABDULRAHMAN ABDULRASAQ —KWARA
We find Governor Abdulrahman Abdulrazaq of Kwara State, a first term governor, a study in prudence. His commitment to run an austere administration in a clime where access to state treasury is viewed an opportunity to live large in the midst of mass poverty has received wide attention.
We take particular note of his decision to keep governance lean, doing away with large convoys and entourage that act as drains on meager resources. He would be seen often commuting in very functional vehicles with himself behind the wheels, demystifying the big-man syndrome often associated with the average Nigerian politician.
We are attracted by his institutionalized concern to lift the masses from poverty through Executive bills and orders in respect of social investment programmes.
We believe that Kwara's N232m counterpart funds to address child and maternal health problems, its pitch to benefit from the N200bn Central Bank of Nigeria 'innovation hub' and the N1bn budgeted for 1000 local traders in form of soft loans will engender development, if eyes are not taken off the ball.
BABAJIDE SANWO-OLU —LAGOS
Sanwo-Olu gets a second mention in two months for applying himself diligently to the task of building a digital and resilient economy.
We notice the seeming slow start to governance but commend the consistent progress to achieve set objectives. Driving the long term goals are six pillars built around Transportation, Health, Education & Technology, Making Lagos a 21st Century Economy, Entertainment and Security ( T.H.E.M.E.S ).
We note the partnership with an international technology consultant to digitise education curriculum in both public and private schools in the state. This has the potential to equip students with modern skills and technological knowhow that will give them a head start in life.
We believe that Lagos will strike a significant milestone in the area of building a futuristic economy, as it concludes plans to partner Jet Systems Automobiles, an auto assembly company in Lagos, to roll out the country's first set of electric vehicles in Q2 2020. This has the potential to reverse the exodus of auto firms from Nigeria, with an additional benefit for value and job creation.
The multi-billion naira integrated Imota Rice Mill project gets our attention. With capacity to cater for 25% of our national rice needs, Lagos might be looking beyond the regular handouts from Abuja, that is, if the project is well executed and managed. The rice mill is expected to generate 1,500 direct jobs and 254,000 indirect jobs along the value chain.
IFEANYI OKOWA —DELTA
Ifeanyi Okowa of Delta State makes the Top 5 governors in Nigeria for his promotion of open governance, with the finances of the state placed in the public domain.
We take cognizance of the publication of the state's annual budget and its performance for public monitoring and scrutiny. This, we note, is capable of promoting transparency, integrity in the conduct of government business and ultimately confidence of the governed.
The revitalisation of the state's transport company catches our attention. The new lease of life at Delta Line, courtesy of a Public Private Partnership between the state government and GIGM, a mobility platform, sets the tone for quality service delivery.
Sustained, the Delta example is capable of becoming a model for other states whose transport companies have gone moribund.
The administration's commitment to road infrastructure gets a positive look in. The recent award of a contract for the reconstruction of the Asaba end of the Niger Bridge, intervention in the failed portions of Warri-Benin road, and Agbor to Benin, all federal roads, are commendable and deserve mention.
The pace of development in riverine Delta communities, however, remains a source of concern.
NASIR EL-RUFAI —KADUNA
Governor Nasir El-Rufai gets top scores in our September review. The former Minister of the Federal Capital Territory (FCT) raked in size-able goodwill for a symbolic action capable of repositioning the educational sector in Kaduna and beyond.
We note the Governor's fulfilment of a promise to enroll his son in a public school in the state, and acknowledge that the action is an invitation to his peers to impact the educational landscape and reverse the poor perception held of public schools and institutions.
We believe that El-Rufai has, by this initiative, imposed on himself the task of  aggressively rebuilding, on a state-wide basis, public school infrastructure and facilities.
It is our belief that other governors and public office holders now have the El-Rufai example to contend with.
We also recognize the relative peace the state enjoyed in the month of September, as the activities of bandits were suppressed, allowing for fuller focus on governance.
ABDULAHI GANDUJE —KANO
Abdulahi Ganduje of Kano State is a Top 5 pick for the month of September for his efforts at ensuring that out-of-school children in the state find their way back to class rooms.
We consider the intervention in the education space a worthy investment, especially if pursued with a clarity of purpose, sincerity and passion.
With an unenviable record of holding three million of the about 10 million out-of-school children in the country, the Ganduje initiative to refine Almajiri education system by fusing it with Western education, therefore, gets our attention
We acknowledge that the pilot enrollment of over 8000 pupils in the remodeled Almajiri schools, is a functional step towards returning sanity in a largely disoriented and disconnected education sector.
Read also: RANKING NIGERIAN GOVERNORS, AUGUST, 2019: Top 5, Bottom 5
We also find it commendable that Kano has remained about the only state in the North West where the activities of bandits have been largely curtailed.
We are, however, disturbed at the continued display of hypocrisy by the Ganduje government with respect to the activities of the Hisbah Commission, especially against the operations of some beverage companies.
We consider indefensible the decision of the state government to destroy over 200,000 bottles of beer in the month of September while hypocritically waiting to receive VAT income from the same businesses whose products are being publicly thrashed.
BOTTOM 5
OKEZIE IKPEAZU —ABIA
If there is a consensus on the failings of the Ikpeazu-led government in Abia State, it is the general outcry that Aba, the commercial nerve of the state, has been overwhelmed by mountains of refuse.
The eyesore is not limited to the inner crevices of the city. The environmental shame envelopes a substantial stretch of the Aba-Port-Harcourt Expressway, leaving a stench that dominates most part of Aba. The associated risks have turned Aba into a huge mass of urban slum, with residents fearing eruption of an epidemic.
The Ikpeazu government gets our poor rating for manifesting incompetence and for its failure to initiate appropriate legislation or practical steps to reinvent Aba which fame goes beyond Nigeria for its unique inventions and industry.
We are disturbed that Ikpeazu, who before coming to office was the head of the state environmental agency, would allow the city that practically generates most of its internal generate revenue to be one in which residents would have to clutch their nostrils in order to move around.
YAHAYA BELLO – KOGI
Governor Yahaya Bello of Kogi, for the second month, retains his spot in the Bottom 5 list of Nigerian governors.
He earns the tag for conducting himself as a prodigal. We are aware of stories of how, in early September, he threw money at passers by, causing a stampede in Gwagwalada, along the Abuja-Lokoja Road, while Kogi civil servants yearned for months of outstanding salaries.
Of public knowledge is the claim that at least 7,000 teachers in public primary and junior secondary schools in Kogi are owed salary arrears spanning 39 months.
We, however, commend the commissioning of a Rice Mill in Ejiba, Kogi West Senatorial District, and acknowledge that it is capable of creating value with prospects for jo creation.
BELLO MASARI – KATSINA
Katsina State Governor, Bello Masari retains his spot in the least five performing governors in Nigeria for the second month, due largely to the intractable security situation in the North West state.
Though we note Masari's latest efforts at dealing with the challenge, by interfacing with some bandits, he takes the ultimate blame for allowing the issue to fester, allowing it to grow into a monster before responding.
We take particular note of how, in early September, irate youths, protesting against incessant attacks by bandits on their community, set the house of Secretary to the Katsina State Government (SSG), Mustapha Inuwa, in Danmusa Council Area of the state on fire. They also set ablaze two offices of the ruling All Progressives Congress (APC) and vandalised another, three of which were located in the council area.
Masari's tardiness remains a concern.
Recent revelations that kidnapped victims are being sold off as slaves in Burkina Faso is a major low for the administration. We admit confessions made by the Special Adviser to the governor on Drugs, Narcotics and Human Trafficking, Hamza Borodo, who informed journalists in Katsina that he would soon travel to the West African country to negotiate the  release of 20 victims who were sold off as slaves.
SAMUEL ORTOM —BENUE/DARIUS ISHAKU —TARABA
Governors Samuel Ortom of Benue State and his counterpart in Taraba, Darius Ishaku, hold a joint ticket in September's five least performing governors in the country.
Understandably, they are tagged together for their roles and or failures in the recurring Tiv/Junkun tribal clashes.
We note that the clashes between Tivs and Junkuns had over the years defied logic, claiming several lives, with the latest getting national attention, as the governors of the two states, whose predominant tribes are involved, doing little to stem the tide.
We find the utterances of both men and their body language not exemplary enough, as they have not helped to douse rising tension, thus making both men indirectly complicit in the raging clashes.
We recall how many were taken aback when Governor Ishaku, at a peace meeting in Abuja, was caught describing Tiv people in Taraba as ingrates, alleging that they were settlers.
Ortom had responded, "We are all Nigerians. People have come from different places to settle in Nigeria. The issue of describing some people as settlers is where we get it wrong. If anybody is thinking he can win the war, you are lying. The common thing among us is poverty."
We affirm that patriotic leaders must rise above tribal and ethnic sentiments, no matter which tribe or ethnic group is involved. This test of leadership Ortom and Ishaku have failed!
BEN AYADE – CROSS RIVER
Prof. Ben Ayade completes the Bottom 5 list of governors in Nigeria for his aversion to criticism and dissent.
We note that he is gradually becoming notorious for vehemently rejecting dissent and criticism, a trait that threatens to dim whatever good work he may be doing in the South South state.
We acknowledge that, though Ayade is taking positive steps to grow the state economy through investments in agriculture and cottage industries, his aversion to criticism and use of security agents to harass and victimize perceived critics, have overshadowed whatever good works attributed to his administration.
Ayade should be disturbed, just as we are, that his instigated arrests of Agba Jalingo,  now languishing in Calabar Prison for allegedly criticizing the governor and Joseph Odok, an indigene of Cross River State, have been thoroughly condemned as abuse of office.
We affirm that, in both cases, the rights of the two individuals to freedom of speech, association and fair hearing are being trampled upon. Failure to uphold the most important of the rights of the people is the worst of failures on the part of the governor.
Join the conversation
Opinions
Support Ripples Nigeria, hold up solutions journalism
Balanced, fearless journalism driven by data comes at huge financial costs.
As a media platform, we hold leadership accountable and will not trade the right to press freedom and free speech for a piece of cake.
If you like what we do, and are ready to uphold solutions journalism, kindly donate to the Ripples Nigeria cause.
Your support would help to ensure that citizens and institutions continue to have free access to credible and reliable information for societal development.