Access Bank, Cadbury top Ripples Nigeria stock watchlist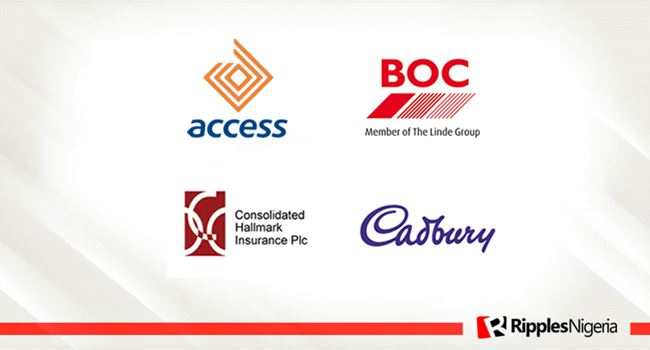 The downturn in the equity market has not yet abated with stocks losing 13.49% in value and the All Share Index (ASI) declining at the same rate in the week that just went by.
Even though there has been much worry regarding a loss that huge in one single week, the present crunch may have some merits nevertheless.
Because moments like this are generally marked by persistent fall in the prices of stocks, they almost always offer investors a strategic point to enter the market and buy shares at low price and then wait for it to rebound for them to cash in.
We have selected a group of stocks you should watch out for this week on the basis of how the market fared last week.
Ripples Nigeria Stock Watch-list is a selection of stocks monitored for viable trading or investing opportunities. An investor may casually generate a list of equities for investment purposes. But we have taken the pain to do that based on certain parameters in order to save you that hassle.
Read also: UACN Property, Unilever, Stanbic top Ripples Nigeria stock watchlist
Kindly note that Ripples Nigeria stock watchlist is not a buy, sell or hold recommendation. It is advisable to consult your financial advisor before making any investment decision.
ACCESS BANK PLC
Access Bank tops our list this week on the basis of its proposal of a final dividend last week as well as its fairly impressive Full Year 2019 results.
The board during the week announced a proposal of N0.45 per share final dividend subject to shareholders' approval at the next Annual General Meeting (AGM).
It is noteworthy that Access had earlier in 2019 paid an interim dividend of N0.20 per share and the new dividend declaration will bring the total dividend payout for the year to N0.65 per share provided the new dividend proposal receives shareholders' nod.
The register of shareholders will be closed on 15th April 2020, preparatory to dividend payment on 30th April 2020.
CADBURY NIGERIA PLC
Cadbury Nigeria makes our list for being the highest price loser last week. It opened at N8.10 and closed at 4.95, shedding 38.89%. Its Earnings Per Share (EPS) stands at N0.68 while its Price to Earnings Ratio is 7.31%.
CONSOLIDATED HALLMARK INSURANCE PLC
Conslidated Hallmark Insurance makes our list on the account of being the highest price gainer last week. Opening at N0.28, the stock closed at N0.30, adding up 7.14%. Currently, its EPS is N0.08 while its PE Ratio is 3.83%.
BOC GASES PLC
BOC Gases makes our list this week on the basis of trading at its lowest price in 52 weeks. It currently sells for N4.05 per share, has an EPS of N0.56 and a PE Ratio of 7.24%.
Join the conversation
Opinions