Joe Biden sworn in as 46th president of America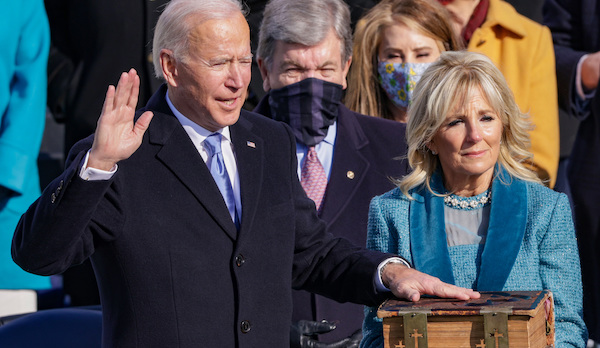 The United States of America on Wednesday inaugurated Joseph R. Biden Jr as the 46th president of the country.
His oath of office was administered by Chief Justice John Roberts minutes after Vice President Kamala Harris was first sworn in, making history as the first woman and person of color to become second in line to the presidency.
Upon his inauguration, Biden became the second Catholic president after John F. Kennedy, and the first president whose home state is Delaware.
Incumbent president and his predecessor Donald Trump however failed to attend his inauguration, making him the first president since Richard Nixon not to do so.
Present at the event were Members of Congress, Supreme Court justices, outgoing Vice President Mike Pence, Three former presidents Barack Obama, George W. Bush and Bill Clinton .
Biden during his inaugural address urged the nation to unite around defeating the COVID-19 pandemic, what he described as the deadliest pandemic in a century.
Part of his address read; "This is America's day. This is democracy's day. A day of history and hope, of renewal and resolve. Through a crucible for the ages, America has been tested a new and America has risen to the challenge. Today we celebrate the triumph not of a candidate but of a cause, a cause of democracy. The people – the will of the people – has been heard, and the will of the people has been heeded.
READ ALSO: Biden lists Burna Boy's song on inauguration playlist
"We'll press forward with speed and urgency for we have much to do in this winter of peril and significant possibility. Much to do, much to heal, much to restore, much to build and much to gain. Few people in our nation's history have been more challenged or found a time more challenging or difficult than the time we're in now. A once in a century virus that silently stalks the country has taken as many lives in one year as in all of World War Two."
"We've learned again that democracy is precious, democracy is fragile and, at this hour my friends, democracy has prevailed. So now on this hallowed ground where just a few days ago violence sought to shake the Capitol's very foundations, we come together as one nation under God – indivisible – to carry out the peaceful transfer of power as we have for more than two centuries".
"My whole soul is in it today, on this January day. My whole soul is in this. Bringing America together, uniting our people, uniting our nation. And I ask every American to join me in this cause. Uniting to fight the foes we face – anger, resentment and hatred. Extremism, lawlessness, violence, disease, joblessness, and hopelessness."
"So with purpose and resolve, we turn to those tasks of our time. Sustained by faith, driven by conviction and devoted to one another and the country we love with all our hearts. May God bless America and God protect our troops" he added
Mr. Biden plans to quickly begin dismantling some of Mr. Trump's signature initiatives with a slew of executive orders and actions set to be signed on Day 1. He becomes the first president to enter office without a single Cabinet secretary confirmed by the Senate.
Join the conversation
Opinions