Rejected and hunted: Story of a religious convert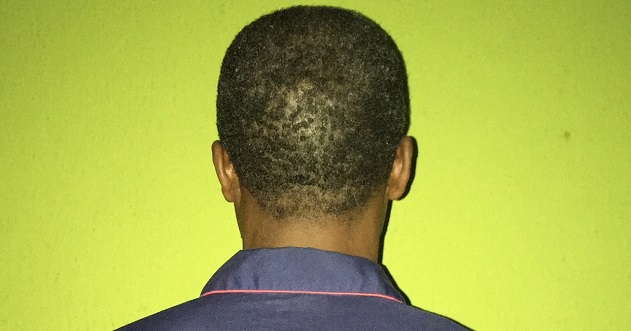 Yunusa Aliu (not real name) is a very sad man, living far from his family he perpetually looks over his back, in fear of what may befall his loved ones, and even himself. He has had to move his wife and kid far away to keep them safe. He has had to endure the pains of a father who's child was kidnapped. And he has had to go through challenges in his work place, ending up being suspended from work.
Now he moves around unsure of his safety, coupled with the seeming reluctance of the security agencies to help secure his life, due to his inability to meet the financial demands made of him.
Yunusa is almost like a pariah, rejected by his extended family, and yet hunted with a seemingly deadly intent because he went against their religious beliefs, and sought spiritual fulfillment outside of what they have practiced for centuries. Being from a wealthy and prominent family which had at one time produced an Ambassador has not helped his case. Rather, it has made it worse as his relatives feel he is a disgrace, and has brought shame to the well known and respected lineage.
Yunusa is just one of many people in some parts of the country who are maltreated and  persecuted because of their religious beliefs or affiliations. They are ostracized by their families, and in some cases assaulted physically, inflicted with bodily harm, or even killed because they convert from one religion to another, or marry someone from another religious divide.
Running to be far from home
In Yunusa's case, he said he has had to relocate from his home state in Bauchi to Jos, in Plateau State, and later to Lagos, thinking this would keep him safe. But there is no peace for the convert, as his relatives trace him to his new abode and make life hellish for him.
His predicament stated when he got admitted to read medicine in the University of Ibadan around 1997/98. He narrated that though he had grown up under a particular religious background, he did not find inner peace and satisfaction, and always thought himself to be a worthless fellow, because that was what his father always told him he was, and he found himself acting true to type.
But outside of his filial environment, he discovered a religious belief that projected love, and told him that he is a very precious being, hence it was easy to have him converted and follow his heart, and his new-found religion. This however did not go down well with his family members who vowed to make his life tortuous if he did not rescind his decision, as they felt it was a slap on the well-known and respected family. At a point, he said he was tortured and disowned.
After graduation, Yunusa stated that he secured employment with a federal ministry in Abuja, and was posted to one of its parastatals in Jos, the Plateau State capital. But his closeness to his home state, conferred no advantage on him. Instead, it was the other way round, as his family was constantly after him, and gave him no breathing space in their efforts to make good their threat, that he would not know peace because of his decision to dump their religion.
Change of name and location to escape
Yunusa said he had to apply to be posted outside Plateau, to anywhere as far away as possible from Bauchi, and he ended up in Lagos. Once in Lagos, he changed his name in hopes that this would provide the needed succor, and free him from his family's persecution, and it did, but only for a limited time.
As a professional, and an employee of the government he was required to formalize his change of name, by publishing it in a national newspaper, and this he did. But that was the lead the family needed to trace him to his new abode in Lagos State where he had taken residence, and they came calling again.
You can't marry him
It was while in Lagos that he met the lady who later became his wife. When they decided to get married, this came with another challenge, as his family would also not support him getting married to someone from another religious background different from theirs, and they vowed to put an end to it.
According to him, his family approached his wife-to-be and told her to her face that she would not be accepted into the family, if she marries Yunusa. And that there are a lot of issues she does not understand. They vowed to disrupt the wedding ceremony if they go ahead with it.
As the planned wedding ceremony was under threat, because they had no idea what the family planned to do, they had to call it off, and settled for quiet court wedding. Although they went ahead to get married, the family made good it's threat, and made life uncomfortable for them.
Sometime in January 2015, while he was away on an official assignment in Borno, his wife, as usual went to pick up their two-year old son from school. According to her, when she got home, she left the child in the car so as to open the gate. While opening the gate, she heard the sound of shattering glass, and rushed out fearing the child may have somehow broken it, and got injured in the process.
She was however astounded to see two men pulling the child out of the car through the car window, with another waiting close by in a getaway vehicle. As she tried to struggle with them to retrieve her child, they overpowered her saying "we warned you not to marry him, but you refused. We told you we won't accept you". She said this made her know that it must be people from her husband's family that committed the act.
On hearing of the incident, Yunusa said he took the next flight back to Lagos, and lodged a complaint with the police. But the police on hearing the narrative told him it seemed like a family issue, and asked him to go settle it with his family. He tried to explain to them that he is not accepted in the family, and that it would be dangerous for him to approach them alone.
Rescuing a kidnapped child
The police then advised him to go to his home state in Bauchi and report to the police there, which he did. But the police in Bauchi told him to approach the Force CID, which he did, but they could not do anything, because of the issues and family involved.
He said he had to resort to hiring private military contractors to help him retrieve the child. The contractors who staged a 'kidnap and rescue' operation made him sign an undertaking that he would accept any consequence of their actions, because it was not going to be a 'peace' mission, and that there might be casualties, if they came across hostiles.
They said, in the course of the operation, people close to him may get hurt, but he accepted it, because he felt they had no right to take his child. The operation, he said, took close to two weeks, because the military contractors had to carry out recon to gather intelligence and information as to the actual location of the child, and the best way to move in and stage the rescue.
He said they were able to rescue the child, and when he asked how the operation went, the contractors told him there were casualties, as the 'enemy' were armed, but offered no further details. He stated that he was not surprised, as they had been taught as kids to always be armed and protect themselves.
On his return to Lagos, he said he could not tell his wife of the details, as she was just happy to have their child back. After that incident he moved his family out of Ikeja to the Island, but they were now living on edge, with a heightened sense of fear, constantly being conscious and suspicious of their surroundings.
No matter where we go, they're there
He said sometime in December 2015, while he was returning from picking his son up from school, he felt he noticed a car trailing him, and that it took every turn he took. When he got home, he told his wife about it, and that they felt it would be safer for security reasons to leave the house for sometime. So they decided to move into a hotel for a few days, but ended up spending close to four months there.
The child could not attend school for the rest of the term, including the lent period which culminated into the Easter celebrations, as the whole family was tensed. They had to move around with caution, going home only at nights to pick whatever they needed.
Tired of looking over his shoulders, and to relieve the tension, in March 2016, he decided to take the family outside the country for a vacation. However, after the vacation, his wife refused to return with him back to Nigeria, due to fear of past experiences, or even worse happening to them. As much as Yunusa tried to persuade her, she would not budge. Her argument was strengthened by reports from the school where their son had been enrolled that he seemed to be withdrawn, and sometimes goes into panic crying, when he sees strangers approaching.
He was also having nightmares, and Yunusa and his wife had to continually reassure him that he is safe. His wife begged him to stay back with them, but he had to explain to her that as a professional, he could not just abandon his job, and leave Nigeria. And as much as it pained him, he had to leave them behind and return to Nigeria alone.
Attacked from behind, unsafe even at work
One time, while around Ikorodu area of Lagos, he felt something hit his head from behind and he blacked out. When he regained consciousness he found himself on a bed in Gbagada General Hospital. He was told that a group of people attacked him, and that it seemed like a kidnap attempt. From what he was able to gather, people around the area raised an alarm, and descended on the attackers forcing them to abandon their mission, as they fled leaving him behind.
After that incident, he had concussion, and was restless, living in constant fear. His health seemed to be deteriorating after the Ikorodu incident, so he applied for a medical report to enable him travel outside the country for further treatment.
He narrated how at one time, they came after him at his place of work in Lagos, and created a scene, destroying public property and earning him a suspension in September 2017. Narrating his ordeal, he said he was in the office when he got a call from the security post that some people were requesting to see him. When he asked for the visitors' names, he was informed that they refused to give their names, but insisted that they must see him.
He told the security personnel that the visitors are likely his family members and that he did not want to see them, as there were unresolved issues between them and himself. When the security personnel informed the visitors that Yunusa is not available to attend to them, they were said to have turned violent, manhandling the personnel and destroying some property. Reinforcement had to be called in before they could be subdued, and turned back.
But the management of the agency was not impressed, and issued a query to Yunusa to explain the incident further. He said although he tried explaining it the best he could, he was later suspended from duties, pending an investigation into the incident, as his bosses felt his continued stay at his station was a threat to other employees.
Because of the several experiences and threat, he moved to get police protection for himself, since the relatives were unrelenting in their bid to carry out their threat. But according to him, the police reeled out a number of conditions that he was unable to meet, leaving him vulnerable and at the mercy of whatever may befall him.
He alleged that he approached the police Force CID again and told them of his travails, and those he suspects are behind the issue. But the police told him point blank that they are cock sure his family would not honour an invitation if they were sent for to iron out the matter.
They told him that the investigating officers would have to travel to Bauchi to meet the family, and that he would have to foot the bill of their air travel expenses,  accommodation and sustenance while in Bauchi to carry out their investigations.
Yunusa said he had to succumb to his fate, as he did not have the financial wherewithal for such since he had been suspended from work, and was not receiving a salary. More so, he was also footing the bills of keeping his family abroad for their safety, as he could not afford to have them come back to Nigeria.
Although Yunusa maintains that he does not regret his action in converting to a religion that meets his need, for  now, he is a lonely man, seemingly out of employment, far from his family, but afraid to bring them close, especially into Nigeria, because they would be living in fear, constantly scared to go out, or relate with other people in public places, as they do not know who could be watching them, waiting for an opportunity to strike.
Yunusa's case is just one of many cases of people being persecuted, and disowned by their families, and sometimes communities, because they dared to convert from one religion to another. They are ostracized, physically, socially and even economically to punish them for dropping the common religion for another one. Even though the Nigerian constitution allows for freedom of association and worship, there are cases of people who have been maimed, and even killed because of their religious beliefs.
The security agencies, especially the police, have in many cases been unable to protect victims where there is threat of violence, due to a number of inadequacies. So those involved have had to seek other means to keep themselves and their immediate families safe. Sometimes, they have to abandon all they have and move to new locations, where their safety is guaranteed, and which sometimes have to be kept secret from their persecutors.
RipplesNigeria… without borders, without fears
Click here to join the Ripples Nigeria WhatsApp group for latest updates.
Join the conversation
Opinions
Support Ripples Nigeria, hold up solutions journalism
Balanced, fearless journalism driven by data comes at huge financial costs.
As a media platform, we hold leadership accountable and will not trade the right to press freedom and free speech for a piece of cake.
If you like what we do, and are ready to uphold solutions journalism, kindly donate to the Ripples Nigeria cause.
Your support would help to ensure that citizens and institutions continue to have free access to credible and reliable information for societal development.