Reno Omokri comes for Buhari, Tinubu, Sanusi, others in a tweet rage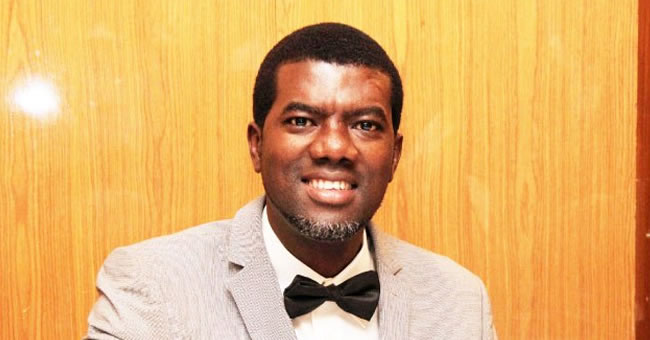 Aide to former President Goodluck Jonathan, Reno Omokri, in a tweet rage Monday called out President Muhammadu Buhari, Senator Ahmed Bola Tinubu, Emir Sanusi Lamido Sanusi, among others, for allegedly sabotaging the administration of his former principal.
Omokri was reacting to alleged confessions made by a former deputy national publicity secretary of the governing All Progressives Congress (APC), Timi Frank.
Frank had before the 2019 general election dumped APC and pleaded with Jonathan and Nigerians to forgive him for being part of the people who brought Buhari into office.
He was said to have again in a recent confession, alleged that the ruling party fabricated outright lies against Jonathan's government.
Responding to Frank's confession in a post on his official Twitter handle on Monday entitled '#ArrestGeneralBuhariForEconomicSabotage', Omokri described the alleged lies Buhari and the APC fabricated against Jonathan's administration as a criminal act.
According to him, the lies formed the reasons Nigeria went into recession, "led to the loss of over 11 million jobs and exacerbated extreme and multi-dimensional poverty in the polity."
Part of the tweets read: "The confession by a former spokesman of the @OfficialAPCNg, Chief Timi Frank, that the ruling party fabricated outright lies against former President @GEJonathan has totally vindicated the former leader and exposed General @MBuhari.
"Recall that Chief Timi Frank revealed that damaging allegations made against then President @GEJonathan were deliberate fabrications by @OfficialAPCNg leaders against GEJ, without any thought spared for the economic impact on the nation.
"One of the most damaging lies APC fabricated against then President @GEJonathan in connivance with Sanusi Lamido, a fifth columnist within the government, included the lie that $49 billion was missing/unaccounted for from NNPC's account.
"As revealed by @OfficialAPCNg's ex spokesman, the false allegations were a desperate power grab that led to massive loss of confidence in the Nigerian economy, leading to capital flight. The economic sabotage was deliberate and criminal.
"The @officialEFCC was established by the @OfficialPDPNig administration of former President Olusegun Obasanjo and Alhaji @Atiku Abubakar, to identify, prevent and punish financial crimes against the Nigerian state.
"It's a financial crime by General @MBuhari and @OfficialAPCNg to knowingly make false allegations against Nigeria's economy for the purpose of undermining it so that an individual or organisation can politically profit from such sabotage.
"Based on the confession and testimony of Chief Timi Frank, it's clear and established that General @MBuhari committed a crime against Nigeria, aided and abetted by his party, the @OfficialAPCNg, all for the purpose of blind lust for power.
"The false and misleading statements by General @MBuhari and the @OfficialAPCNg not only plunged Nigeria into a recession, but also led to the loss of over 11 million jobs and exacerbated extreme and multi-dimensional poverty in the polity.
"Failure to take action on the part of both @officialEFCC and ICPC, despite a confession by one of the dramatis personae, should be taken by the Nigerian public as proof that these law enforcement bodies have since lost their independence.
READ ALSO: Buhari running 'tooth-picking' govt, level of incompetence too costly – Oby Ezekwesili
"Nigerians' may note @officialEFCC's refusal to investigate, talk less of charging Bola @asiwajuTinubu, who was caught on camera, ferrying cash to his house in bullion vans on election eve, contravening the Money Laundering Act, of 2011.
"We ask Nigerians to remember the Good Days that were destroyed by General @MBuhari's lies when fuel was ₦87, dollar was ₦199 to $1, a 50kg rice was ₦8k, a Lagos-Abuja return air ticket was ₦18k and ₦18k Minimum Wage was worth $120.
"We further ask Nigerians to remember the Good Days that were destroyed by General @MBuhari's economic sabotage, when Coke was ₦60, Indomie was ₦25, a tin of Peak milk going for ₦80, @Nissan was making cars in Nigeria for export #ArrestGeneralBuhariForEconomicSabotage.
Join the conversation
Opinions