Why Sowore must remain in detention —FG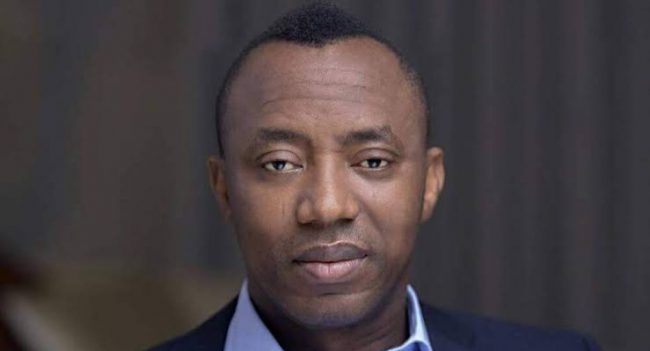 The Federal Government, on Friday, justified its reason for keeping the convener of RevolutionNow, Omoyele Sowore in detention despite the court ruling that ordered his release on bail.
The government in a 27-paragraphed counter-affidavit it filed before the Abuja Division of the Federal High Court, said that Sowore posed "a threat to national security".
The govt which spoke through its lawyers led by Mr Hassan Liman, SAN, expressed concern that the defendant would call for another revolution once he is freed from custody, arguing, that there was "likelihood of the defendant committing the same offence again".
The FG also implored the court to prosecute the defendant due to the severity of the allegation against the detained activist.
It stated that the defendant posed a flight risk having realised that the charge contained a capital offence that would attract a life imprisonment upon his conviction.
Read also: GANA TO N'ASSEMBLY: Ensure Buhari governs in obedience to the law, needs of Nigerians
It also maintained that Sowore was based in the United States of America, USA, and would jump bail if released from detention, stating the case of leader of the proscribed Indigenous People of Biafra, IPOB, Nnamdi Kanu, as reference.
Relying on a Supreme Court decision in Asari Dokubo Vs FRN, which it said also involved treasonable felony charge, the prosecution argued that Sowore deserved to be denied bail, saying he had on the day he was arraigned, kept chanting and calling for a revolution while he was being led out of the court.
"This is a clear indication that once released on bail, he will go out there and engage in acts that will amount to a threat to national security", Liman added.
"Investigation has been concluded and we are willing and ready for accelerated hearing, if possible, on a day-to-day basis so that the 1st defendant can return to the USA", the prosecution added.
Meanwhile, Sowore, through his lead counsel, Mr. Femi Falana, SAN, contended that the govt has no tangible reason why Sowore should not be released on bail pending his trial.
He argued that since he is presumed innocent by virtue of section 36 of the 1999 Constitution, the onus was on FG to establish why he should remain in detention.
Join the conversation
Opinions